The latest Windows operating system (OS) version 11 does not have a built-in feature for playing DVDs/CDs or Blu-ray like the previous Windows versions. Actually, since Windows 10, Microsoft stops paying for support for DVDs. Then, how to play DVD or CD on Windows 11?
DVD Decoder for Windows 11
Playing DVD, CD, Blu-ray, etc. in the newest Windows 11 is actually to enable Win11 to decode those optical discs. So, Windows 11 plays DVD/CD requires a DVD/CD decoder, also known as Windows 11 DVD/CD player/driver.
How to watch a DVD movie on Windows 11? Watching a DVD movie in Windows 11 also needs to firstly decode the DVD format. This will also need the help of a DVD player. To watch YouTube videos of the DVD format is the same.
The following are some popular DVD decoders for Windows 11.
Windows DVD Player (Windows 10)
Microsoft Photos
MiniTool MovieMaker
WinX DVD Ripper
5KPlayer
GOM Media Player
KMPlayer
Cyberlink PowerDVD
If your Windows 11 computer comes with a DVD or Blu-ray drive, the manufacturer may have already embedded a DVD software to play your DVDs. If not, you can download and install the vendor DVD software that comes with your DVD and Blu-ray drives such as the Windows DVD player listed above. You can also choose to use a third-party DVD player like MiniTool MovieMaker to play DVD-format videos
Need Free DVD Player for Windows 11
Will Windows 11 play DVDs for free? Since Windows 11 lacks default DVD playback software. Microsoft suggests users buy its Windows DVD Player to play their optical DVDs/CDs for $14.99. Well, is there a DVD player available without charge? Of course! There are many free Windows 11 DVD players on the market like below.
MiniTool MovieMaker
5KPlayer
How to Burn a CD or DVD in Windows 11?
In general, there are three methods to burn CD/DVD within Win11.
#1 Burn DVD/CD Within Windows 11 File Explorer
Firstly, the easiest way to burn files into a media disc is through Windows Explorer.
Insert a blank CD or DVD into the DVD drive of your computer.
Right-click on the target file/folder and select Send to > CD/DVD drive option.
Then, the Burn a Disc window will pop up. There, specify a Disc title and select With a CD/DVD player.
In the new Files Ready to Be Written to the Disc window, drag and drop all the items you want to burn there.
Click Drive Tools in the toolbar and select Finish burning.
Next, navigate to the Burn to Disc window, input your disc title again and customize recording speed.
Finally, click the Next button to begin.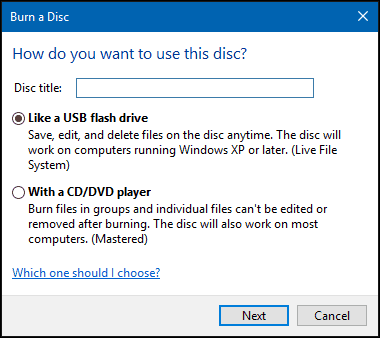 #2 Burn CD/DVD with Windows 11 Media Player
Windows Media Player (WMP) can burn data CDs/DVDs and audio CDs. You can store photos, music, and movies on them. They can be played on PCs or some DVD/CD players that support the file types you import to the media disc.
Insert a blank DVD or CD into your PC.
In its Burn tab, unfold the Burn options and select Data CD or DVD or Audio CD in the dropdown menu.
Select the target disc as a destination.
Next, open the folder that contains the files you plan to burn. Drag and drop them to the Burn list.
Finally, click Start burn to begin the process.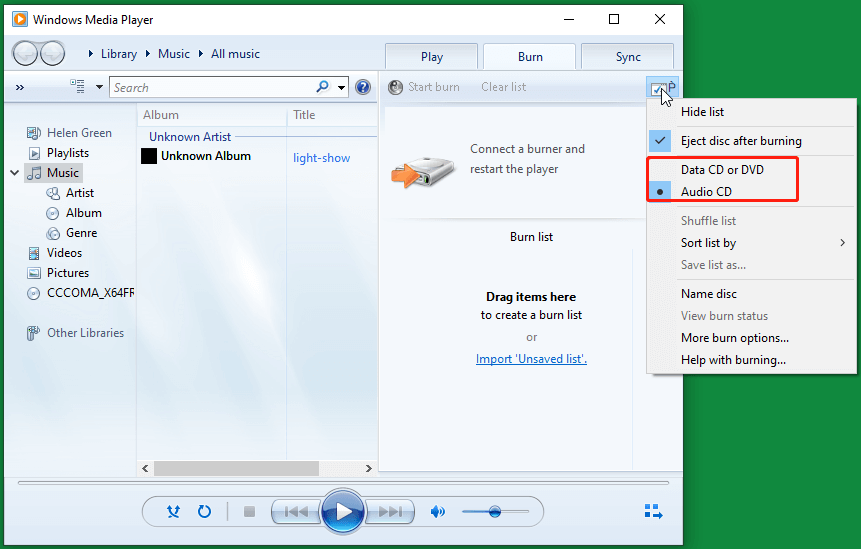 #3 Burn DVD/CD by a Third-Party Software Burner
Lastly, you can rely on a third-party program to burn your files into a CD or DVD, such as WinX DVD Author.
Windows 11 Assistant Software Recommended
The new and powerful Windows 11 will bring you many benefits. At the same time, it will also bring you some unexpected damages such as data loss. Thus, it is strongly recommended that you back up your crucial files before or after upgrading to Win11 with a robust and reliable program like MiniTool ShadowMaker, which will assist you to protect your increasing data automatically on schedules!