Now Clipchamp is a new video editor for Windows 11 that can be got via Insider Preview Build 22572 for the Dev Channel. To get more information about this inbox app, go to read this post. MiniTool will introduce what Clipchamp is, as well as Clipchamp download to use at once.
Windows 11 Clipchamp: New Built-in Video Editor
On March 9, 2022, Microsoft released a new build – Windows 11 Insider Preview Build 22572 for the Dev Channel. Some new features and improvements are included in this new update, for example, Microsoft Defender Preview, Clipchamp, etc.
Microsoft Defender Preview is a security app for Windows 11 to keep the PC safe. To know more about this standalone app, refer to our previous post – Microsoft Defender App for Windows 11/10 Is Available (Preview).
As for Windows 11 Clipchamp, we will introduce it to you today. In Sep 2021, Microsoft acquired Clipchamp for the upcoming Windows 11 operating system. It is a free web-based app to edit videos. And now Clipchamp is an inbox app that will come pre-installed on all the Windows 11 devices. It is a replacement for Windows Movie Maker.
Highlights of Clipchamp for Windows 11
With Clichamp, you can easily trim, split, filter, and perfect your video content on your Windows 11 PCs. You can use the built-in webcam and screen recorders to capture content in real-time.
Compared to other video editors, Clichamp has an obvious highlight which is its timeline reserved for pros. All the best parts of timeline editing including the ability to fine tune details and the flexibility are kept. This gives you a refreshingly simple video editing experience.
Besides, Windows 11 Clipchamp offers a stock library filled with over a million royalty-free stock assets and an Azure-powered text-to-speech generator that can create voice overs in over 70 languages. Moreover, you are allowed to share files and videos since this video editor can connect with OneDrive.
How to Get Windows 11 Clipchamp
If you want to use Clipchamp on your Windows 11 PC, how can you get this video editor? Follow the guide below now.
Step 1: Join in Windows Insider Program
1. Press Win + I to open Windows 11 Settings.
2. Click Windows Update > Windows Insider Program > Get started.
3. Go to click Link an account, choose your account, and click Continue.
4. Choose Dev Channel and then follow the on-screen instructions to finish all the operations to join in Windows Insider Program.
Step 2: Download the Latest Windows 11 Build
1. Go back to Windows Update and download all the available updates.
2. Restart the PC to finish the installation.
After Build 22572 is installed, the Windows 11 computer has Clipchamp. Type Clipchamp in the search box and open it on your PC. Sign in to this app via a Microsoft account or Google account, then decide what you intend to use the app for, read a tutorial showing the various features of the app and start making your own videos.
Clipchamp Video Editor Free Download
In Windows 11, you can get the built-in Clipchamp via the Insider Build 22572. In addition, you can directly download Clipchamp for Windows 11/10 to have a try.
Clipchamp Download Steps:
1. Launch Microsoft Store in your Windows 11/10 PC.
2. Search for Clipchamp and then click the Get button. Then, the downloading process starts.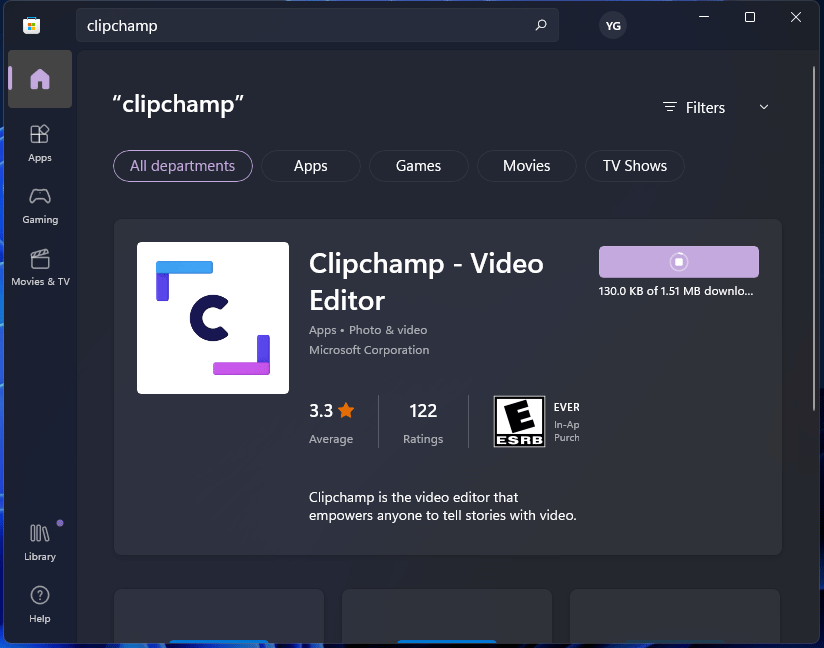 3. After that, click Open to launch this video editor.
Use Clipchamp via Web Browser
Clipchamp is also a web app and you can sign in to it to use via a web browser.
Go to this page of Clipchamp.
Log in to your account (Microsoft or Google).
Choose a purpose of use to continue.
You can have the same experience as the version pre-installed on Windows 11.