In Windows 11, Microsoft brings new Dark Mode sounds that are quieter and more soothing, reflecting the darker ambiance of this mode. This further enhances the user experience. To get many details, read this post and you can know much offered by MiniTool.
Windows 11 brings many new features & improved features and you may want to install this new operating system on your PC. If you use a Windows system requirements tool to check for compatibility and find the machine is compatible with Windows 11, installing it is what you do.
After system update and Windows setup, you find Windows 11's brand new user interface. Besides, if you are scrupulous enough, you may find the big change of the system sounds. Now, let's go to see them.
Windows 11 Dark Mode Sounds
Microsoft brings a separate set of sounds and you may have taken notice of the differences in the notification sounds between Light Mode and Dark Mode on the new Windows 11 system.
According to Bleeping Computer, Microsoft confirms this observation – the alert sounds in Dark Mode are calmer and softer than Light Mode. The reason why the Microsoft audio team develops the new sounds is to offer you a calm experience when notifying you of something in necessity.
Windows 10 sounds are sharp and they were created with sharp wavelengths. But for Windows 11, Microsoft concentrates on calm technology. The new Windows 11 Dark Sounds are softer since they have a much rounder wavelength. When you are notified, you won't feel overwhelmed.
In Windows 11, Microsoft creates different versions of system sounds and they are different in Dark Mode and Light Mode. In Light Mode, the sounds are brighter and louder while Windows 11 Dark Mode sounds are more subdued and quieter, with a slight echo.
It's worth noting that the sound file for Light Mode is still saved in C:\Windows\Media while you can find the sound file for Dark Mode in C:\Windows\Media\dm.
Bleeping Computer offers multiple samples of Windows 11 Dark Mode sounds on its website. You can listen to them and compare the difference.
How to Enable Dark Mode in Windows 11
If you are curious about Windows 11 Dark Mode sounds, change your system to this mode from Light Mode (enabled by default). Well then, how to enable Dark Mode in Windows 11 to enjoy the new Dark Sounds? Follow the steps below.
Step 1: Click the Start button from Taskbar and then choose Settings.
Step 2: Go to the Personalization tab from the left sidebar.
Tip: Alternatively, you can right-click any space on the desktop and choose Personalize to the Personalization page.
Step 3: Move to the Colors section and select Dark from Choose your mode. Immediately, Windows 11 will enable Dark Mode on the entire computer. The Settings window also becomes darkish.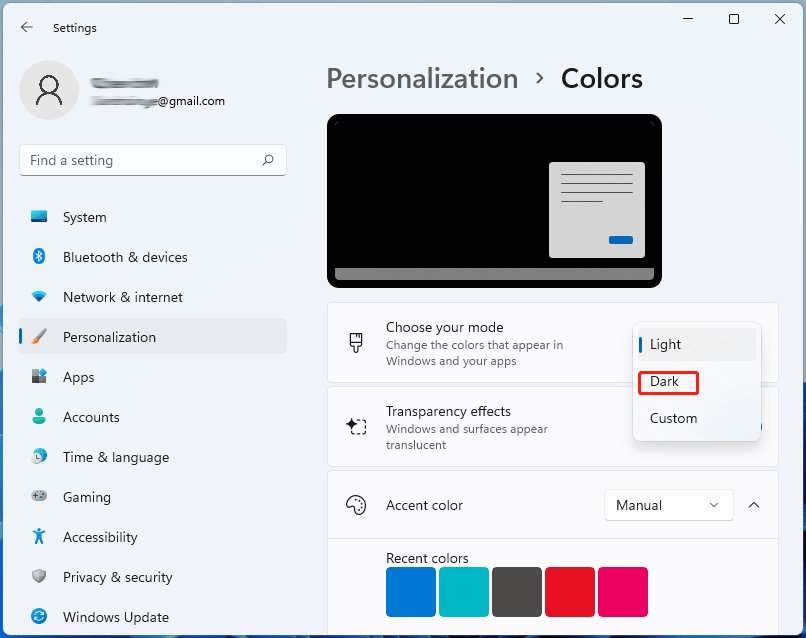 Related article: Switch Between Light and Dark Modes Automatically Windows 10
Windows 11 Dark Theme Download
If you want to get a Windows 11 dark wallpaper, you can go to Personalization > Themes > Current theme and then choose Windows (dark) as the desktop background. Of course, you can download a dark theme from the Internet. Just search for "Windows 11 Dark Theme download" in Google and then download one by visiting a webpage.
Final Words
Are you using Windows 11 on your PC? Enable Dark Mode and choose a dark wallpaper. Besides, focus on Windows 11 Dark Mode sounds and you will find the difference.