What is Windows 11 Education? If you want to install this system on your PC, how can you do this work? This post from MiniTool gives a detailed guide on Windows 11 Education download ISO and how to install it from the ISO file.
Windows 11 Education
Windows 11 Education is an edition designed for education and this edition offers many high-quality learning tools for students. These tools like Microsoft 365 Education and Microsoft Teams can meet the needs of every student.
Besides, this operating system brings new productivity and inclusivity features, letting you work more efficiently with a streamlined interface, organize your apps and widgets your way, etc.
According to Microsoft, education devices start at $249. If you want to get one, refer to this link to find it. In addition, you can free download Windows 11 Education ISO and install this system on your PC to have a try. Move to the next part to know how to do this task.
Windows 11 Education Download ISO
Microsoft offers you an official way to download an all-in-one ISO image file that can be used to install many editions including Windows 11 Home, Home N, Home Single Language, Education, Education N, Pro, Pro N, Pro Education, Pro Education N, Pro for Workstations, and Pro N for Workstations.
Thus, to get Windows 11 Education ISO, follow the steps below to start downloading:
Step 1: Navigate to the page of Download Windows 11.
Step 2: In the Download Windows 11 Disk Image (ISO) part, select Windows 11 (multi-edition ISO) and click Download to continue.
Step 3: Choose the product language like English (United States) and click Confirm.
Step 4: Download Windows 11 Education ISO by clicking the 64-bit Download button.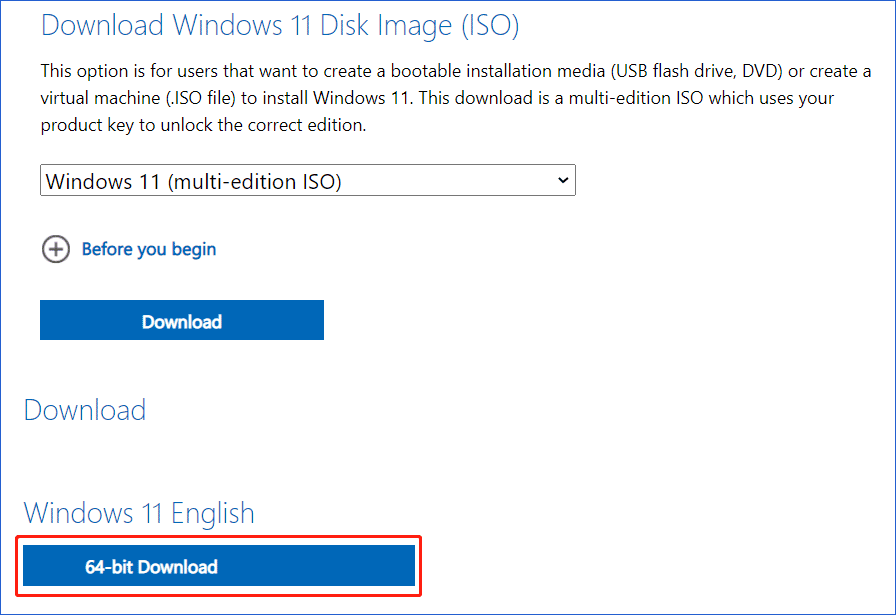 Tips:
In addition to the official way to get the Windows 11 Education ISO file, you can get an ISO image from third-party sources. Just search for "Windows 11 Education free download ISO" or "Microsoft Windows 11 Education download ISO" in Google Chrome, then you can find some.
Windows 11 Education Install
After knowing how to download the Education Edition of Windows 11, now you should take some time to install this operating system on your PC.
See what to do:
Step 1: Create a Windows 11 bootable USB from this ISO file you have downloaded.
Step 2: Boot the PC to BIOS, change the boot order, and run the PC from the USB drive.
Step 3: After deciding a language, keyboard way and time format, click Install now for the setup of Windows 11 Education.
Step 4: Click I don't have a product key and choose Windows 11 Education to install.
Step 5: Finish the installation by following the instructions on the screen.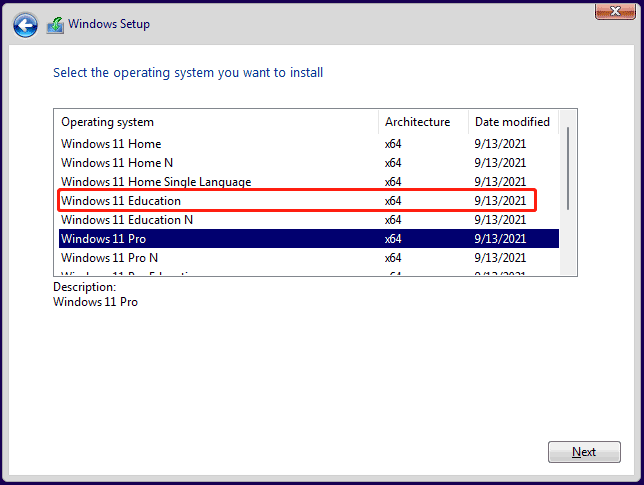 Final Words
Microsoft Windows 11 Education download & installation is an easy job and you know how to do this task after reading this guide. Just do as the steps say to install the system on your PC if you are a student. If you have any ideas, leave a comment below.