Windows 11 mount ISO is the topic that you may be curious about if you want to install Windows 11 from an ISO file. How to mount Windows 11 ISO and how to unmount ISO? If Windows 11 won't mount ISO or you run into Windows 11 mount ISO slow, what should you do? After reading this post, you can find answers to these questions given by MiniTool.
ISO files, also called ISO images, contain all the installation files to run a program. Now for large files and software like Microsoft Office and Windows operating system, ISO files are made to be available.
This container format helps to avoid any data corruption and reserve its formatting. Like other regular files, you can directly download ISO files from the internet. To know more information about ISO images, refer to this post – What Is an ISO File? How to Create and Mount It.
If you get a Windows 11 ISO file, how can you use it to install the new system on your PC? Mounting the ISO file is an option. You can mount Windows 11 ISO in Windows 10 to run the setup process if your PC meets the system requirements of Windows 11 or mount ISO in Windows 11 for an in-place upgrade.
Windows 11 Mount ISO
How to mount ISO in Windows 11/10?  The steps in these two systems are the same. Here take Windows 11 mount ISO as an example. Here are two ways.
Related article: Windows 10 ISO Mount/Unmount | Get This Full Guide Now!
Mount ISO Files Windows 11 with a Double-Click
To quickly mount your ISO file in Windows 11, you can run a simple double-click. Just press Win + E to open File Explorer, locate the Windows 11 ISO file, and double-click on it. The ISO file will open like any other folder. You can double-click the setup.exe file to start the installation of Windows 11.
Windows 11 Mount ISO with the Mount Feature
Besides, you can use the Mount feature to mount the ISO file in Windows 11. Just find Windows 11 ISO in File Explorer, right-click the ISO image and choose Mount from the context menu. Then, you can access the file's content in the virtual drive.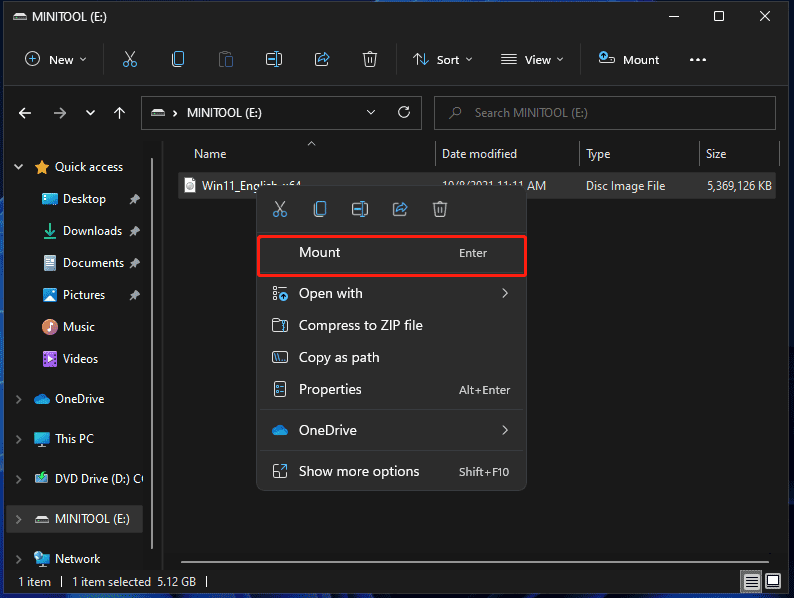 In addition, you can run some ISO mount software to do this work and go to find some from this post – 3 Ways to Mount/Unmount ISO | 5 Best ISO Mounter Software.
Tip: 
If you want to mount Windows 11 ISO to USB, what should you do? You need to download Rufus, launch it and choose the ISO file to start the burning to create a bootable USB drive. Then, boot the PC from that drive to install Windows 11. Here is a related post for you –
How to Install Windows 11 from USB? Follow Steps Here
!
How to Unmount ISO Windows 11?
After finishing installing Windows 11 from the mounted ISO image, you can unmount the virtual drive. How to unmount ISO in Windows 11? Right-click the virtual drive option in File Explorer and choose the Eject option from the context menu.
FAQs – Windows 11 Mount ISO
When mounting ISO files, you may run into some issues, and let's see some common situations as well as the corresponding solutions.
Windows 11 Mount ISO Missing/Not Working
If you find Windows 11 won't mount ISO files or the Mount option is missing, what should you do? Right-click on the ISO file and choose Properties. Then, click Change from the General tab, choose Windows Explorer, and click OK. Next, save the change by clicking Apply > OK.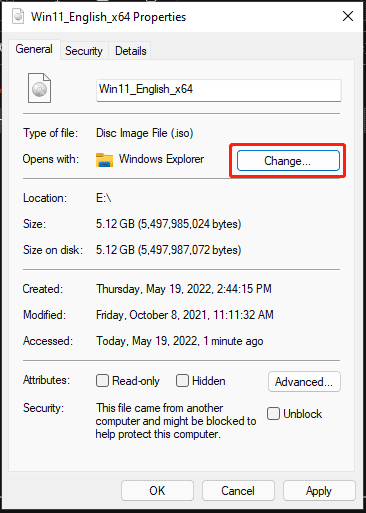 Alternatively, you can right-click on the ISO file and choose Open with > Choose another app > Windows Explorer if the issue of Windows 11 Mount ISO missing or Windows 11 Mount ISO not working happens.
Windows 11 Mount ISO Slow
Mounting an ISO image is very fast. If you find it is slow, what should you do? Windows Security is the culprit since it can scan for every file when clicking on an ISO file to mount it. Follow the steps to perform a quick fix:
Search for Windows Security in the search box and open this app.
Click App & browser control, click Reputation-based protection setting and disable the option for Check apps & files.