Windows 11 no Wi-Fi option/Windows 11 Wi-Fi not showing up is a common situation. If you have been hit by this issue, how to get rid of the trouble? You come to the right place and here MiniTool guides you on how to easily fix it in multiple ways.
No Wi-Fi Option Windows 11
As a brand-new operating system, Windows 11 is gaining much popularity from users due to its new modern user interface and improvements. To learn about some, refer to this related post - What's Next for Windows: What's New in Windows 11.
However, after upgrading to Windows 11, you may confront a common issue – no Wi-Fi option or Wi-Fi not showing up. Usually, there is a network icon in Taskbar. If the Wi-Fi driver is missing or corrupted, or the adapter is disabled, the issue of no Wi-Fi option after Windows 11 update appears.
Well then, how to fix this problem? It is not difficult to deal with it so long as you follow the guide below. Now let's see the troubleshooting tips.
How to Fix No Wi-Fi Option Windows 11
Run Network Connection Troubleshooter
The Windows built-in troubleshooters sometimes can help you to solve some basic problems. Thus, you can try to run the network connection troubleshooter to fix the issue – no option to connect to Wi-Fi Windows 11.
Step 1: Open the Settings window by pressing Win + I.
Step 2: In System, click Troubleshoot > Other troubleshooters.
Step 3: Click the Run button from Internet Connections. Besides, you can locate Network Adapter and click Run.
Step 4: Finish all the operations by following the on-screen instructions.
Enable Wi-Fi Adapter
A Wi-Fi adapter is used to create a connection between your network and your computer. If the adapter is disabled, Windows 11 no Wi-Fi option may appear. Just enable it.
Step 1: Open Control Panel via the search box and view all the items by large icons.
Step 2: Click Network and Sharing Center > Change adapter settings.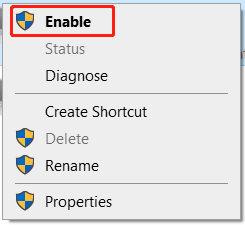 Step 3: If the Wi-Fi adapter is disabled, it is grey. Right-click on it and choose Enable.
Update or Reinstall Wi-Fi Driver
Sometimes Windows 11 Wi-Fi not showing up or Windows 11 no Wi-Fi option only Ethernet is triggered by the outdated or corrupt Wi-Fi driver. To help you out, update or reinstall it.
Step 1: Type device manager in the search box and click this app to open it.
Step 2: Expand Network adapters, right-click on your wireless adapter, and choose Update driver. Then, let Windows automatically search for the available update and install it.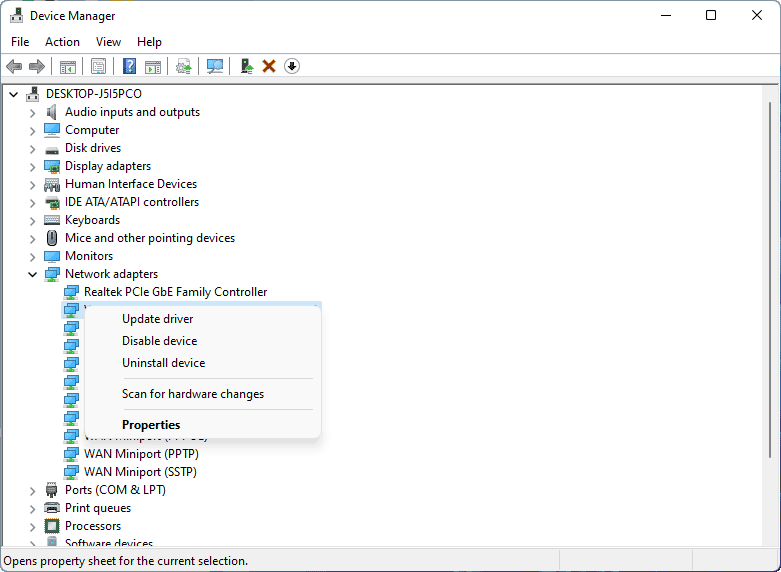 To reinstall the Wi-Fi driver, choose Uninstall device from the context menu. Then, go to the motherboard manufacturer's website, download the latest version of the driver and install it on your PC.
Reset Network Settings
Windows 11 offers an option to do this work. This process can help to uninstall and reinstall the network adapter and restore the network components to the default settings to fix issues caused by incorrect network settings.
Step 1: In Settings, click Network & internet > Advanced network settings.
Step 2: Click Network reset and click the Reset now button. After that, go to see if Windows 11 no Wi-Fil option is fixed.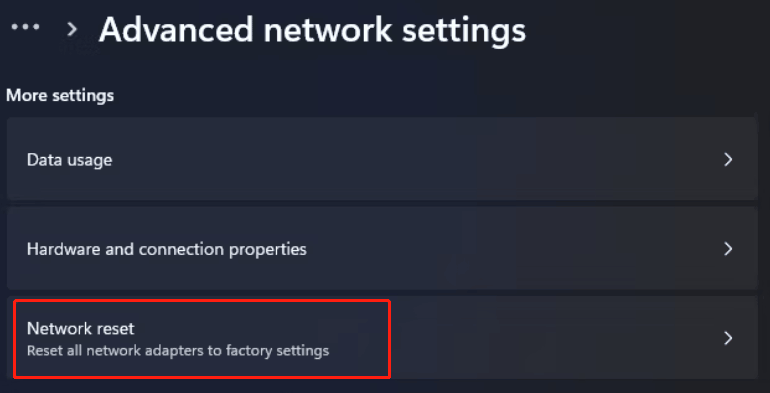 Check Group Policy
If there is no Wi-Fi option in Windows 11, you need to check the group policy to see if the setting is incorrect. Note that this way is only available for Pro and higher editions.
Step 1: Press Win + R, type gpecedit.msc and click OK.
Step 2: Navigate to User Configuration > Administrative Templates > Start Menu & Taskbar.
Step 3: Locate Remove Network icon from Start Menu in the right pane, double-click on it, and set it to Disabled.
Update Windows 11
If you install an old build of Windows 11, the situation - the Wi-Fi option disappeared may happen on your PC. To fix it, go to update Windows 11 to a new version. Just go to Settings > Windows Update, check for available updates, download and install them on your computer.
These are the common fixes to solve Windows 11 no Wi-Fi option or Windows 11 Wi-Fi not showing up. Just try them if you are plagued by the annoying issue. If you find some other useful methods, you can leave a comment below to let us know. Thanks a lot.