People prefer to use a multi-screen setup with two or more displays. However, they may encounter the "Windows 11 not detecting second monitor" issue. If you are one of them, you can read this post from
MiniTool
to find solutions.
When you try to use the second monitor on Windows 11, you may find that Windows 11 is not detecting the second monitor. Now, you can continue to read this post to know how to fix the "Windows 11 not detecting second monitor" issue.
Fix 1: Restart Your PC
Restarting your computer might also get rid of the "second monitor not detected Windows 11" error. Although some users report that this is only a temporary fix, you can still have a try. If the second monitor is detected on your Windows 11 after restarting, you don't need to try other possible solutions.
However, if the error occurs again after a few minutes, you should try the following solutions to get rid of the issue permanently.
Fix 2: Check the Monitor Connection
Then, go to check if there is a connection issue between your monitor and computer. If the connecting cable is loose or damaged, your monitor goes to sleep when plugged in. Just go to power off the system, and then check the video cable & ports. Besides, unplug any external devices to your computer since they may conflict with the machine.
Fix 3: Update the Graphics Driver
You have to ensure that you are using the latest version of the graphics driver. You will meet the "Windows 11 not detecting second monitor" issue if you have incompatible, corrupt, missing, or outdated drivers. To solve the issue, you need to update the driver.
Step 1: Open the Run box and type devmgmt.msc. Then press Enter to go to Device Manager.
Step 2: Double-click Display adapters to expand it. Then right-click your graphics card driver and choose Update driver.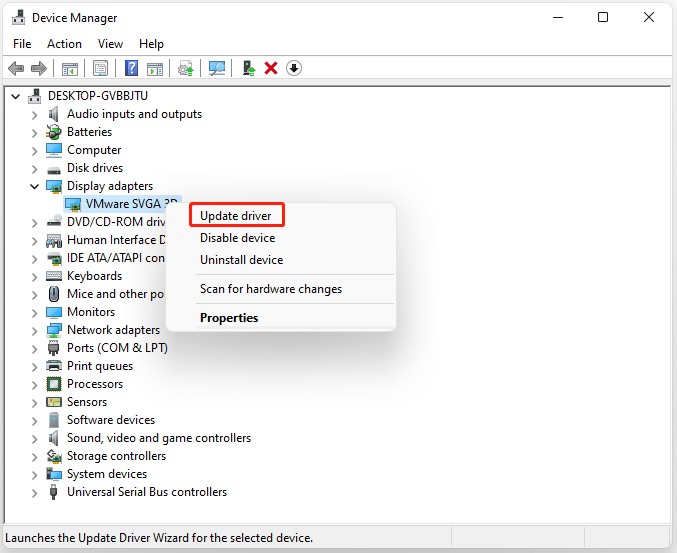 Step 3: You will be asked how you want to search for drivers in the pop-up window. You should choose Search automatically for updated driver software and then follow the instructions to complete the process.
Fix 4: Reinstall Graphics Driver
Your drivers are outdated after updating to Windows 11, and you need to apply compatible updates with the new system. So, you need to uninstall the graphics drivers and reinstall them. Here are the steps.
Step 1: You need to open Device Manager, then navigate to Display adapters.
Step 2: Right-click your display adapter driver, and select Uninstall.
Step 3: Wait for the process to complete.
Step 4: Click the Action tab, and select Scan for hardware changes.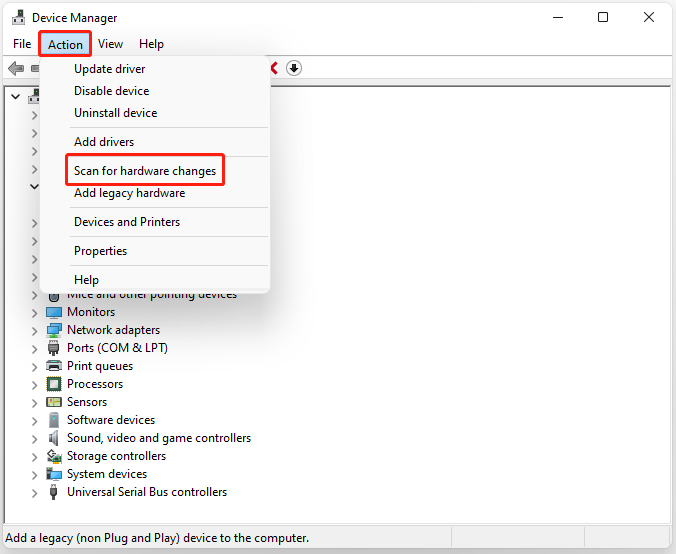 Then you can download the latest drivers directly from your manufacturer's website.
Final Words
To sum up, this post has shown 4 ways to fix the "Windows 11 not detecting second monitor" error. If you come across the same error, try these solutions. If you have any better solution, you can share it in the comment zone.