Windows 11 Start menu is more organized and advanced than previous versions. However, some users said they find their Windows 11 Start menu not working suddenly. They can't open the Start menu or find the Start menu stuck/frozen while they try to use it as usual. Can this problem be solved? What are the possible solutions to fix Windows Start menu not working?
Windows 11 Start Menu Not Working
Windows 11 Start Menu Is an Important Component
Windows Start menu refers to the graphical user interface element to provide quick accesses to lots of items on a computer: apps, files, settings, and more. It is always an important part of the Windows operating systems over the years. By using the Start menu, users can open what they want accurately and quickly within just a few clicks.
The Windows 11 Start menu is changed a lot when compared to that in Windows 10. For instance, the user interface is simplified and cleaner, but the functionality remains the same; the location of the Start menu is moved from the lower left corner to the bottom middle part. However, some users said they have found their Windows 11 Start menu not working suddenly while they try to use it. What a terrible experience!
Attention:
You are allowed to get back the classic Start menu in Windows 11 if you don't like the new changes.
Tip:
Please take good care of your data saved on your Windows 11 computer while using it or trying to make some changes on it. If some important files are lost unfortunately, you should acquire a data recovery tool like the one released by
MiniTool Solution
to get them back without any delay.
MiniTool Power Data Recovery TrialClick to Download100%Clean & Safe
Windows 11 Start Menu Not Opening, Stuck, or Frozen
Please don't get too upset when you're in face of Windows 11 Start not working. It is not a rare situation; on the contrary, you've got a lot of companions. You may run into one of the following issues indicating Start menu not working in Windows 11:
Windows 11 Start menu not opening
Windows 11 Start menu stuck or frozen
Windows key not opening Start menu
Fixes to Try When Your Start Menu Doesn't Work on a Windows 11 PC
The following methods are very useful for fixing Windows 11 Start menu not working.
Fix 1: Restart Your PC
The first thing to try when meeting most errors on a computer is restarting. Restarting a computer is very helpful for fixing random bugs. There are 3 easy ways available to restart Windows 11 even if you find the Start menu not opening.
The 1st way:
Right click on the Start button or press Windows + X.
In the WinX menu, navigate to Shut down or sign out.
Click Restart from the submenu.
How to fix WinX menu not working?
The 2nd way:
Minimize all opening windows on your PC.
Press Alt + F4 to open the Shut Down Windows pane.
Select Restart from the drop-down men and click OK.
The 3rd way:
Press Ctrl + Alt + Delete on the keyboard simultaneously.
Click on the Power icon in the lower right corner.
Select Restart from the pop-up menu.
Fix 2: Restart the File Explorer
How to restart the Windows 11 File Explorer:
Open Task Manager on your PC. The most direct way is pressing Ctrl + Shift + Esc.
Look for the Windows Explorer option under the Processes tab.
Select it and click on the Restart button at the bottom right.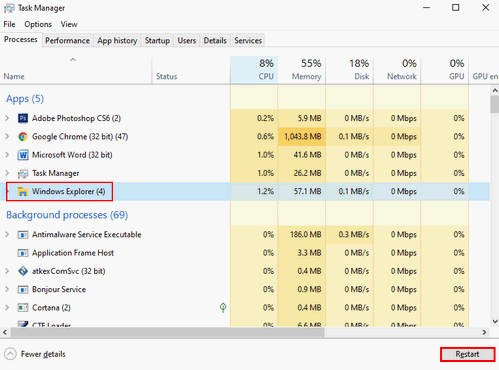 Fix 3: Sign in with Local Administrator Account
Press Windows + I.
Select Accounts in the left pane.
Click Your info in the right pane.
Click on the Sign in with a local account instead link.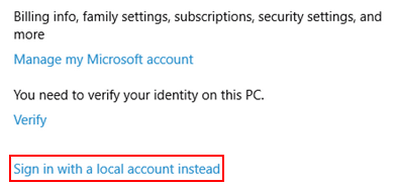 Fix 4: Force Restart Iris Service
Press Windows + S.
Type cmd.
Right click on Command Prompt.
Select Run as administrator.
Copy & paste this: reg delete HKCU\SOFTWARE\Microsoft\Windows\CurrentVersion\IrisService /f && shutdown -r -t 0.
Press Enter and your computer will restart.
10 Other Useful Fixes
Run Windows troubleshooter
Run DISM and SFC scan
Restart Windows background services
Boot into safe mode to try the Start menu
Revert registry changes used to get back classic Start menu
Reset your PC or perform a system restore
Rebuild search index
Disable Antivirus
Check for updates
Uninstall recent updates like the KB5004300 update