Wonder what AMD processors are supported by Windows 11 and if your AMD CPU supports Windows 11? You can check the list of Windows 11 supported AMD processors below. Also learn how to check what type of CPU you have and if your processor supports Windows 11 upgrade or not.
Windows 11 Supported AMD Processors
For new OEM Windows 11 devices, it may use the following AMD CPUs. Check the list of AMD processors/CPUs supported by Windows 11 below.
AMD 3015e/3020e
AMD Athlon 3000G/300GE/300U/320GE
AMD Athlon Gold 3150C/3150G/3150GE/3150U
AMD Athlon Silver 3050C/3050e/3050GE/3050U
AMD EPYC 7252/7262/7272/7282/7302/7313/7343/7352/7402/7413/7443, etc.
AMD Ryzen 3 3100/2300X/3200GE/3200U/3250C/3350U/4300G/4300U/5300U/5400U, etc.
AMD Ryzen 3 Pro 3200G/3300U/4350G/4450U/5350G/5450U, etc.
AMD Ryzen 5 2600/3600/2500X/2600E/3400GE/3450U/3500C/3600X/4500U/5600X, etc.
AMD Ryzen 5 Pro 2600/3600/3400G/3500U/4650G/4650U/5750G, etc.
AMD Ryzen 7 2700/5800/2700X/3700C/3700U/3800X/4700G/4800U/5700G, etc.
AMD Ryzen 7 Pro 2700/2700X/3700U/4750G/4750GE/4750U/5850U.
AMD Ryzen 9 5900/3900X/3900XT/3950X/4900H/4900HS/5900HS/5900HX/5900X, etc.
AMD Ryzen 9 Pro 3900
AMD Ryzen Embedded V2000 Series
AMD Ryzen Threadripper 2920X/2950X/2970WX/2990WX/3960X/3970X/3990X.
AMD Ryzen Threadripper 3945WX/3955WX/3975WX/3995WX.
Check Your CPU Model and Check If It Supports Windows 11
How to check your computer CPU:
You can press Windows + S to open the Windows Search box, type about, and choose About your PC to access the About window. Here you can check your processor model next to Processor, under Device specifications.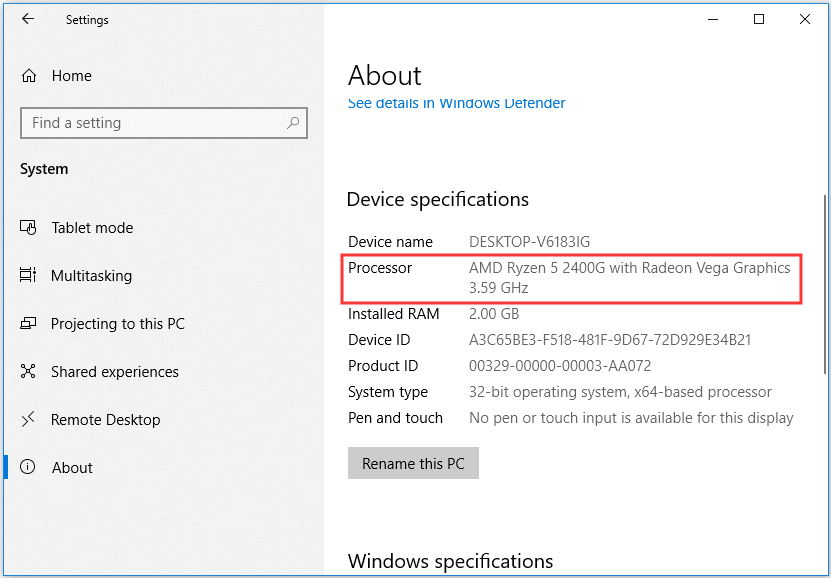 How to check if your CPU supports Windows 11 or not:
To check if your CPU supports Windows 11, you can use the free PC health check software provided by Microsoft – PC Health Check. This free application can quickly check your computer hardware with one click to let you know if your CPU supports Windows 11 or not.
Free Products Offered by MiniTool Software
MiniTool Software is a top software developer that has released some popular products for Windows users. You may need the tools below.
MiniTool Power Data Recovery is a free data recovery program for Windows. You can use this program to recover any deleted or lost files, photos, videos, or any other files from Windows computers, USB flash drives, SD/memory cards, external hard drives, SSDs, etc.
MiniTool Partition Wizard is a free disk partition manager for Windows. You can use it to create, delete, extend, resize, format, wipe a partition, migrate OS to HD/SSD, test hard drive speed, benchmark disk, check and fix disk errors, and manage your hard disks from all aspects.
MiniTool ShadowMaker is a professional free PC backup software program. You can use it to back up files, folders, partitions, or the whole disk content to an external hard drive, USB flash drive, or network drive.
MiniTool MovieMaker is a free video editor & movie maker program for Windows. You can use it to easily edit video clips and make personalized videos for uploading to YouTube, Facebook, etc.
MiniTool Video Repair is a free video repair tool for Windows. You can use it to repair corrupted MP4/MOV video files for free.
If you have any problems with using MiniTool Software products, you can contact [email protected].