Update: The official Windows 11 is already available since October 5, 2021. 
About Windows 11 Touch Input
For Win11 new technologies of inputting, besides voice input, people are also able to take advantage of an improved touch keyboard to type. Microsoft has improved the scaling layouts of its on-screen keyboard on Windows 11 and added more themes for it besides the traditional light and dark modes.
How to Use Touch Screen Windows 11?
First of all, a touch screen is only available on laptops, tablets, etc. computer devices that support touch screens; it is not possible on the desktop. You can check with the device manual or the store where you purchased it to see whether it has a touch input feature or not.
The following are the steps to quickly enable Windows 11 touch screen for touch input.
Click on the Start menu icon on the taskbar and search "device manager" with the Windows Search utility within the Start menu. You can begin typing immediately when the Start menu is open without firstly clicking on the search bar at the top.
Open Device Manager in the search result.
In Device Manager, expand the Human Interface Devices and select the first HID-compliant touch screen. If you can't see this option, it is probably that your device does not have a screen that supports touch. If you are sure that your Windows 11 device supports a touch screen, you may refer to this article to solve your problem: How to Fix HID Compliant Touch Screen Missing?
Choose Action > Enable device on the top menu of the Device Manager.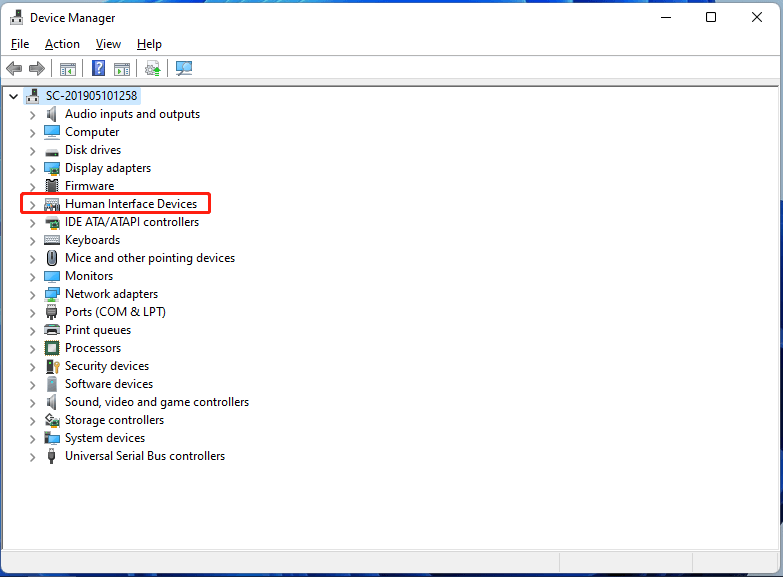 Repeat the above process to enable all your HID-compliant touch screen items in Device Manager.
How to Enable Windows 11 Touch Keyboard?
Generally, it is very simple to trigger an on-screen keyboard in Windows 11. Just click on the Touch keyboard icon on the taskbar! If you can't see the on-screen keyboard icon in the taskbar, right-click on the taskbar and select the Show touch keyboard button option.
Or, you can navigate to Windows Settings > Personalization > Taskbar, unfold Taskbar corner icons, and turn on the Touch keyboard option. You can also reach this taskbar setting by right-clicking on the taskbar and choose Taskbar settings.
When you finally get your touch keyboard opened, you can do some customization to it. Just tap on the gear icon on the top left of the touch keyboard and you can change keyboard layout, enable handwriting, personalize theme and size, specialize typing preference (autocorrect), as well as switch language, etc.
Also read: Tutorial on How to Use the Touch Keyboard in Windows 10?
Windows 11 Touch Screen Gestures
Firstly, let's see a video teaching you how to use screen gestures in Windows eleven.
Select an item – Tap on the screen.
Right-clicking – Use 1 finger to hold the target site for a few seconds.
Open widgets – Swipe from left to right on the screen.
Open notification/action center and calendar – Swipe from right to left on the screen.
Show the desktop – Put 3 or 4 fingers on the screen and swipe them down to minimize all programs.
See all open windows – Place 3 or 4 fingers on the screen and swipe them up.
Open task view – When all your opened windows are on the screen, just put 4 fingers on the screen and swipe up. Or, just tap on the task view icon next to the Search icon on taskbar.
Add new desktop – In the task view, just tap on the New desktop
Switch between different desktops – Tap 4 fingers on the screen and swipe left or right.
Snap a window to one side – In portrait mode, just grab the edge of the window which will automatically be roomed in and move it to the left/bottom or right /top side you want. Then, you can simply tap on another window to make it fulfill the other side. If you switch your device from portrait to landscape, it will automatically change the two windows from stacked view to side-by-side view.
Scroll – Place 2 fingers on the screen and slide vertically or horizontally.
Zoom in or zoom out – Place 2 fingers on the screen and pinch in or stretch out.
Open Cortana – Tap 3 fingers on the screen.
Windows 11 Touch Input Not Working
If the touch screen on your Windows 11 does not work, you can try the below solutions to fix it.
Solution 1. Enable Touch Screen Functionality
The first method is to turn on the touch screen services by the instruction described above. The touch screen function should be on by default. Yet, it still has a chance to be off.
Solution 2. Update Touch Screen Driver
Secondly, a non-workable touch screen may result from that its driver is out of date. If so, you can just bring it back to work by updating its driver. In Device Manager, right-click on each HID-compliant touch screen and select Update driver.
Besides, you can try to disable and re-enable the touch screen driver or uninstall and reinstall its driver.
Solution 3. Restart Windows 11 Device
Sometimes, a restart of the device can deal with its issues.
Solution 4. Update Windows 11
Also, update the operating system (OS) usually handle many problems.
Solution 5. Check the Hardware
If you bought your machine at a comparatively cheaper price, your hardware equipment may be lower than others. That is to say, your computer may not support a touch screen.
Solution 6. Calibrate your Touch Screen
Sometimes, a set of specific Windows touch settings will solve Windows 11 touch input not working problem.
Make sure all your human interface devices are connected to your computer including mouse, keyboard, trackpad, and so on.
Search "calibrate" and launch the Calibrate screen for pen or touch input
Select Calibrate in the default Display tab of the popup.
Choose Touch input in the new window. If you are using a device that has a stylus such as Surface, you should select Pen input.
If a User Account Control message pops up, just click the Yes
Next, tap the crosshair in the upper-left corner of the screen. Then, tap it again each time it moves.
If you are satisfied with the setting, just click on the Save the calibration data. If not, select the reset
Solution 7. Clean the Screen
Finally, your screen may be dirty and disturbed by dust. Then, just clean it with a soft cloth. Sometimes, you may need to remove its case or screen protector to return its availability. Also, make sure your hands are clean and dry without gloves.
Other Possible Solutions
Dry the device out if it gets wet.
Tap the edges of the device that has dropped.
Disconnect peripherals of the device.
Set the device in safe mode.
Take the device for professional fix service.
Also read