This post illustrated on MiniTool official web page includes two main parts: dealing with Windows 11 Wi-Fi not working error and providing entrances for downloading Win11 wi-fi drivers. Find what you need below!
How to Solve Windows 11 WiFi Driver Not Working Problem?
If you want to fix your unavailable Wi-Fi issue in Windows 11, select one of the below methods.
#1 Update Windows 11 Wi-Fi Driver
First of all, you can try to update the wireless driver of Windows 11 to make it work again.
Find and unfold the Network adapters option.
In the expanded list, find the target wifi driver. Right-click on it and choose Update Driver.
Follow the instruction to complete the task.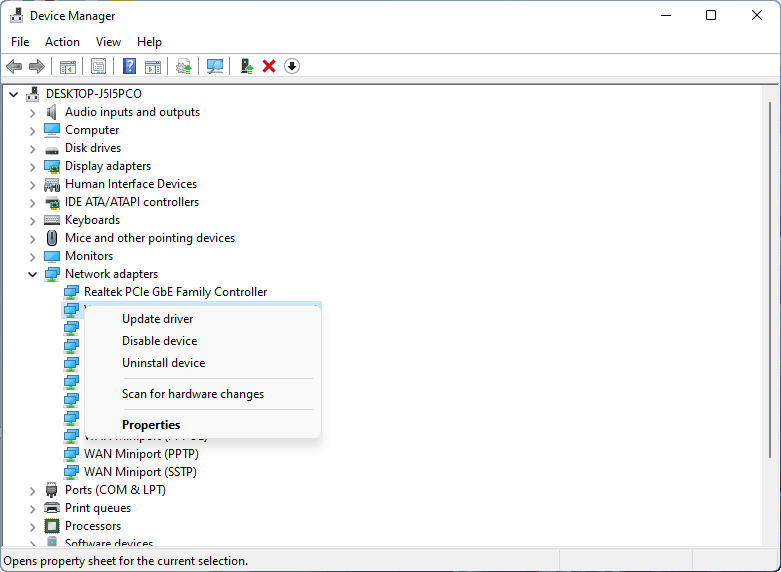 You can also directly update the operating system to receive possible Wi-Fi driver update.
#2 Reenable WiFi Driver Win11
Secondly, you can turn off and turn on your Wifi driver to deal with Windows 11 wi-fi driver not working error.
Go to Windows 11 Device Manager.
Expand Network adapters.
In the sub list, right-click on the target Wi-fi driver and click Disable device.
Right-click on the same driver and choose Enable device.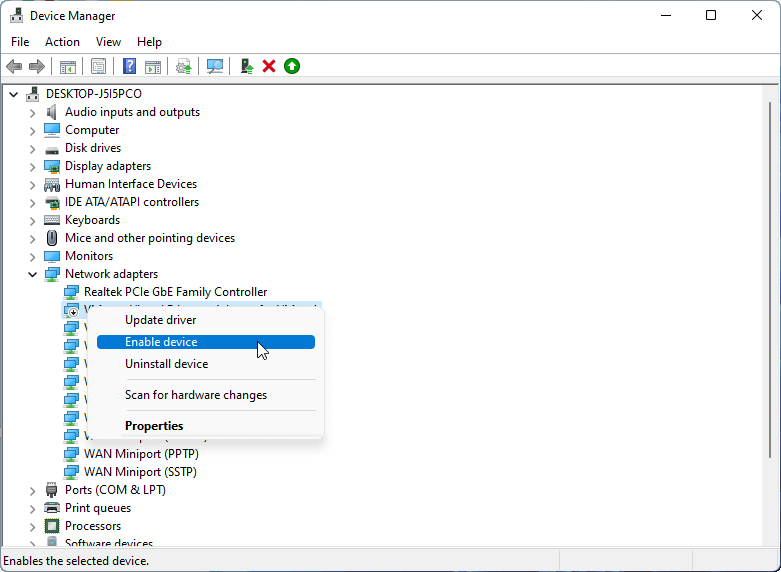 #3 Reinstall Windows 11 WIFI Driver
Thirdly, you may handle the problem by reinstalling the Win 11 WI-FI driver.
Launch Windows 11 Device Manager.
Unfold the Network adapters section.
Right-click on your Wi-Fi driver and choose Uninstall device.
Finally, restart the computer to let Windows automatically reinstall a proper Wifi driver for you.
#4 Troubleshoot Windows 11 Internet Connections
Fourthly, you may try to troubleshoot Windows 11 Wifi driver not working problem.
Navigate to Windows 11 Settings > System.
Scroll down to select Troubleshoot.
Choose Other troubleshooters.
Click the Run button for Internet Connections.
Then, follow the guide to finish.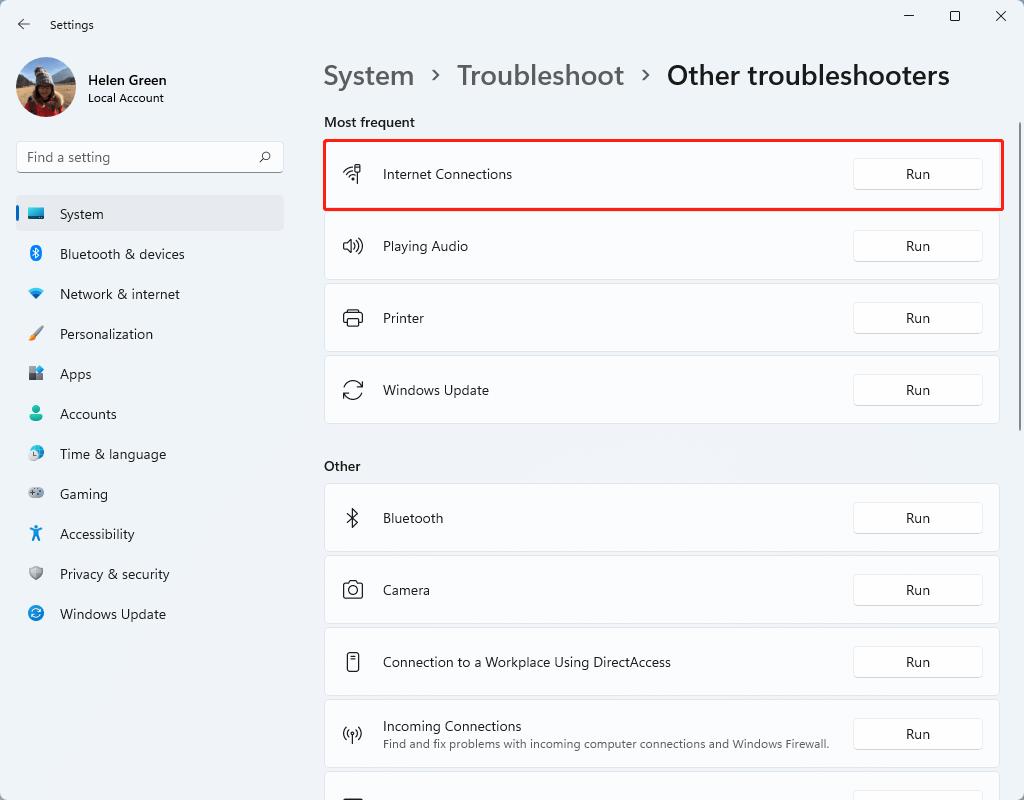 #5 Scan for Virus
Sometimes, some virus or malware will prevent you from using WiFi. If you can't deal with your situation with the above methods, just perform a full scan of your computer for virus infection. Before doing that, you can conduct sfc /scannnow command in CMD to detect and fix corrupted system files, which may also handle the problem.
How to Fix Other Windows 11 Wi-Fi Problems?
If you encounter other wifi issues like Windows 11 WiFi Adapter not working, you can rely on the below solutions to solve them.
#1 Reset Wi-Fi Adapter
To reset the WIFI adapter, go to Settings > Network & internet > Advanced network settings > Network reset and click the Reset now button.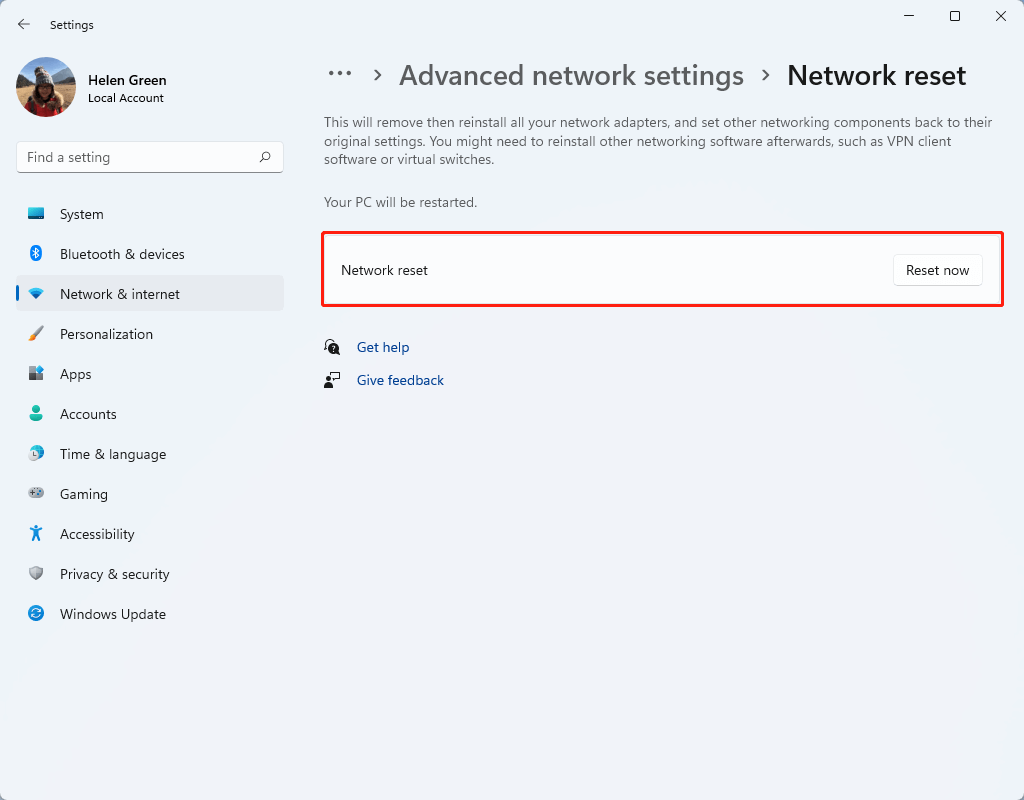 #2 Troubleshoot Network Adapter
Like troubleshoot Internet connections, navigate to Settings > System > Troubleshoot > Other troubleshooters and click the Run button behind Network Adapter.
#3 Ensure Wi-Fi Adapter is Enabled
Make sure the WiFi adapter is turned on and Wi-Fi is enabled in network settings.
#4 Replace Wi-Fi Adapter
If none of the above solutions work, it may be your Wi-Fi adapter is broken. If so, you need to replace the current WiFi adapter with a new one. Or, you can rely on a USB wireless adapter dongle to attach via a USB port to your machine.
#5 Make Use of Ethernet Adapter
Finally, you can give up WiFi and resort to an Ethernet adapter. Yet, you should note that an Ethernet is not as convenient as Wifi.
#6 Other Possible Solutions
The following are some other ways that may help you solve WiFi not working problem.
Reconnect Wi-Fi.
Disable power saving mode for Wifi driver.
Disable Wi-Fi metered connection.
Windows 11 WiFi Driver Download
The following are the URL links for downloading Win11 Wi-Fi drivers.
Or, you can rely on Windows 11 driver update tool to download missing or update outdated Windows 11 Wi-Fi drivers.
Windows 11 Assistant Software Recommended
The new and powerful Windows 11 will bring you many benefits. At the same time, it will also bring you some unexpected damages such as data loss. Thus, it is strongly recommended that you back up your crucial files before or after upgrading to Win11 with a robust and reliable program like MiniTool ShadowMaker, which will assist you to protect your increasing data automatically on schedules!
MiniTool ShadowMaker TrialClick to Download100%Clean & Safe
Also read: