You may find that your Windows 7 computer becomes slow all of sudden. This can be a result of many reasons, like software conflict, virus attack, etc. What you should do at this time is definitely take measures to speed up Windows 7. MiniTool Solution summarizes the common methods for making Windows 7 run faster and improving its performance.
A lot of people are complaining that their Windows 7 running slow. Some users said their Windows 7 suddenly slow and unresponsive while others said they found Windows 7 lagging and freezing gradually. In fact, a lot of reasons should be blamed for causing a slow computer:
Memory or disk space insufficient (especially when C is running out of space)
Too many programs and applications running simultaneously
Too many fragment files slow down the speed
Special effects like visual effect degrade the performance
Etc.
Why Is My Laptop So Slow & How To Fix It?
No matter what the reason is, you should take actions at once to speed up Windows 7 yourself.
Tip: Your important data may be lost due to computer problems when your Windows 7 is running slow (for example, unexpected shutdown and virus attack), so you'd better back them up in advance. If you didn't have chance to backup before they get lost, you should start to recover the lost files and folders at once by using a reliable recovery tool.
How to Speed Up Computer Windows 7
People would like to know how to make Windows 7 faster and improve its performance every time when they find the system runs slow: Windows 7 suddenly slow and unresponsive or Windows 7 running slow after fresh install. Actually, there are a lot of things they can do to make Windows 7 running faster.
Run the Performance Troubleshooter
Click on the Start button in the lower left corner.
Select Control Panel from the start menu.
Type troubleshooter into the search box at top right.
Click on the Troubleshooting link from result.
Look for the System and Security section.
Click on the Check for performance issues link under it.
Follow the on-screen instructions to troubleshoot performance issues.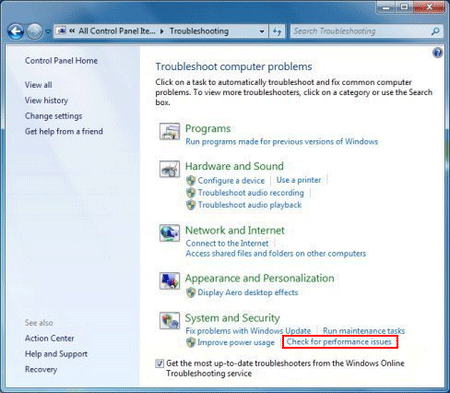 Run Fewer Programs
You can go to certain programs and close them manually by clicking on the X button. You can also run Task Manager to close unnecessary programs, apps, and services.
Open Task Manager in the way you want (pressing Ctrl + Shift + Esc).
Select the Processes tab.
Browse the apps, programs, and processes that are running.
Right click on a program and select End Process.
Repeat step 4 until you have closed all unnecessary programs.
How to disable unnecessary startup programs:
Click Start.
Type msconfig into the search box.
Press Enter to see the System Configuration window.
Choose the Startup tab and browse the programs list.
Uncheck the program you don't want to start when the PC boots.
Click Apply and then OK.
Restart your PC.
In addition, you can go to the Programs and Features pane to uninstall the programs completely from Windows 7 if you don't need them anymore.
Clean Up the Hard Disk
Click Start.
Click All Programs.
Expand Accessories and System Tools.
Select Disk Cleanup.
Wait for the calculating process.
Choose the files you want to delete by adding a checkmark in front of them.
Click OK.
Click Delete Files in the pop-up window to confirm.
How To Restore Document After System Clean – Safer Is Better?
Defragment the Hard Disk
Open Windows Explorer.
Right click on the target disk.
Select Properties.
Shift to the Tools tab.
Click on the Defragment now button under Defragmentation.
Make sure the target disk is selected.
Click on the Defragment disk button and wait.
Restart your PC.
What if Windows Explorer stopped working or not responding?
Apart from above methods, you can also try to speed up Windows 7 by:
Updating drivers
Turning off visual effects
Scanning PC for virus and malware
Adding more memory (RAM)
Changing the size of virtual memory
That's all about the tips to optimize Windows 7 for faster performance.