This article published together with MiniTool official webpage mainly talks about the topic of Windows error messages. It is a somehow big and hot topic ever since the popularity of Microsoft Windows operating systems (OS). Even though has been written over and over again, it is still worth reading the following content for some new information.
About Windows Error Message
What Is Windows Error Message?
An error message of Windows alerts users of an already occurred problem, while a warning message alerts people of a might coming problem. Error messages can be presented with a modal dialog box, notifications, in-place messages, or just balloons.
An effective error message informs us that a problem has occurred, explains why the problem happened, and even provides solutions for us to fix the problem. Usually, it recommends us either to change our behaviors or to perform an action.
Microsoft thinks the well-written and helpful error messages are vital to a quality user experience, while poorly-written error messages lead to low product satisfaction, and are the main cause of avoidable technical support expenses. Besides, unnecessary error messages break users' flow.
How to Figure out Whether an Error Message Is Necessary or Not?
Since Windows error messages are easy to be confused with Windows warning messages, Windows confirmations, or Windows notifications, sometimes, they are unnecessary, unhelpful, poorly written, and annoying, you may want to know which situations an error message should be avoided. You can make your judgment following the below aspects.
Whether the words present a problem that has already happened or not?
Whether the problem can be prevented without confusion or not? (If it is true, just prevent the problem.)
Whether the problem can be corrected automatically or not? (If so, solve the problem and avoid the error message.)
Whether the message requires users to change their behavior or to perform an action or not? (If not, the condition does not justify interrupting the user, so it is recommended to suppress the error.)
Whether the problem be relevant to the program that the user is using or not? (If it is true, the problem may be shown with a notification instead of an error.)
Whether the problem require immediate user action or not? Whether the problem can be freely ignored or not? (If yes, the message is probably an action failure notification, not an error message.)
Whether the problem be related to the status of a background task within a primary window or not? (If it is, the message is most likely be shown using a status bar.)
Whether the primary target readers of the message IT professionals or not? (If so, windows will consider using an alternative feedback mechanism, such as log file entries or e-mail alerts, instead of an error message.)
Example of Windows Error Messages
As you all know, there are tons of error messages that users have already come across. Yet, it will only list some typical errors below.
Windows XP Error Message

This error message is from the Windows XP operating system. It indicates that a program could not launch for the system is shutting down. Since there is nothing that users can do about this error, or, users may even don't want to do anything, this error message is completely unnecessary!
Windows Error Codes
For error messages that cannot make specific and actionable, or they benefit from Help, Microsoft will also provide error codes. Thus, users use these error codes to search the Internet for additional information. Below are some common Windows stop code errors.
1. Windows 10/11 Error Code 0xc00000e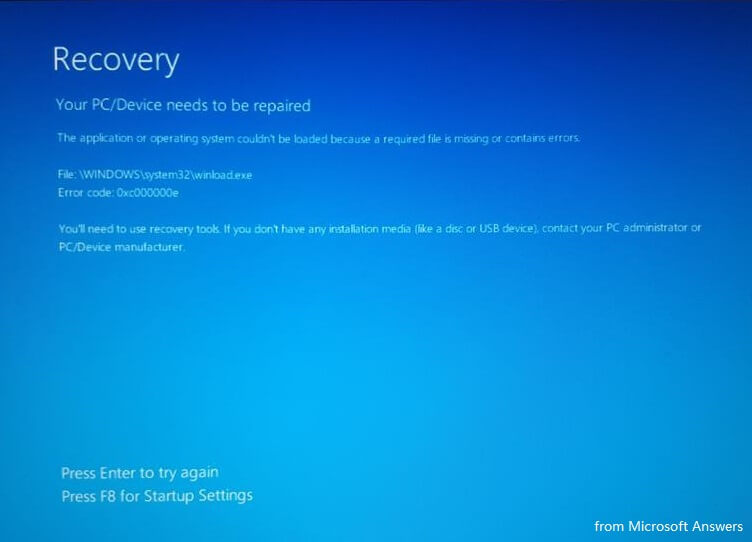 This is an error related to system loading. It failed to load OS or applications due to a required file is missing. It is recommended to use a recovery tool like an installation USB.
Solution: How Can You Fix Error Code 0xc000000e in Windows 10/11?
2. Error Code 0x80004005 Windows 10/11
We cannot figure out what problem it is and what may be the causes since the error message itself doesn't give much info. Actually, Windows itself isn't sure what the problem is. Yet, it gives us an error code number string. After searching online with the code, you can get to know it is a Windows update error.
Solved: Windows Update Error 0x80004005 Appears, How to Fix
3. Windows 10/11 Error Code 0xc000014c
This is still a system boot error indicating that the boot configuration data is missing or contains errors. It also locates the file as \Boot\BCD. Also, the Windows error message recommends relying on a recovery installation disc to solve the problem.
Fix: Boot Configuration Data Unreadable Error 0xc000014c
4. Windows Error Code 0x803f7001
This in-place error message reminds you of a Windows activation failure. It says that since the previous version of Windows wasn't activated prior to upgrading to this version, it can't activate this version directly. It suggests users go to the Windows Store to buy genuine Windows.
There are also many other system activating errors, find them here >>
5. Windows 10/11 Error Code 0xc00000f
This is another computer repair error saying that a required device is not connected or cannot be accessed. Similarly, you are suggested to make use of the installation tool. Besides, it provides three options including try again, set up Startup, and set up UEFI Firmware.
Related article: How to Fix "0xc000000f" Error on Different Windows System
Verdict
There are still a great many Windows error messages that we can't list them all here, such as blue screen of death errors. Generally, if you encounter an error message in the future while using Windows, don't be panic, follow its suggestions to fix the problem. Or, use its error code to search fixes online.
Among a large number of error messages, some of them may cause you data loss even after a fix. Therefore, it is of great necessity to back up your crucial data before those errors occur. Here, the professional and reliable computer backup software – MiniTool ShadowMaker is recommended. Freely download it and build protection for your data that you should be responsible for.