Do you know what does the winre.wim file mean? What's the function of it? How to fix related errors? Please don't be anxious if you don't know any of these things; MiniTool will answer these questions for you later on this page. After reading, you'll know well about the Windows Recovery Environment on your computer.
Introduction to Windows Recovery Environment (Windows RE)
Windows Recovery Environment, also known as Windows RE or WinRE, refers to a recovery environment in Windows operating system. WinRE is developed on the basis of Windows Preinstallation Environment (Windows PE) and it's preloaded into the desktop editions of Windows 10 and Windows 11 (Home, Pro, Enterprise, and Education). Besides, Windows Server 2016 and later versions also have built-in Windows RE.
You can customize the Windows Recovery Environment on your PC with additional drivers, languages, Windows PE Optional Components, and many other troubleshooting and diagnostic tools. WinRE Windows 10 is frequently used by people to repair common unbootable operating systems issues.
What's Included in WinRE
Tools contained in Window RE: the push-button reset tool for only Windows desktop editions, the system image recovery tool for only Windows Server editions, the automatic repair tool, and other troubleshooting tools.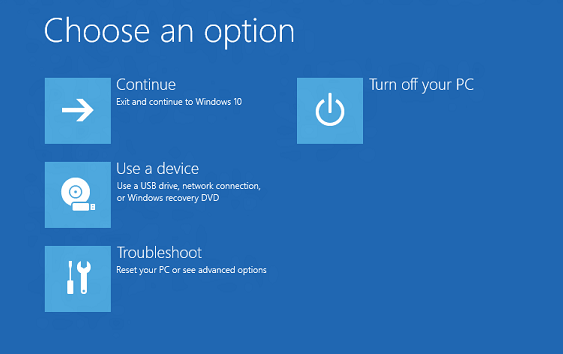 What Is Winre.wim
The Winre.wim is the baseline WinRE tools image, which can be added to a separate partition from the Windows and data partitions. By doing this, users can even make use of Windows RE when the Windows partition is protected with the Windows BitLocker Drive Encryption (click here to learn more about BitLocker drive encryption recovery).
Tip: There's a powerful recovery tool provided for all common Windows operating system users to regain lost files.
Winre.wim Error
What are the common Winre.wim issues?
Error: Winre.wim.
wim is missing.
Error loading Winre.wim.
Failure to load Winre.wim.
Failed to register Winre.wim.
wim Runtime Error.
wim could not be found.
What are the popular causes of Winre.wim errors?
wim is broken due to virus infection.
Some other program is conflicting with Winre.wim.
The registry keys related to Winre.wim are invalid or corrupted.
wim is deleted by non-Windows related programs maliciously or due to mistake.
The download of Winre.wim-related program is corrupted or the installation is not completed properly.
[SOLVED] How To Recover Files Deleted By Virus Attack | Guide.
What's New in WinRE for Windows 11
The Windows Recovery Environment (WinRE) also comes with Windows 11, but it has changed in some aspects when compared to the WinRE Windows 10.
There are mainly two changes in WinRE for Windows 11:
Microsoft now allows you to run most tools within WinRE in Windows 11 and you don't need to select an administrator account and enter the password. However, even though you're in the recovery environment, you won't be able to access the encrypted files without a correct key to decrypt.
Microsoft updated the behavior of Advanced startup, making Ease of Access features available in the recovery environment. Previously, the narrator feature will not be enabled during Advanced startup and can't be enabled after it if it was enabled before restarting; but now, the Advanced startup can boot directly into WinRE and it's easy for users to turn on Ease of Access features with a keyboard shortcut.
Boot to Advanced Startup (WinRE) in Windows 11
Advanced startup is very useful since it enables you to do the following things:
Restore your system by using a system image.
Get access to the UEFI firmware of your computer.
Boot from external recovery disk (USB or DVD) or device (UEFI only).
Boot into Start recovery (Windows RE or WinRE) and use troubleshooting & diagnostic tools.
Select the default operating system that you want your computer to boot into when there's multiple systems installed.
How to Boot to Advanced Startup (WinRE) from Settings
Open Settings by press Windows + I or in other ways.
Select System from the left-hand panel.
Look for the Recovery option from the right-hand panel and click on it.
Navigate to Advanced startup under Recovery options.
Click on the Restart now button and then wait.
How to Boot to Advanced Startup (WinRE) via Restart + Shift
There are various ways to access the Restart option in Windows 11. Here is the most commonly used way:
Click on the Start button or press Windows on keyboard to access the Start menu.
Click on the Power icon in the lower right corner.
Select Restart while pressing & holding the Shift key at the same time.
Then, release the Shift key.
How to Boot to Advanced Startup (WinRE) from Command Prompt
You can open Command Prompt tool (the Windows Terminal) in many ways. Here is an easy approach:
Press Windows + S.
Type cmd.
Click Run as administrator under Command Prompt app.
Type shutdown /r /o /f /t 00 and press Enter.
In addition, you can boot to the Advanced startup (WinRE) in Windows 11 from the installation USB, recovery drive, or from a hard reboot.