Summary
Microsoft has released a preview of Windows Terminal, a terminal application and now you can download this app from the Store to access the Command Prompt, PowerShell, and the Windows Subsystem for Linux (WSL). In this post, we will show you many details on this app.
Windows Terminal Is Available in Microsoft Store
Windows Terminal is a terminal application for Windows 10 written by Microsoft at Build 2019 in May. This app consolidates all command line tools into a unified tabbed interface. With it, you can easily access PowerShell, Command Prompt and the Windows Subsystem for Linux (WSL).
Now you can run Pengwin, a new Linux distro in Windows 10 thanks to Windows Subsystem for Linux (WSL). Read this post to learn more about the new system.
Windows Terminal makes you get CPU-accelerated text rendering, the capability of customizing themes and support for Unicode & UTF-8 characters.
Up till now, developers can manually compile the source code made available on GitHub to install the Windows Terminal preview. But now, as Microsoft admits, this company has released an installer to the Store so that more users could test it out.
The app preview was released on June 21. Windows Terminal is available to use only for Windows 10 users for free who are running Windows 10 May 2019 Update (version 18362 or higher).
Tip:
To use this app, please upgrade to the Windows 10 version 18362 or higher. Before the update, you'd better back up the Windows OS with MiniTool ShadowMaker, a
PC backup software
in advance in case of system accidents.
Of course, if you are developers, you can still compile the up-to-date code available on GitHub and simultaneously run it alongside the Store version.
Customize Your Own Terminal
Custom Settings
After installing this app, you will view a standard terminal interface that doesn't give any snazzy theme or customization. But Microsoft allows you to change it. As mentioned above, this app includes multiple tab support, themes, and customization for you to tweak the app.
To get the customization options right now, you need to edit a JSON file as this early preview doesn't have full functionality.
The profiles.json file is the place where you can create your own unique Terminal experience by customizing your settings. To access this file, please click on the settings button in the drop-down menu. Then, this file will open in the default JSON text editor.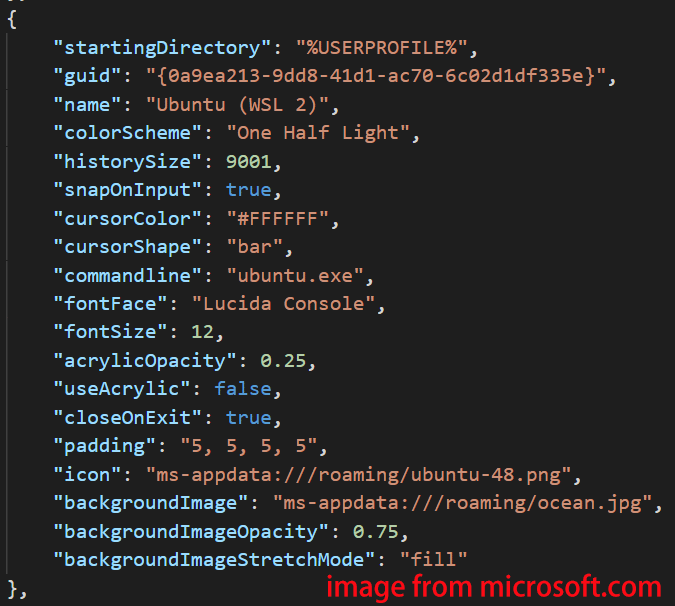 After changing the JSON object, the Terminal will automatically refresh to show the latest changes.
Custom Key Bindings
If you want to invoke some functions in the Terminal, it is allowed to write your own custom key bindings. To create a unique command-line experience, you can configure them within your settings. Default key bindings are included in the settings file; you can modify them and add some new.
Background Image Support
Besides having an acrylic background with a blur effect, you are able to set any image or gif as the background image on a per-profile basis. That is, each profile can be uniquely set using different background images.
Final Words
Now, you have known much information about Windows Terminal. According to Microsoft, this is the first of several preview releases to the Microsoft Store.
Kayla Cinnamon, Windows Terminal program manager says:
"The Terminal team is working towards creating a consistent schedule that offers regular previews and more frequent builds for those who want to get access to the latest features as they arrive. Windows Terminal 1.0 will arrive in the Microsoft Store this winter!"

microsoft
If you want to try out the new app, download Windows Terminal immediately from the Store.