The WinX menu in Windows systems is very useful and people are using it now and then. There are many ways to access the WinX menu. But, many Windows 10 users reported frequently that the WinX menu is not working and they want to find a way to solve it. Here, several practical ways will be introduced for them.
What Is WinX Menu
Literally, the WinX menu refers to the menu you can see after pressing Windows key + X on the keyboard (there are also other ways to open WinX menu). You are allowed to open some useful tools in Windows (such as Apps and Features, Power Options, Device Manager, Disk Management, Task Manager, and Run) by accessing WinX menu directly.
The default location of the WinX menu shortcuts is: C:\Users\ACK\AppData\Local\Microsoft\Windows\WinX. You may go to check it and determine whether you'd like to create new shortcuts for it or replace the corrupted ones.
Please resort to MiniTool software if you'd like to take good care of your system, disk & data.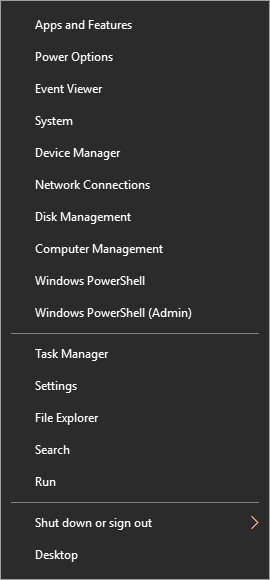 According to users' feedback, Windows 10 has more problems than any other system; this may be due to the very high frequency of use of the system. Anyway, you need a way out when getting into trouble. I'm here to help you.
Useful Tips On How To Improve Windows 10 Performance!
How to Fix Windows Key + X Not Working
Windows + X not working is one of the frequently reported issues in Windows 10. In the following sections, I will show you how to troubleshoot it in different ways.
WinX Menu Not Working
WinX menu not working means pressing Windows + X not working on computer; it was supposed to open the context menu of the Start button at the bottom left. A permission problem may prevent your WinX menu from showing up. But luckily, it can be fixed easily.
Uninstall applications.
Add new item to the WinX menu.
Install new language pack.
Check registry.
Clean boot.
Perform SFC/DISM scan.
Disable shell extensions.
# Fix 1: Uninstall Applications
Many Windows users, especially Windows 10 users, have reported that some applications they have installed on the computer are interfering with context menu and causing Windows X not working.
For instance, the installation of QuickSFV is a common cause of Windows logo key not working. Why? The boot reason is the program adds context menu items. And users said their problem was solved immediately when they uninstalled the QuickSFV from PC.
How to uninstall a program?
Open Windows search box.
Type control panel and select it from the result.
View items by Category.
Find Programs and click Uninstall a program.
Select the certain application and click Uninstall.
Similar software also includes Airdroid and NCH Express Zip. You should go to uninstall them manually to see whether the problem can be fixed or not.
#Fix 2: Add New Item to the WinX Menu
Click the Windows key at the bottom left.
Expand Windows System folder and select Run.
Type %localappdata% and click OK.
Now, open the Microsoft, Windows, and WinX folder one by one in File Explorer.
Choose Group 1, Group 2, or Group 3 at your will.
Open the Group and add a new shortcut to it.
How to fix when File Explorer is not working/responding?
You can also try to fix Windows 10 shortcuts not working by copying WinX folder from a default user.
This post tells you how to recover folders from Windows.
#Fix 3: Install New Language Pack
Open Settings app.
Select Time & Language from the list.
Shift to Language in the left sidebar.
Find the option Add a language and click on it.
Browse the languages in the list and choose your desired one to install.
Wait for the process to finish. (You can set it as default after this step.)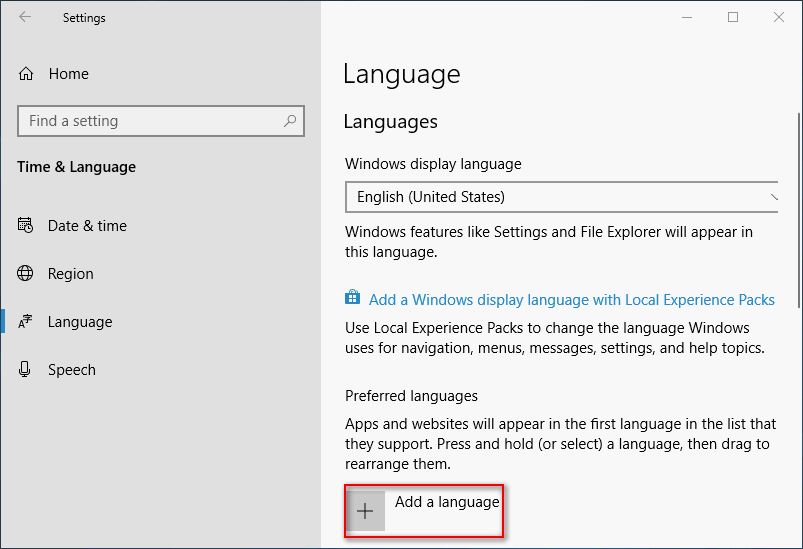 #Fix 4: Check Registry
Open Run window.
Type regedit and hit Enter.
Expand HKEY_CLASSES_ROOT.
Look for the piffile option and select it.
Make sure there is a key named IsShortcut (not NoIsShortcut or anything else).
If above methods didn't work for your case, you still have chances to troubleshoot the WinX menu by using the following ways:
Try the clean boot.
Perform a SFC (System File Checker) scan or DISM (Deployment Image Servicing and Management) scan.
Use CCleaner or ShellExView tool to disable shell extensions.
More methods waiting for you to find out.