YouChat 2.0 Bing Search with AI Chatbot Is Released
Recently ChatGPT, a chatbot, is well-received by the public worldwide and Microsoft tries to add ChatGPT to its Bing search engine to enjoy the fun of this AI. To use ChatGPT for Bing, you need to join the waitlist and you need to wait for the invitation from Microsoft.
If you want to use an AI Bing search engine now without an invitation, You.com can help you to realize the purpose with the help of YouChat 2.0. It is similar to Bing AI and Google Bard AI. According to the blog of You.com, the original AI Search Assistant was introduced in December 2022 but it wasn't available until now.
According to this company, YouChat 2.0 uses C-A-L (a large language model) to blend with AI-powered conversations, web links and citations, and You.com apps. So, you can chat with the AI search engine and it can offer real-time results in a variety of rich-media forms, for example, text, tables, charts, videos, graphs, images, code, etc.
YouChat is supported by many apps including Crypto, Finance, LinkedIn, Wikipedia, YouImagine (AI Image Generator), GeeksforGeeks, MDN, W3Schools, StackOverflow, and more. In the future, the company will add more apps.
The YouChat AI search engine can offer more reliable and dynamic solutions to long & complex questions and improve productivity via simple answers to complex queries with citations and relevant web results.
YouChat 2.0 is powerful in your search:
Find precise answers.
Expand your knowledge and get more options.
Finish more tasks with generative AI apps.
To know what YouChat 2.0 can do, you can refer to its official document – Introducing YouChat 2.0 — Unlock the Power of AI with the Search Assistant that Works for You.
If you are interested in this YouChat search engine with AI support, you can use it. See the following part to know how to access YouChat 2.0.
How to Access YouChat AI Search Engine to Use
It is easy to access/use YouChat AI. See the steps:
Step 1: Visit the page https://you.com/.
Step 2: Type something in the search field and press Enter. This search engine can bring you to the All page with some results. This is similar to a search in any other search engine.
To open the AI chatbot, tap on Chat close to All. YouChat will answer your query and you can see a list of results based on your question on the right sidebar.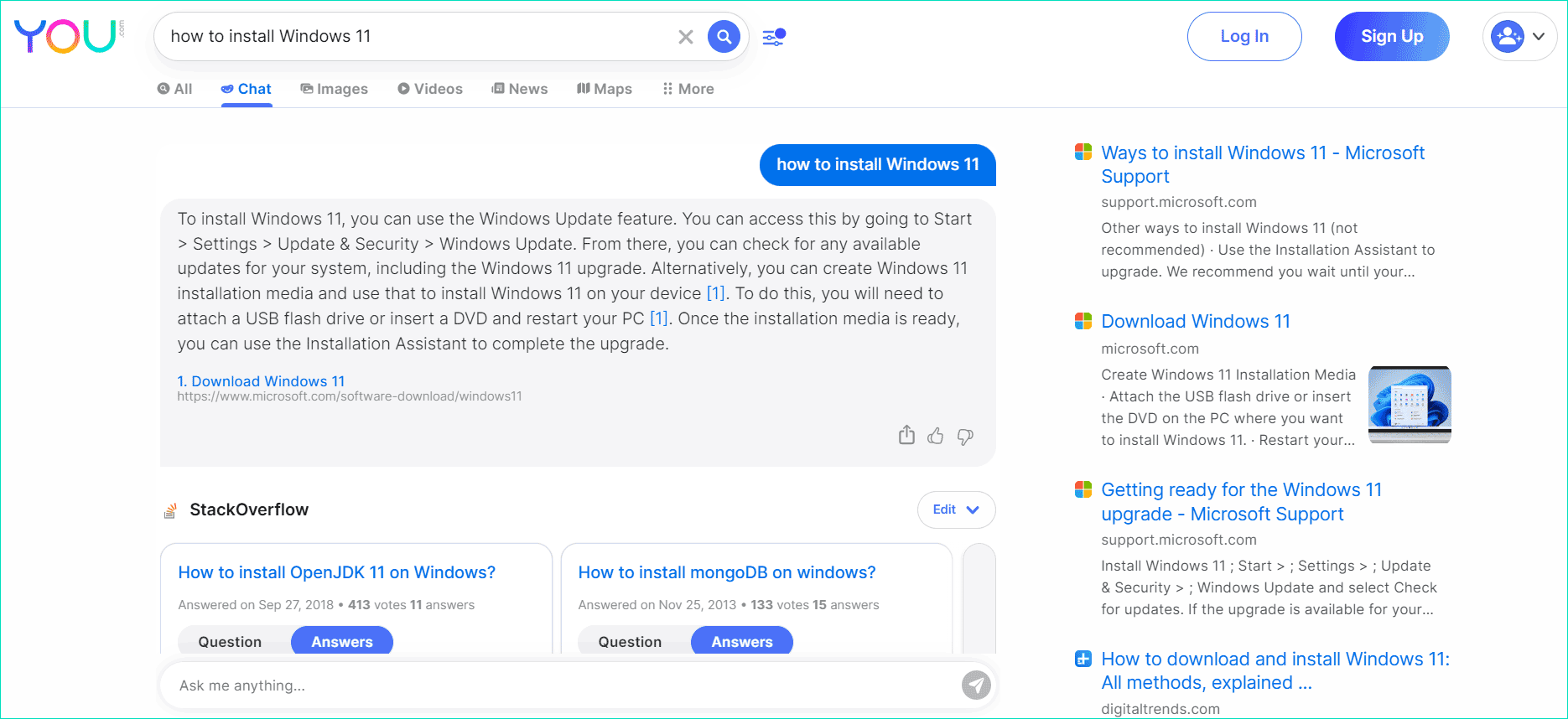 We try to ask some questions and the answers that YouChat AI gives are good but the information is not complete. Besides, the number of queries is limited and you may get the message "Due to high demand, I'm experiencing issues briefly. Please try again later or use the All tab to get an answer in the meantime."
To be a member of You.com, you can click Sign up and then log in to the search engine with your username and password, or via an Apple account/Google account.
The End
To sum up, YouChat 2.0 can bring some fun to you and respond to some complex questions with simple answers. It is not the best chatbot but it is worth a try. If you are curious about this YouChat AI search engine or still waiting to receive the Bing AI invitation, go to access You.com to chat with the chatbot.