Are you getting the error 0x80242016 while you are trying to install certain feature updates through Windows Update in Windows 10/11? If you encounter this error, then you can refer to the solutions provided in this article from MiniTool.
According to the user reports, error code 0x80242016 often occurs while they update Windows. Error 0x80242016 can prevent them from downloading new updates, which can cause compatibility and security issues.
Here is a user report from the Microsoft forum:
So today I wanted to upgrade to the latest insider builds because for some reason my computer never checked or installed any updates for a month, and I am using the fast rig, when I tried installing the latest one it could find and restarted, it said it couldn't finish installing it, then I get this error code. https://answers.microsoft.com/en-us/windows/forum/all/windows-10-failure-to-update-0x80242016
What Causes Error Code 0x80242016?
Before solving the error 0x80242016, it's important to figure out what causes the problem. There are several reasons why this error may appear in Windows 10 and Windows 11. The following are the reasons for this issue:
Incomplete or incorrect update files installed: If some update files were not installed correctly, you may see Windows update error 0x80242016.
Virus or Malware Infection: Virus and malware entities can interfere with the update process, which leads to Windows update 0x80242016 error.
Incomplete application installations: If some applications are not fully installed when trying to install an update, they can confuse the system and throw errors.
Corrupt Temporary WU (Windows Update) File: Temporary WU files are generated by new updates and stored in SoftwareDistribution and Catroot2 folders. When these files are corrupted, this error code can occur.
Misconfigured system files: Some misconfigured system files can also trigger update issues in Windows 10/11.
Insufficient disk space: If junk files take up a large part of your hard disk space, then there is not enough space in your hard disk to install Windows. Therefore, Windows update error 0x80242016 may occur.
Windows Search bugs: If you're using an internal build, the Windows update error 0x80242016 may be due to improvements brought by Windows Search.
Now that we know all the potential causes of the 0x80242016 error, please try the following solutions.
Before you start troubleshooting, you can try some general tricks to get rid of this error 0x80242016:
Restart your PC and try installing the update again.
Install the update are performing a clean boot.
Make sure you are connected to a stable internet.
Unplug any attached USB drives or any other external devices.
Check that your PC's date and time are correct.
If you tried the suggestions above and the error code persists, you can try the following to fix it.
How to Fix Windows update error 0x80242016
There are 7 applicable ways to fix Windows update 0x80242016. We recommend you try them in order until the issue gets solved.
Way 1:  Run the Windows Update Troubleshooter
Run this built-in Windows Update troubleshooter to fix the most common update issues on Windows 10. Please follow the guidelines below:
Step 1: Press the Win + I key to open Settings, and navigate to the Update & Security > Troubleshoot option.
Step 2: Under the Get up and running section, click on the Windows Update option and select the Run the troubleshooter button from the extended pane. For Windows 11, there is a little difference.
Step 3: Follow the on-screen instructions. And when you see the Apply this fix option in the window, click on it to fix this error.
Step 4: Restart your computer.
Way 2: Temporarily Disable Antivirus
If Windows cannot be updated due to error 0x80242016, the problem may be with your antivirus software. Although antivirus tools provide protection, they may misinterpret update files as potential threats. To fix this, you can disable antivirus and security software. Here is the guide:
Step 1: Open Windows Settings, and then click on Update & Security > Windows Security > Virus & threat protection.
Step 2: Locate the Virus & threat protection settings section in the right window, and then click on Manage settings.
Step 3: Turn off the Real-time protection if off, leaving your device vulnerable option.
Way 3: Free up Space to Upgrade Windows
Some users have reported that Windows update error 0x80242016 is caused by insufficient free space on the system reserved partition on the hard drive. Well, you should try running the Disk Cleanup tool to clear any temporary or junk files or running the MiniTool Partition Wizard to extend the system partition. Here are the detailed steps:
Option 1: Run Disk Cleanup
Step 1: Press the Win + E key to open the File Explorer.
Step 2: Click on This PC, and then right-click on your system drive and select the Properties option.
Step 3: In the next pop-up window, click on the Disk Cleanup button.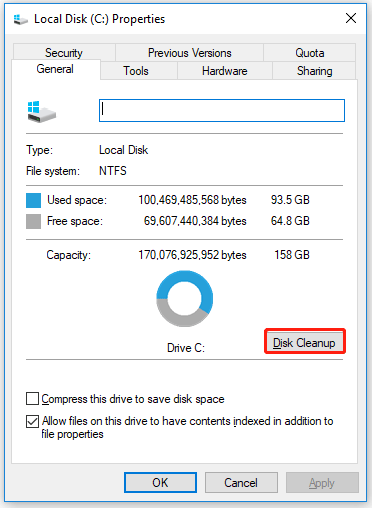 Step 4: In the new window, select the files you want to delete and then click OK.
If you encounter the Windows Update Cleanup stuck issue while running the Disk Cleanup tool, you can refer to this article: Top 7 Fixes to Disk Cleanup Stuck on Windows Update Cleanup
After clearing the junk files, you can try installing the update and check if the error 0x80242016 disappears.
Option 2: Run MiniTool Partition Wizard
After you clear junk files by Disk Cleanup, but there is still not enough space to upgrade Windows, you can extend the system partition with a reliable tool. MiniTool Partition Wizard, a wonderful professional partition manager, is recommended here.
As you know, a hard disk might be divided into several local drives. If a local drive is running out of space but there is enough free space on other drives of the same disk, you can enlarge the drive with the Extend Partition feature of MiniTool Partition Wizard.
Besides, MiniTool Partition Wizard can help you recover missing data, scan bad sectors, fix file system errors, etc.
To get more storage space, here is the guide:
MiniTool Partition Wizard DemoClick to Download100%Clean & Safe
Step 1: To extend the system partition, you'd better use the bootable edition to avoid damage to the system or data loss. So, connect the USB drive to your computer. Then launch MiniTool Partition Wizard and click the Bootable Media icon to create a boot drive.
Note: MiniTool Bootable Media Builder will format the USB flash drive when building the MiniTool Boot Flash Drive. So, make sure the USB flash drive doesn't contain any important files.
Step 2: Boot from the USB drive.
Step 3: Select the system drive and click Extend Partition on the left operation panel.
Tip: In the bootable version of MiniTool Partition Wizard, the system partition might not be assigned with C. Therefore, please make sure you select the correct partition.
Step 4: In the drop-down menu, select where to take free space. Then drag the light blue block to decide how much free space you want to take. Finally, click the OK button.
Step 4: Click the Apply button to execute the operation.
Once done, you can restart your computer and try to install the update.
Way 4: Reset Windows Update Components
The SoftwareDistribution and Catroot2 folders are used to temporarily store the files needed to install the update files. Inconsistent WU system files are another factor that can prevent your computer from installing updates with error 0x80242016. In this case, you can reset all Windows components and dependencies involved in the process to resolve the issue. This method works great if multiple updates fail with the same error code.
To reset the Windows Update Components, follow these steps:
Step 1: Type cmd in the Windows Search box, and then right-click on Command Prompt from the search results and select the Run as administrator option.
Step 2: In the Command Prompt window, enter the following commands in sequence, and press Enter after each command:
net stop wuauserv
net stop cryptSvc
net stop bits
net stop msiserver
Step 3: When the services have been disabled, type the following commands and press Enter after each one to rename the SoftwareDistribution:
ren C:\Windows\SoftwareDistribution SoftwareDistribution.old
ren C:\Windows\System32\catroot2 Catroot2.old
Step 4: Type the following commands to restart BITS, Cryptographic, MSI Installer, and Windows update services:
net start wuauserv
net start cryptSvc
net start bits
net start msiserver
Step 5: Restart your computer and try updating Windows to see if Windows 0x80242016 is fixed.
Way 5: Run SFC and DISM Scan
The corrupted system files or Windows images can trigger Windows update error 0x80242016. To fix this problem, Windows provides two utilities.
The first tool is SFC (System File Checker), which detects and restores missing components. The other is the DISM (Deployment Image Servicing and Management) tool, which fixes more complex system errors. It uses different algorithms to find problems and fix corrupt data that SFC might miss.
Here's how to perform these scans:
Step 1: Open the Command Prompts as administrator.
Step 2: In the Command Prompt window, type the following command: sfc /scannow and press Enter.
Step 3: After the scanning process is complete, if it describes that the corruption is resolved, close Command Prompt and restart your computer.
If the issue persists, or you cannot run or complete an SFC scan, you will need to use a DISM scan instead.
Step 1: Open the Command Prompt as administrator. Then type DISM.exe /Online /Cleanup-image /Restorehealth. Then press Enter.
Step 2: After the scanning process is complete, restart your computer to check if the error has been solved.
Way 6: Disable Windows Search Service
If you're using an Insider Preview build, there's a good chance you're encountering error 0x80242016 caused by improvements brought by Windows Search. This type of issue is unique to Microsoft Insider users and is caused by the main Windows Search service crashing and forcing the installer to roll back the most recent upgrade.
If you're looking for instructions on how to resolve this particular situation, here's how to do it:
Step 1: Press the Win + R key to open the Run dialog box, and then type services.msc in it and press Enter.
Step 2: In the Services window, find the entry named Windows Search from the list of services in the right pane. Then right-click it and select Properties.
Step 3: In the next pop-up box, under the General tab, change the Startup type drop-down menu to Manual, and then click on the Apply button to save the changes.
After that, restart your computer and check if the Windows update error 0x80242016 exists.
Way 7: Perform a Clean Install
If all the ways above fail to solve Windows 0x80242016, you may be dealing with underlying system file corruption that cannot be repaired by normal recovery procedures.
The last thing you can try is to perform a clean install of the operating system to reset every Windows component. You need to be aware that this will delete most of your files, including app and game installations, user preferences, and personal files on your system drive. Therefore, you'd better back them up before starting to reinstall Windows.
To perform a clean install of Windows 10, read the instructions in this article: How to do a clean install of Windows 10?
To get more information in Windows 11 clean install, refer to this post: How to Reinstall Windows 11? Try 3 Simple Ways Here Now!
If you can't install some updates due to Windows update error 0x80242016, these ways in this post may be helpful for you. I'd like to share them with you. Click to Tweet
Bottom Line
To sum up, this article has introduced the causes of the Windows update error 0x80242016 and how to solve the Windows update problem in several ways. If you have the same problem, try these methods.
Or, if you have any better solution to the error 0x80242016, you can share it in the following comment zone.
If you need any help while using MiniTool Partition Wizard, you are welcome to send us an email at [email protected].