If you want to buy a hard drive, Seagate BarraCuda hard drive is one of the best options. In this post, MiniTool Software introduces three models of Seagate BarraCuda hard drives. You can take them into consideration and install one on your computer according to your needs.
How to Choose the Right BarraCuda Hard Drive
The longer your computer has been used, the more files, programs, and games might be saved on the hard drive. When there is no free space to store more data on your old hard drive, it is usually a good idea to replace the disk with a larger one or add a second hard drive. If you haven't decided which hard drive to buy, Seagate BarraCuda which provides hard drives up to 14TB should be on your list.
What is Seagate BarraCuda? It is the most popular series of hard disk drives provided by Seagate Technology PLC (simply Seagate), one of the largest data storage companies in the world.
This series focuses on large capacity and relatively high performance. It provides a variety of form factors for different devices (such as desktops, laptops, all-in-one storage, gaming devices, and so on), which is user-friendly and has attracted a lot of users. If you search for HDD on Amazon, Seagate BarraCuda must be included in the first results.
Seagate BarraCuda is reliable and professional. The first BarraCuda hard drive was produced in 1992. With the development of technology, it has proceeded to the 16th generation. Nowadays, Seagate BarraCuda hard drives come with three models: 2.5-inch model, 3.5-inch model, and 3.5-inch Pro model. What are the differences and which one should you choose? The following content can help you to gain knowledge of these models.
Tip: To buy a reliable hard drive, you'd better visit the resellers trusted by Seagate, such as Amazon, PC World, Ebuyer, Maplin, Argos, etc. You can get more resellers on the official website of Seagate.
Option 1: 2.5-inch Model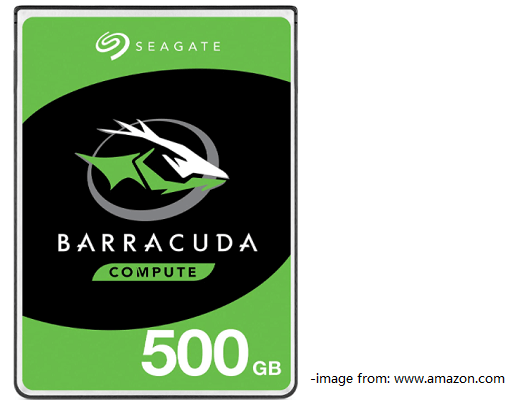 This model is perfect for laptops, mobile storage, external storage systems, all-in-one computers, and ultra-slim desktops. They are 2.5 inches SATA hard drives and designed with various capacity options, including 500GB, 1TB, 2TB, 4TB, and 5TB.
The Seagate BarraCuda 2TB hard drive is in a 7mm height. So do the hard drives with smaller capacity. If you want to upgrade the current hard drive for a thin and light laptop, this model should be great.
The 4TB and 5TB Seagate BarraCuda hard drives are 15mm high. They can be used in some all-in-one desktops and they help reduce system heat generation and vibration. The large storage capacity could meet the needs of most users. If you choose a 5TB Barracuda hard drive, you can save more than 1.25 million songs and 600 hours of HD videos.
Besides the capacity and physical size, you might also be concerned about the speed. The spindle speed of the 2TB BarraCuda hard drive is 7,200 RPM and its data transfer rate can be up to 160MB/s depending on your hardware configuration and operating system. Other BarraCuda hard drives are 5,400 RPM and the data transfer rate is up to 140MB/s. If you need an HDD with better performance, you should choose one with 7,200 RPM.
How much would it cost if you buy a Seagate BarraCuda hard drive? You can search it on Amazon. The 2.5-inch hard drive of 500GB is $49.25. By the way, the BarraCuda hard drives of this model offer at least a 2-year warranty.
Option 2: 3.5-inch Model
Compared with 2.5-inch drives, Seagate BarraCuda 3.5-inch models provide more storage capacity options, including 500GB, 1TB, 2TB, 3TB, 4TB, 6TB, and 8TB. They are designed for desktops and desktop-related storage only.
They have SATA 6Gb/s interface. The Seagate BarraCuda 2TB hard drive provides optional 5,400 and 7,200 RPM versions. 3TB and larger hard drives come with 5,400 RPM – Their max sustained data rate can be 190MB/s. 1TB and 500GB models are 7,200 RPM – Their max sustained data rate can be 210MB/s.
Tip: The sustained data rate refers to the average transfer rate from the digitizer to the host PC.
A 500GB 3.5-inch BarraCuda hard drive is $41.58 on Amazon. If you need a larger storage capacity, you need to pay more.
Option 3: 3.5-inch Pro Model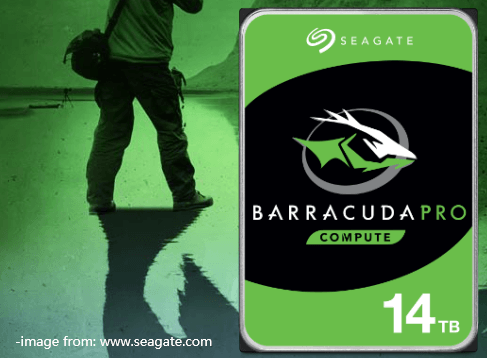 Seagate BarraCuda of 3.5-inch Pro model offers the highest capacity – up to 14TB. You can choose the hard drive of 2TB, 4TB, 6TB, 8TB, 10TB, 12TB, and 14TB according to your needs. This model is wonderful for desktops, all-in-one PCs, home servers, and entry-level DAS (direct-attached storage devices).
The spin speed of all the Seagate BarraCuda Pro hard drives is 7,200 RPM, but the sustained data rates are different depending on the specifications. The max sustained data rate of hard drives larger than 12TB (12TB is included) is 250MB/s while that of hard drives between 12TB and 2TB is 220MB/s. And the sustained data rate of 2TB BarraCuda Pro could be up to 195MB/s.
Seagate BarraCuda Pro hard drives provide a 5-year limited warranty. Of course, you need to pay more if you expect a larger capacity. A BarraCuda Pro hard drive of 8TB is $256.84 on Amazon.
Now, you have learned about three models of BarraCuda hard drives. You can choose one considering the form factor, storage capacity, and data transfer speed.
Seagate BarraCuda hard drives are wonderful and you should take them into consideration when you are looking for a new hard drive.Click to Tweet
How to Install Seagate BarraCuda Hard Drive?
How to install Seagate BarraCuda Hard Drives? The steps could be different depending on how you expect the new hard drive to work.
Desktops usually have more than one slot for hard drives, which means you can add more hard drives to your PC. If you want to use the new hard drive as a second hard drive, you just need to shut down your desktop, open the case, install the BarraCuda hard drive, and then initialize it to MBR or GPT.
If you are planning to replace your old hard drive with a Seagate BarrCuda hard drive, you should clone your data before installing it. In this way, you don't need to reinstall the operating system. For the data cloning software, here I recommend MiniTool Partition Wizard, a professional and reliable disk manager.
Now, let's see the detailed steps.
Step 1: Connect the new hard drive to your computer.
If you are using a desktop, shut down your PC, disconnect the power supply, and remove all cables. Then take the case cover off and connect the new hard drive to the motherboard via a SATA cable to install the hard drive.
If you are using a laptop, you need to use a SATA-to-USB adapter to connect the new hard drive to your laptop externally. If you don't have such an adapter, you can buy one on Amazon and the price is about $10.99.
Step 2: Download MiniTool Partition Wizard and install it on your computer. Then register the Pro Ultimate version with your key.
MiniTool Partition Wizard DemoClick to Download100%Clean & Safe
Step 3: Launch MiniTool Partition Wizard to get its main interface, and then click Migrate OS to SSD/HD Wizard in the left action panel.
Step 4: In the pop-up window, select option A to copy the whole disk and click Next to continue.
Step 5: Choose your Seagate BarraCuda hard drive as the target disk to keep the copy and click Next.
Step 6: Configure the Copy Options and Target Disk Layout for the new hard drive and click Next. 
Tip: If your BarraCuda hard drive is larger than 2TB, you'd better check the option Use GUID Partition Table for the target disk to take full advantage of the disk.
Step 7: Read the note that reminds you how to boot from the new hard drive and click Finish. Then click the Apply button to execute the changes.
When the process is finished, you can shut down your desktop and boot from the BarraCuda hard drive. If it works properly, you can remove the old hard drive. If you don't know how to deal with it, the following post might be helpful for you: What to Do with Old Hard Drives? Reuse, Sell, or Destroy Them?
For the laptop, you need to disconnect the SATA-to-USB adapter and shut down your laptop. Then remove the old hard drive and install the new one. If you have never replaced the hard drive for a laptop before, you'd better search for a detailed tutorial online or ask professionals for help to avoid any mistakes during the process.
How to clone and install Seagate BarraCuda hard drive? MiniTool Partition Wizard can help you a lot. Read this post for more detailed information.Click to Tweet
Bottom Line
This post introduces three models of Seagate BarraCuda hard drives and you can choose the one you prefer. You can share your ideas with us by posting them in the following comment section. If you encounter any problems while copying data with MiniTool Partition Wizard, please don't hesitate to contact us via [email protected].
BarraCuda Hard Drive FAQ
Which is better, Seagate BarraCuda or WD Blue?
Seagate Barracuda provides larger storage capacities. Seagate BarraCuda is better if you need a hard drive that is larger than 6TB. If you don't plan to cost much, WD Blue might be better for you, as it is usually cheaper than Seagate BarraCuda. For more differences between them, you can click
Seagate Barracuda VS WD Blue: Which One Should You Choose?
Which is better, FireCuda vs BarraCuda?
Seagate FireCuda drives are designed for gaming. They are SSDs and run much faster than BarraCuda. However, they come with fewer capacity options – up to 4TB. Therefore, if you are a game lover and you expect high performance, FireCuda is better. If you want large storage space, BarraCuda is better.
How long does Seagate BarraCuda last?
Theoretically, a hard drive could last three to five years. However, its lifespan could be affected by other factors a nd
hard drive failure
might happen during the period. Fortunately, Seagate BarraCuda hard drives provide at least a 2-year warranty.