The ce-30022-7 is one of common errors with PS4 extended storage. If you are also troubled by this error, then this PS4 extended storage repair guide from MiniTool is what you need. It analyzes the possible reasons and corresponding fixes.
What can you do when facing the limited PS4 hard drive size? Well, you can free up some space by deleting unwanted data on the drive, add an external hard drive as PS4 extended storage, or replace the internal hard drive with a larger one to change the situation.
All these methods are effective. However, you sometimes may encounter PS4 extended storage errors and can't use the external hard drive for PS4 smoothly. The error code ce-3002-7 is one of them, which annoys plenty of gamers.
What causes this confusing error? How to resolve it effectively? Well, this PS4 extended storage repair guide will discuss these questions one by one. Besides, it collects top 4 FAQs on the website and answers them carefully.
Now, let's explore the content together.
Recommended reading: How to Increase Disk Space for Laptop? Try These Methods Now
What Triggers PS4 Extended Storage Error CE-30022-7
PlayStation console, a home video game console, is one of the most popular consoles in the world. It supports multiple games that can entertain gamers a lot. However, it can throw you various errors too.
For instance, you may encounter PS4 error ce-32809-2, PS4 froze, PS4 black screen, PS4 running slow, PS3 blinking red light, and other kinds of errors. Today, the focus comes to PS4 extended storage error – ce-30022-7. When does this error occur?
After studying lots of materials, we find that PS4 extended storage error usually occurs when the used USB drive is incompatible with the PS4 system. What does ce-30022-7 error mean? Simply put, it indicates that there are issues with your external hard drive or with your PS4 console. Then you can't utilize the external HDD with the console.
To fix the PS4 ce-30022-7 error successfully, you need to find the possible reasons for the error. We found the following causes after looking into many cases.
The PS4 console is not rebooted for a long time.
The PS4 console firmware is outdated.
The external hard drive was utilized previously on other devices.
The external hard drive is not compatible with the PS4 system.
After learning the potential causes for the error, it's time to fix it now. This post offers you several solutions to PS4 error ce-30022-7.
If you are unclear about the reasons for PS4 extended storage error ce-30022-7, read this post now. It summarizes some causes in this article. Click to Tweet
You may also like: 4 Frequently Encountered PS4 Problems and Corresponding Fixes
Fixes for PS4 CE-30022-7 Error
Restart PS4 console
Check if the external hard drive is compatible with PS4
Check the external hard drive for errors
Update PS4 system
Reformat the PS4 external storage device
Fix 1: Restart the PS4 Console
According to statistics, about 50% issues can be resolved by performing a PS4 restart. Hence, you can have a try when receiving the error code ce-30022-7. This method is simple and easy to operate.
If you can't reboot PS4 normally, try restart it forcefully with the steps below.
Step 1: Press and hold the Power button for about 7 seconds. Then the console will beep twice and shut down.
Step 2: Wait for some time and then turn on the console again.
Step 3: Now, check if the PS4 extended storage error ce-30022-7 disappears. If not, try other fixes immediately.
6 Fixes for PS4 Cannot Download Corrupted Error CE-36244-9
Fix 2: Update PS4 System
If your PS4 firmware is outdated, you will receive the ce-30022-7 error. For some PS4 consoles that don't obtain a notification for updating firmware, you need to update it manually. Here's how to do.
Tip:
The outdated PS4 firmware can cause multiple errors like
PS4 keeps crashing
, PS4 extended storage error ce-30022-7, etc.
Step 1: After turning on the PS4 console, move to Settings.
Step 2: Click on the System Software Update option in the Settings menu. If it finds any available updates, you can click the Next or Update button to download the latest update. On the contrary, you will receive "The latest version of the system software is already installed" message.
Step 3: After downloading the update version, you will receive a notification. Click the Notifications link to continue.
Step 4: Navigate to the Downloads on the left-hand panel and then you can see your downloaded software.
Step 5: Choose the downloaded file by clicking X on the controller, and then follow the pop-up instruction to finish the installation.
Fix 3: Check the Compatibility of External Storage Device
Though PS4 supports a variety of external storage devices, not all the drives can be supported. They need to fulfill some requirements instead. To give an intuitive feeling, we list the requirements in a form.
| | |
| --- | --- |
| Drive Property | Requirements for PS4 |
| USB interface type | USB 3.0 or newer |
| Storage capacity | 250GB to 8TB |
| Encryption | No encryption on the drive |
| Number of partitions | 1 |
| Drive format | exFAT |
How to Turn off PS4 Controller? Here Is the Guide for You
Fix 4: Check the Extended Storage Drive for Errors
If your external hard drive matches the requirements, it is likely that there's something wrong with the drive. At this time, try performing a hard drive health test. Before doing this operation, you need to disconnect the external hard drive from the PS4 console. Then follow the steps below to continue.
Step 1: Connect the PS4 external hard drive to your computer.
Step 2: Press Windows and E keys to open File Explorer and then move to This PC.
Step 3: Find the connected external hard drive, and then right-click on it and choose the Open option.
Step 4: Copy a file to the external hard drive and then disconnect the device.
Step 5: Connect the drive to your PS4 again and open the moved file on it. If the file is corrupted or damaged, it can be concluded that the storage device has some issues. In this case, you need to replace the drive with a new one.
Fix 5: Initialize the PS4 External Storage Drive
If your external storage drive is compatible with PS4 and it doesn't have other errors, you should try initializing it by reformatting. Here are two options for you.
Tip:
To avoid any data loss, you'd better
make a backup
before starting the operation.
Option 1: Format External Drive as Extended Storage via PS4
The first method to initialize PS4 external storage device is to utilize the console's Format as Extended Storage feature. This is a PS4 built-in feature. Hence, you don't have to disconnect the external hard drive. You can initialize it directly. Here's how to do.
Step 1: Press and hold the PlayStation (PS) button on the controller.
Step 2: Click on Notifications and choose the connected device from the list.
Step 3: In the next window, click the Format as Extended Storage button and click Next.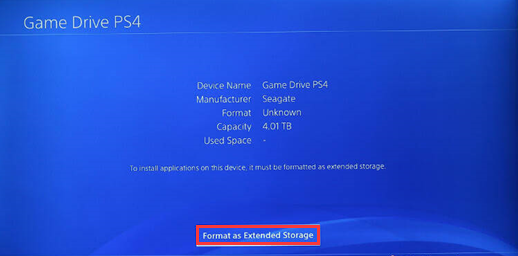 Step 4: If you are prompted with a confirmation window, just allow it.
Step 5: Then click on OK to start the formatting process.
Option 2: Format External Drive via MiniTool Partition Wizard
Alternatively, you can utilize a third-party tool like MiniTool Partition Wizard to format PS4 external hard drive. You can finish the whole operation within a few clicks. As an all-in-one partition manager, MiniTool Partition Wizard also allows you to convert NTFS to FAT, rebuild MBR, migrate OS to SSD/HD, check fille system, recover missing partition, and so forth.
Disconnect PS4 external hard drive from the console and then connect it to your computer. Then download and install MiniTool Partition Wizard to your computer by clicking the buttons below.
MiniTool Partition Wizard FreeClick to Download100%Clean & Safe
Step 1: Launch MiniTool Partition Wizard to access its main interface.
Step 2: Right click on the connected drive in the disk map area and click the Format option in the pop-up menu.
Step 3: In the prompted window, configure partition settings including partition label, file system, and cluster size based on your demand and then click OK to save the changes.
Tip: As PS4 only supports FAT32 and exFAT, you can choose either of the file system. Since the FAT32 file system can't store a file larger than 4GB and nearly all game files exceed that limit, you are recommended to choose exFAT. 
Step 4: Finally, click on Apply to execute the operation.
I was confused by PS4 ce-30022-7 error for quite a long time. Fortunately, I found this PS4 extended storage repair guide that helped me troubleshoot the error successfully. Probably you need it too. Click to Tweet
Conclusion
To sum up, this post illustrates the potential elements that result in the error code ce-30022-7, some available fixes, and frequently asked questions about PS4 extended storage error ce-30022. If you have any thoughts on this topic – ce 30022 7, please share with us by writing them in the comment area below.
We'd appreciate if you offer us any suggestions on our product. For any questions and doubts about MiniTool Partition Wizard, you can send us an email via [email protected].
CE-30022-7 FAQ
Why is PS4 saying USB storage device not connected?
According to a survey, there are two main cases for the USB storage device not connected. The one is that your old USB storage device is incompatible with PS4, while the other is the limitation of the USB file system. You can click
here
to get the details.
Does formatting a drive wipe it?
What format should a PS4 drive be?
Well, you need to ensure that your hard disk, SSD or USB flash drive is formatted with FAT32 or exFAT. If you format the drive with other file systems like NTFS, PS4 won't read it.
What does exFAT mean on PS4?
The exFAT is a strict upgrade based on FAT32, which probably is the best choice for external storage devices as it doesn't have a file size limit. This is also the reason why it is recommended for PS4 external drives.