This post from MiniTool discusses how long does an Xbox One last and provides several methods to expand the Xbox One lifespan. If you are an Xbox One user and interested in the lifespan of Xbox One, you can take a look at this post.
About Xbox One
Xbox One, the successor to Xbox 360, is a home video game console that was developed and announced by Microsoft in 2013. It's popular with lots of gamers around the world. With an Xbox One, you are able to enjoy a wide range of games, like Hogwarts Legacy, Forza Horizon 5, Elden Ring, etc. Moreover, you can even play Xbox old games with the Xbox Backwards Compatibility feature.
It seems to be a good choice to use Xbox One all the time until the new series of Xbox game consoles comes out. But there is one thing you must consider, which is the lifespan of Xbox One. How long does Xbox One last? If you have no idea, this post may help. Just keep reading. 
5 Best Split Screen Xbox One Games
How Long Does an Xbox One Last
If you have an Xbox One or are going to buy an Xbox One, you may wonder: how long does an Xbox One last? In general, the lifespan of gaming consoles is decided by the manufacturers. And according to Microsoft, the Xbox One is built to last for ten years while powered on.
However, as a matter of fact, the real lifespan of Xbox One is depending on how the owner uses it and will vary from person to person. If you take care of your Xbox One properly, it is likely to last much longer.
What's the meaning of proper usage for Xbox One? What can you do to extend your Xbox One lifespan? To find out the answers, you can pay attention to the following content.
How to Expand the Xbox One Lifespan
From above, you may figure out how long does an Xbox One last. Do you want to make your Xbox One last as long as possible? Surely, you can take certain measures to expand its lifespan. Here we summarize several effective methods. You can have a try.
Method 1: Protect Your Xbox One from Overheating
Overheating is the main factor that may shorten the Xbox One lifespan. Therefore, when you consider making your Xbox One last longer, you should prevent it from overheating first. It's recommended that you try the following ways. 
Way 1: Keep Your Xbox One in a Well-Ventilated Place
To avoid the overheating problem, you need to find a proper area to place your Xbox One. The best place is where is clean and dry as well as well-ventilated. In such a place, cool air can circulate inside your console so that it won't generate too much heat. You can also use a riser to make your Xbox One access air more easily.
Additionally, don't put anything around your console, especially on the top of the console. That may help decrease the heat too while using your Xbox One.
Way 2: Keep Your Xbox One Clean
If you are lazy to clean your Xbox One, dust and debris will pile up inside and outside your console. As a result, the vents of your console will be blocked off and unable to get air in, making your console easy to overheating.
It's best to clean your Xbox One every day but doing the cleaning every three months is also OK. You can use a can of compressed air to remove dust and debris. Also, you ought to open the console and clean it thoroughly with a microfiber cloth.
While cleaning your Xbox One, keep in mind that you should keep any water or liquid materials away from your console. Otherwise, the console will be damaged.
Way 3: Take Breaks While Playing Xbox One
The answer to "how long does Xbox One last" is really based on how you use it. The longer you play games on your Xbox One, the higher the temperature of your console will be and the shorter its lifespan will be. Therefore, to prolong the lifespan, you have to turn off your console and take a break to cool it down after playing Xbox One for a long time.
Way 4: Change the Thermal Paste Every Two Years
After a period of usage, the performance of thermal paste in your console will be reduced, which means it cannot transfer heat effectively. So, to avoid overheating your console, you need to change the thermal paste every two years.
Method 2: Avoid Dropping Your Xbox One
If you often drop or bump your Xbox One due to carelessness, your console will get damaged and scrapped quickly. Therefore, it's important to put your Xbox One in a safe and stable place to avoid unnecessary dropping and bumping.
Method 3: Delete Unused Data on Your Xbox One
If there is too much data stored in the system, it may take a long time to load a game. What's worse, you are likely to run into certain severe issues like Xbox One keeps freezing or crashing while running your Xbox One. As time goes on, your console will be slower and slower until it stops working.
In this case, you should delete unused data on your Xbox One so that your console is able to last longer.
Why Is My Xbox One So Slow? How to Stop Lagging on Xbox?
Method 4: Keep Your Xbox One Up to Date
The developers will release system software updates regularly to repair issues and improve the console performance. Hence, to extend your Xbox One lifespan, we also recommend you keep your console up to date. To execute this operation, follow the steps below.
Step 1: Make sure your Xbox One is connected to the Internet. Then press the Xbox button to open the guide.
Step 2: Go to Profile & system > Settings > System > Updates & downloads > Update console.
Step 3: If there is any update available, tap Update console and then follow the on-screen instruction to complete the update.
Besides, you can set up your Xbox One for automatic software updates with the following provided steps.
Step 1: Press the Xbox button to open the guide.
Step 2: After that, navigate to Profile & system > Settings > General > Power mode & startup and make sure the Power mode is set to Instant-on.
Step 3: Go back to the Settings screen and then select System > Updates & downloads.
Step 4: Tick the checkbox next to the Keep my console up to date option.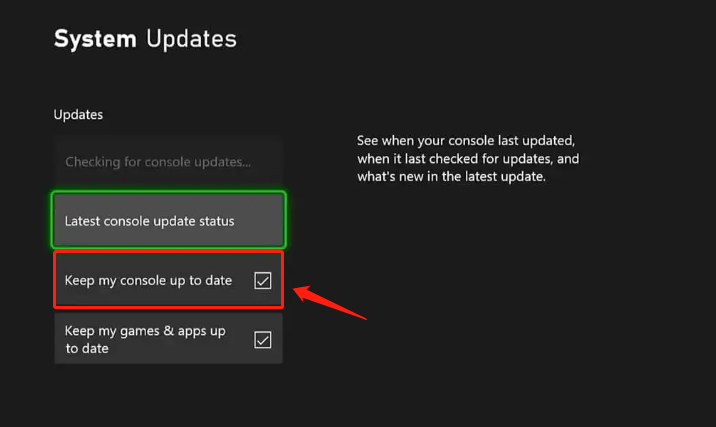 Method 5: Upgrade the Hard Drive to SSD
Another way you can try to expand the lifespan of Xbox One is to upgrade its old hard drive to a new SSD. To finish the hard drive upgrade, you can choose to remove the original internal hard drive, insert a new SSD that has been properly formatted and partitioned, and then perform an offline system update. This way won't keep your data so you need to reinstall everything after the process ends.
Tip: Be careful while removing the old internal hard drive and inserting the new one. If you have no clue how to do this, you can follow this tutorial.
If you don't want to spend much time installing things back, you can try to upgrade the old hard drive using a piece of third-party software. In this post, we highly recommend you try MiniTool Partition Wizard. It's a professional disk manager that can copy all the partitions on the old hard drive to the new SSD without data loss. The following are detailed instructions to execute this operation.
Note: The SSD you use to replace the original hard drive should be large enough (but no larger than 2TB) to store all the data. Additionally, it should be a GPT disk. If not, you should convert the SSD to GPT. If any data exists on the SSD, make a backup in case of data loss.
Step 1: Connect the original Xbox hard drive and the SSD to the same computer.
Step 2: Download and install MiniTool Partition Wizard. Then launch it to enter the main interface.
Step 3: Select Copy Disk Wizard from the left action panel. Then click Next to continue.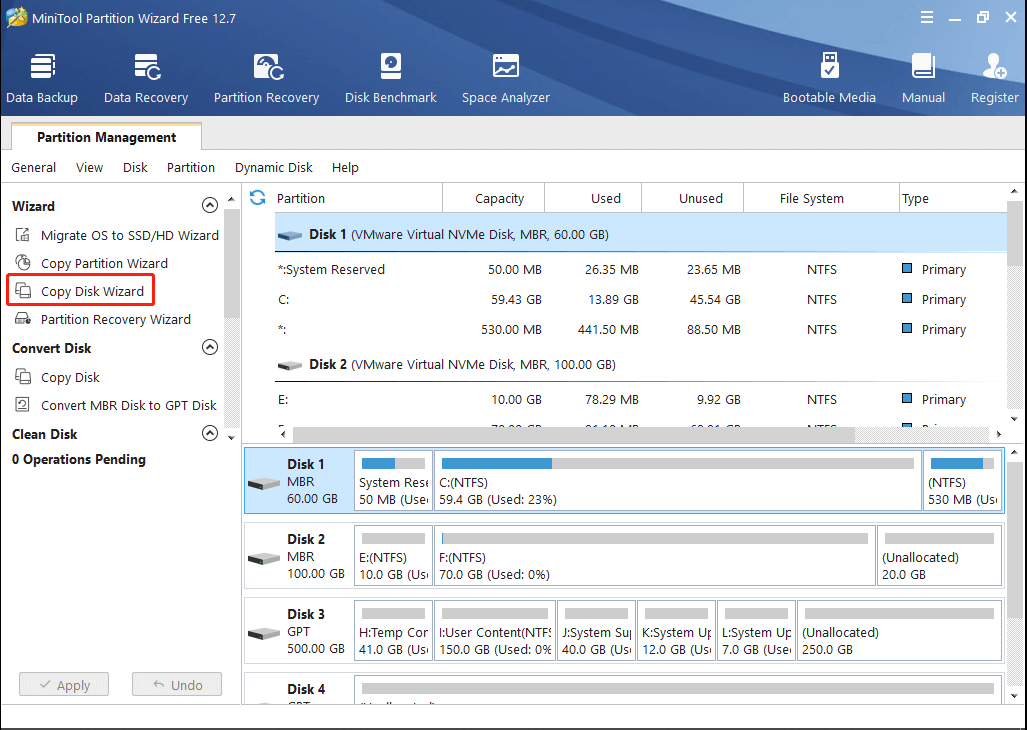 Step 4: In the next window, select the disk you want to copy and then click Next.
Step 5: After that, select the destination disk and click Next.
Step 6: Select Copy partitions without resizing in the Copy Options section. Then click Next.
Step 7: Click OK on the prompted window, and then click Finish.
Step 8: Finally, don't forget to click Apply to save the pending changes.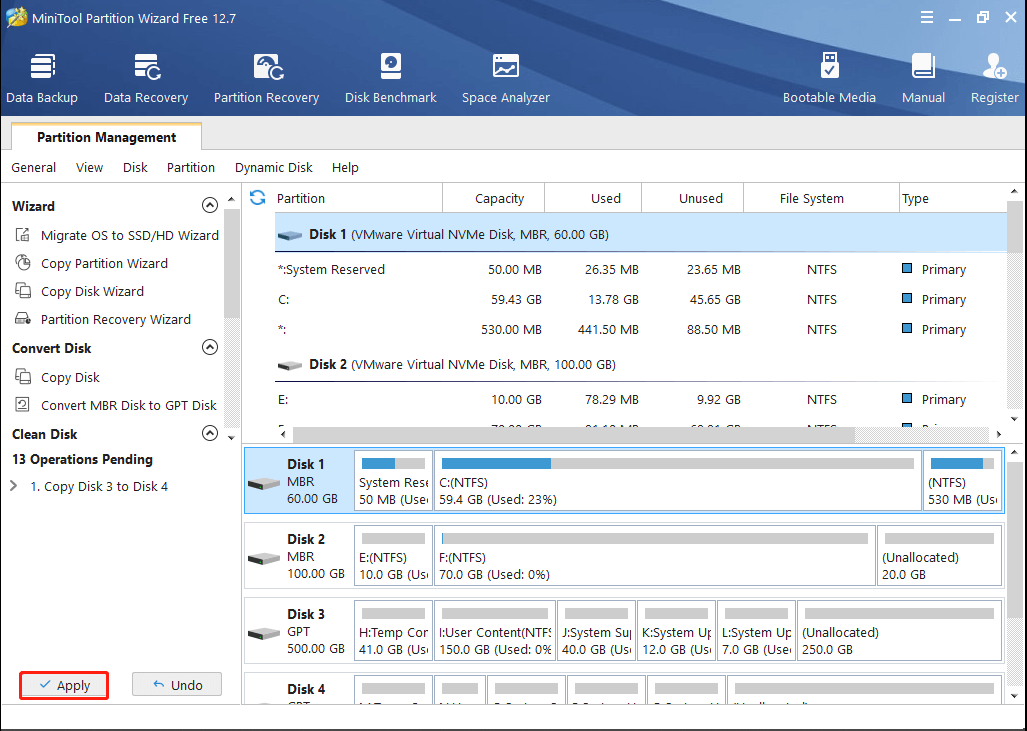 Step 9: Once done, reject the new SSD from the computer and put it into your console as the Xbox One internal hard drive.
Step 10: Start your Xbox One and you will find it run faster.
Method 6: Fix Software and OS Issues
While using your Xbox One, you may run into some software or OS problems from time to time. If you just ignore them, they will eventually affect the Xbox One lifespan. So, when faced with any issue, you should take immediate action to fix it. The easiest and quickest way to fix these issues is to restart your console. Besides, performing a reset may also help. You can pick one reset way from this post according to your conditions: 3 Different Ways to Reset Xbox One to Fix Its Issues.
How long does an Xbox One last? How can you expand the lifespan of Xbox One? Read this post to find the answers.Click to Tweet
Bottom Line
How long does an Xbox One last? If you are interested in the Xbox One lifespan like others, you can find out the answer from this post. Furthermore, some effective methods for expanding the Xbox One lifespan are offered too. Do you have any problems with this topic? If so, leave a message in our comment part below.
If you experience any issues while using MiniTool Partition Wizard, you can send an email to us via [email protected]. We will reply to you as soon as possible.