If you are going to perform hard drive recovery, you may be curious about how long does data recovery take as it may affect your further plans. Then you can read this post of MiniTool to find the answer and obtain some extra information.
About Data Recovery
You will suffer from data loss due to various reasons. You may lose data in the following situations or because of the factors below.
Windows 10/11 black screen
Computers run into blue screen of death
Delete data or partitions by accident
Partitions or hard drives are damaged logically
Partitions or hard drives are formatted
etc.
Fortunately, you can recover lost or deleted data with a piece of data recovery software. Like others, you may raise the question: how long does data recovery take. This matters a lot, especially if you are in a hurry. After learning the rough time, you can make further plans for your work.
For instance, you can start the recovery process when you are not busy with work. Leave your computer on overnight to perform the hard drive recovery operation.
How long does it take to recover a hard drive? To find the answer, read this post now. It tells you the estimated time for data recovery and the factors that impact the needed time.
How Long Does Data Recovery Take
Generally speaking, most data recovery can be finished within 2-5 days. However, it sometimes takes you more time (maybe 6-10 days) when there are special or serious failures on the hard drive. That's the rough hard drive data recovery time. The specific time needed for recovering the data depends on multiple factors.
Factors that can affect the needed time for recovering data are summarized as follows.
#1. The Capacity of the Hard Drive
The bigger the hard drive is (physically or logically), the longer the recovery process will be. In addition to data recovery, the hard drive capacity also affects the cloning time.
Also read: How Much Storage Should a Gaming PC Have? 500GB/1TB/2TB/3TB/4TB?
#2. The Model or Series of the Hard Drive
Though all software is built to match certain standards, some hard drive models are helpful for speeding up the data recovery process, whereas others might require more time. The data recovery time may be different depending on the specific drive model.
#3. The Condition of the Hard Drive
It is faster to recover a fully functional hard drive than a hard drive with file system errors, bad partitions, bad heads, bad sectors, firmware corruption, or other issues.
#4. The Type and Size of Your Files
Many large files are not stored in a single physical space in a complete form. Therefore, data recovery tools need to find the lost data as completely as possible, which would take more time to recover. Some file types can cause block issues like file corruption.
If such file types are involved in the lost data, it may take you more time to recover. Apart from data recovery time, data size has an impact on the time for cloning hard drives. For instance, you may encounter cloning hard drive SSD taking forever issue due to data size or other reasons.
#5. Computer Condition
The data recovery time may be prolonged if your computer is in a bad operating environment. If you operate your computer in a place with high heat or environmental vibrations, this would increase the possibility of hard drive failure. The electronic and physical damage tends to be worse if the hard drive crashes and its host laptop work in poor conditions.
Then the data recovery process might be prolonged. What's worse, you will fail to recover the data from the hard drive.
Tips:
To keep your computer running smoothly, you should keep some space between the wall and the laptop allowing for air ventilation. Moreover, ensure that your PC is always placed in an environment with proper temperature.
#6. Data Recovery Tool
Data scanning methods vary on different recovery software. Some use a quick scan, so the data recovery process may finish in a short period of time. However, it is likely that the recovered data is not comprehensive. Some tools detect lost data by using deep scans, but they take more time. Pick a suitable data recovery tool based on your preference.
How long does data recovery take? Possible factors that can affect the recovery time have been listed. You can take them as a reference.
Related articles:
Further reading:
How long does it take to recover a 500GB hard drive?
It may take you two or three hours to recover a 500GB hard drive. However, the specific time varies depending on the actual situation.
How long does it take to recover a 1TB hard drive?
It usually takes no more than 5 hours to recover a 1TB hard drive. Likewise, the exact recovery time will change due to various factors. You just need to wait patiently.
How to Recover Data from a Hard Drive
You can manually find the answer to the question: how long does it take to recover a hard drive. Perform the hard drive recovery operation with MiniTool Partition Wizard by yourself. MiniTool Partition Wizard is a multifunctional partition manager, which boasts dozens of features. For instance, it includes features like Check File System, Copy Disk, Migrate OS to SSD/HDD, Wipe Disk, Surface Test, Space Analyzer, and so on.
Data Recovery is one of the featured functions, which enables you to recover data from formatted, deleted, inaccessible, or lost drives. If your hard drive is physically damaged, cracked, or broken, you need to go to a professional repair store to seek help instead. Items like photos, audio, video, databases, graphics & pictures, archives, documents, and other files can be recovered via MiniTool Partition Wizard.
With this software, you can recover data from partitions in NTFS/FAT32/exFAT formats, storage devices including HDD/SSD/USB drive/SD card, and places like the Desktop, Recycle Bin, or a specific folder. Get MiniTool Partition Wizard on your computer, and then follow the given steps to finish the data recovery process.
Note:
1. The Data Recovery feature is only available on Pro Platinum and above editions. You need to get a proper edition of MiniTool Partition Wizard to use this feature. This comparison page shows you the difference between several editions.
2. If you want to know how long does it take to recover a 500GB hard drive, connect such a drive to your computer and start the process by using the following steps.
MiniTool Partition Wizard DemoClick to Download100%Clean & Safe
Step 1: Launch the software to enter its main interface. Before you move on, you should connect your external hard drives or portable storage devices like USB flash drives and SD cards to your computer if you want to recover data from external storage devices.
Step 2: Click Data Recovery at the top toolbar.
Step 3: Put your mouse on the target block and click on the Scan button.
Select a logical drive among all existing partitions, lost partitions, and unallocated space.
Scan a specific location such as the Desktop, Recycle Bin, and Folder.
Choose a hard disk to scan.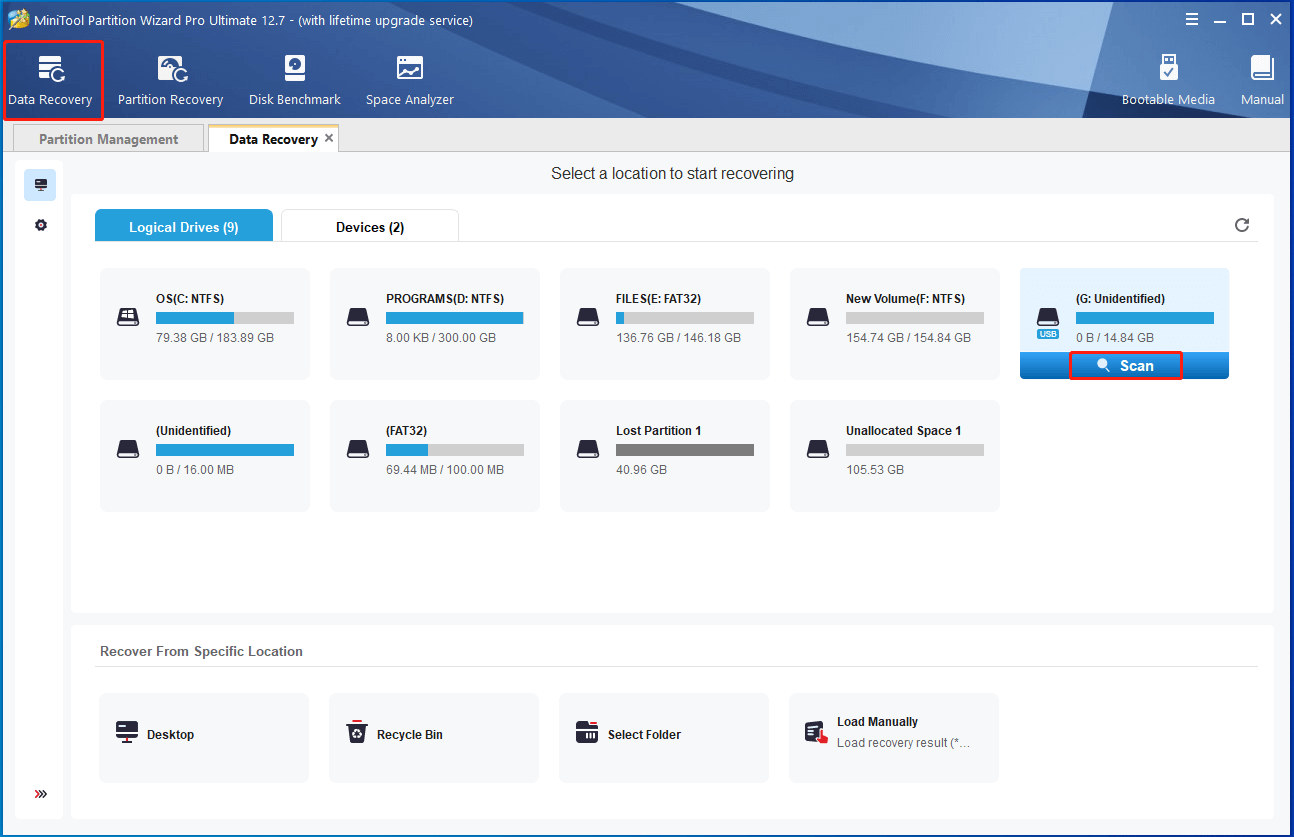 Step 4: Wait for the finish of the scan process. The specific data recovery time varies according to the hard drive's capacity. You can view the progress and estimated remaining time to finish the process.
Tips:
If the needed files or folders have recovered, you can stop or pause the process by clicking the corresponding button.
Step 5: Select the needed files and folders and click the Save button. Here are some methods to help you find the needed data quickly.
Filter: It helps you find the needed data by file type, date modified, file size, and file category.
Find: It helps you find the needed file by inputting the file name and hitting the Find According to your demands, check either the Match Case or Match Word option. If you select the Match Case option, you need to pay attention to the capital and small letter of the file name. You are required to type the entire file name including the file extension after you choose the Match Word option.
Preview: You are allowed to preview up to 70 types of files including Words, Cells, PDFs, images, diagrams, notes, emails, CADs, slides, webs, etc. You should pay attention to the size of the file to preview: each of them should not surpass 100MB. Otherwise, you can't preview them.
Path: You can find the needed files or folders via their path.
Type: All the recovered files will be shown to you by file type. Simply unfold a certain file type and find the desired file.
Step 6: In the pop-up window, select a destination for the recovered data and click OK to confirm the operation. You'd better not choose the original drive as the destination. Otherwise, the recovered data could be overwritten.
Alternatively, export the recovery result by using the Export Scan Result option. Click this option, add a file name for the recovery result, and export it to a location.
How long does it take to recover a hard drive? If you are curious about it, find the answer in this post now! It also tells you the factors that can influence the data recovery time.Click to Tweet
Bottom Line
This post tells you how long does data recovery take and the factors that affect the time for recovering data. You can refer to the estimated time shown in this post and check possible reasons if the data recovery process takes too long.
If you have any thoughts about data recovery, leave your words in the following comment area for discussion. For any questions related to MiniTool Partition Wizard, please contact us by sending an email to [email protected]. We will make a reply as soon as possible.