Do you want to own a home theater PC? If so, you can buy a home theater PC or build one. In this post, MiniTool shows you what components you need for HTPC build and gives you some tips.
Things You Should Know about HTPC
1. What is a HTPC used for?
HTPC, short for home theater PC, is a personal computer that is used to store and play music and movies as well as display photos. Also called Mini PC, media center PC and living room PC, HTPC is usually installed in the A/V cabinet and connected to a stereo or home theater system, building PC cinemas for you.
2. Is HTPC dead?
In last few years, an overwhelming number of new devices that support photos, video, and audio playback were released on the market, so HTPCs are no longer popular as they used to be. But there are still many people who like to use home theater PCs. HTPC is not dead yet.
3. HTPC vs common PC
Is HTPC different from common PC? Actually, the difference between them is very small. Both of them are composed of CPU, RAM, GPU, hard drive, motherboard, etc. But because their purposes are different, some of their parts have difference. In addition, HTPC has a different shell that is designed for living room.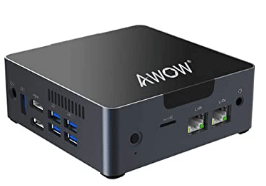 How to Build a HTPC
Do you like to build your own PC cinemas? You can buy a media center PC online, but you can also build a HTPC if you have special demands. Then, how to do a proper Mini PC build? There are some things you should know before choosing HTPC components.
1. HTPC types
HTPC has two types: all-in-one HTPC and standalone HTPC plus media server (NAS). Which type of HTPC do you like? In general, the latter type of HTPC is more popular, because it offers more storage and requires lower hardware configuration.
2. What's the main purpose of your HTPC?
Some people may just use the HTPC to stream videos, browse websites, etc. In this case, the HTPC doesn't need high configuration. But some people may want to use the HTPC to do other things like gaming. In this case, the hardware configuration should be higher.
What Components Do I Need for HTPC Build?
What's a reasonable and ideal HTPC build? In general, an ideal HTPC is exquisite and compact in shape, low-power-consumption, silent, and high-performance. Of course, it also has a decent price. Now let's start picking parts to build a HTPC.
1. CPU and GPU
What CPU do I need for HTPC? Do I need a GPU for HTPC? Let's figure these questions one by one. First, do you want to use the HTPC to play games? If so, you definitely need high-end CPUs and GPUs. If not, you should then consider the video resolution.
Nowadays, most videos are still 1080p, but more and more 4K videos are coming out. To play these videos, your HTPC must have the ability to decode 1080p or 4K videos. Then, what hardware is responsible for decoding videos? Both CPU and GPU have this ability.
However, if you use only CPU to decode videos (software decoding), it will consume a lot of resource. If you use CPU to decode 4K videos, i7/Ryzen 5 or higher CPUs are recommended. Therefore, to play 4K videos perfectly, it's recommended to decode videos with GPU (hardware decoding).
But if your CPU has GPU integrated, the integrated GPU is also capable of decoding 4K videos. Therefore, in most cases, the HTPC doesn't need a dedicated GPU card.
Then, what CPU can decode 1080p and 4K videos? To decode 1080p videos, the CPU should support H.264/AVC coding technology. To decode 4K videos, the CPU should support H.265 /HEVC coding technology, 10-bit (bit depth), and HDR.
Taking Intel CPU as an example, its GPU video decoding technology is called "Intel Quick Sync Video". Intel CPUs supporting AVC and HEVC 10-bit are as follows:
This picture is from Wikipedia (Click Intel Quick Sync Video to skip to this page). The Kaby Lake is seventh generation Core microprocessor.
Note: To play 4K videos, you should make sure both the HTPC and the TV have HDMI 2.0a/DP1.4 ports, so that you can play 4K videos at 60 fps and it has nice HDR support.
2. RAM and Hard Drive
HTPC doesn't need a whole lot of RAM—8GB is OK. As for hard drive, SSD is recommended, because SSD can improve performance and reduce noise and heat. Of course, I don't mean all hard drives in the HTPC should be SSDs. But it is better that the system hard drive is an SSD. Then, you use HDDs or NAS to expand the storage.
3. Motherboard
Choosing a right motherboard is very important because it determines the HTPC size to some extent and determines what ports and how many ports you can have. To make sure the HTPC is not too big, Mini-ATX (ITX) and M-ATX motherboards are recommended.
In addition, when you choose motherboards, please make sure the motherboard offers all ports you want and it is compatible with other components. If you want to upgrade the HTPC later, you should also make sure the motherboard can support hardware that's better than what you use now.
4. Fans and Cases
Fans are the main source of noise. They will also take a lot of space in the HTPC. Therefore, many people may recommend you to use fewer fans in HTPC build. But you should be aware that less fans means lower heat dissipation ability.
If the motherboard, CPU, RAM, and other parts consume a lot of power and produce a lot of heat, you should build a good cooling system and use a large HTPC case.
5. Addition Parts
For example, you should consider whether you need a dedicated sound card and internal optical drive bay. Some people may remove optical disk drive bay from their HTPCs to save room.
How Do I Set up HTPC?
Do you have determined what hardware you should use? If you still have no idea about that, you can refer to other people's configuration.
Case: Silverstone GD09 with 120MM fans
Power Supply: Corsair RMX750
CPU: Intel i5-7600k
CPU Cooler: Coolermaster Geminii M4
CPU Cooler Fan replacement: Noctua NF-F12
Motherboard: Gigabyte Z270-HD3
RAM: Crucial 8GB D4 2400
Storage: Samsung 250GB 960Evo NVME M.2
Optical: LG16NS60
GPU: EVGA GTX1060 6GB Vram FTW ACX
The above configuration is offered by a netizen named mlknez. This configuration can be used to play 4K videos. If you don't use the HTPC to play games or edit videos, you can remove the GPU, and replace the NVMe SSD with a common one.
After preparing these components, you can then assemble them into a HTPC and install system. The main stream system for HTPC is Windows. To install Windows on your new PC, you can refer to this post:
How to Install Windows 10 on a New Hard Drive (with Pictures)
After installing Windows, you can consider adding remoter and NAS.
How to Upgrade HTPC
If you have an old HTPC, you can upgrade it directly. If you have an old PC, you can adapt it into a HTPC. This will save a lot of money for you. In these cases, if the device is still using HDDs, you may need to replace them with SSDs.
Then, how to make the Windows run on SSD? You can reinstall Windows directly. But if you don't want to reinstall OS, you can use MiniTool Partition Wizard to migrate OS. Here is the guide:
Step 1: Connect the SSD to the old PC (if you haven't modified it into a HTPC). Launch MiniTool Partition Wizard and open this software. Go to its main interface and click on Migrate OS to SSD/HDD in the action panel (the OS migration feature is not free).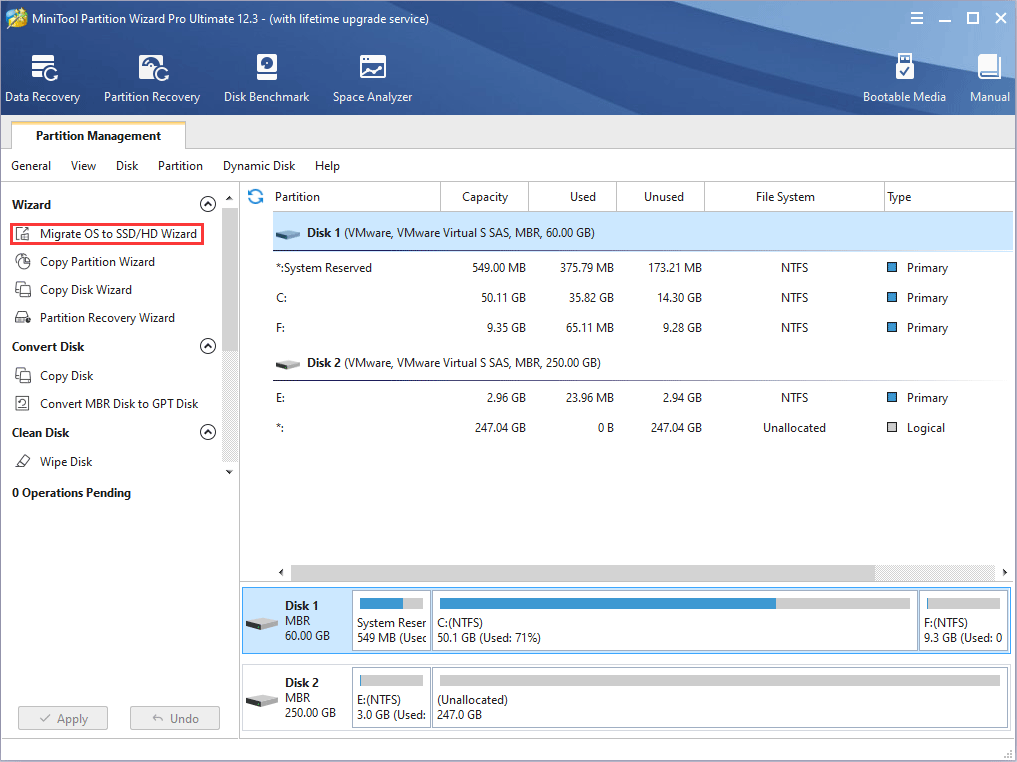 Step 2: Choose the right method to migrate the system disk and click Next. Option A allows you to clone the whole system disk, while option B only allows you to migrate the OS. If you plan to use the old HDD still, you can choose option B. If you want to format the HDD later, to save data, option A is recommended.
Step 3: Choose the SSD as the destination disk and then click Next. For option A, please make sure the used space in the HDD is smaller than the SSD storage. For option B, please make sure the used space in the C drive is smaller than the SSD storage. Only in these cases, the OS migration can succeed.
Step 4: Review changes and click the Next button. In this step, you can keep default settings. But if the old hard drive is MBR style and you want to use GPT style in the new drive, please check the box before Use GUID partition table for the target disk.
Step 5: Read a note on how to boot from the destination disk and click the Finish button. Then, click the Apply button to execute pending operations.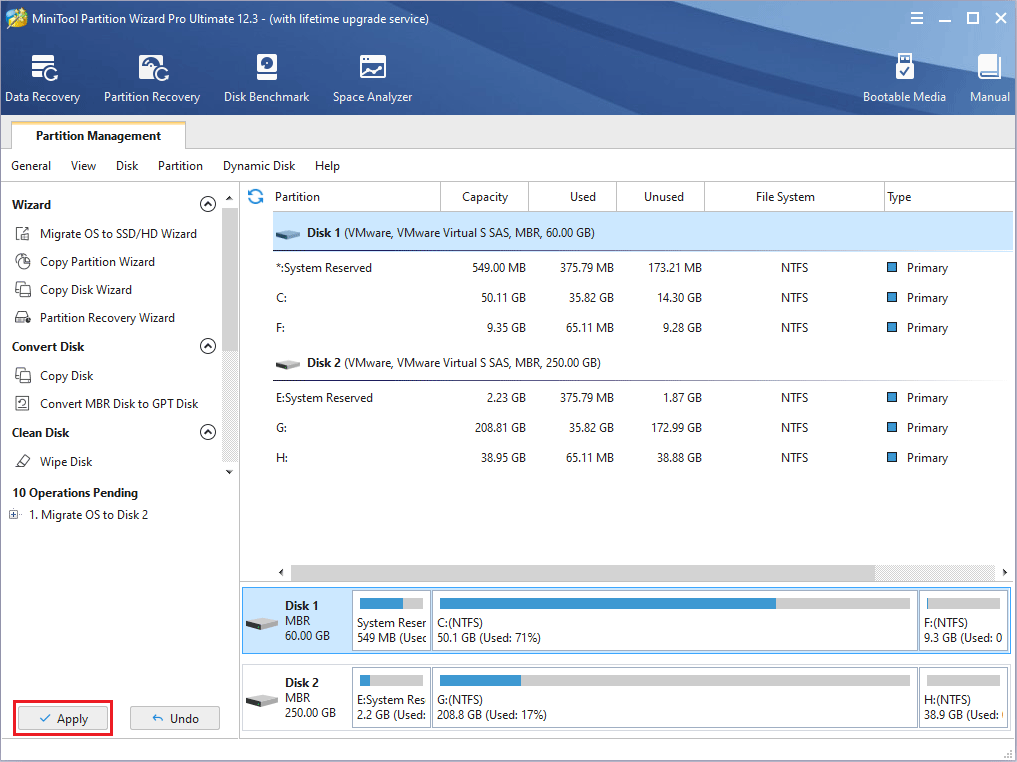 Step 6: Insert the new drive into the HTPC and boot up the computer. At the first boot, please enter BIOS to set the SSD as the first boot drive and open other features related to SSD.
What components do I need for HTPC build? How to build a 4K HTPC? If you have these problems, the post about HTPC build may help you.Click to Tweet
Bottom Line
Is this post helpful to you? Do you have other suggestions about HTPC build? Please leave a comment in the following zone. Besides, if you have difficulty in migrating OS, please contact us via [email protected]. We will get back to you as soon as possible.
HTPC Build FAQ
What is HTPC form factor?
There is no specific requirement on how big the HTPC should be, but in general, the smaller the HTPC is, the better, when the performance is guaranteed. In addition, many Mini PCs can serve as HTPC. So, I think the HTPC form factor should be 10-30cm long, 10-20cm wide, and 4-10cm high.
What HTPC software should I use?
After building a HTPC, you should consider what HTPC software you should use for home streaming. In general, you can consider using some popular options like Kodi, Plex, Windows Media Center, etc.