If you want to know the difference between notebook and laptop, you come to the right place. In this post, MiniTool mainly talks about notebook vs laptop. The main differences between the two kinds of devices are summarized.
Both notebooks and laptops can be used as computing devices. Though the two terms seem to be used interchangeably to computer novice, there is a defined difference between the two portable computers. What is the difference between a notebook and a laptop? This post would explain that from several aspects.
Notebook vs Laptop: Definition
A notebook (also called notebook computer) is a type of personal computer. It is a battery or AC-powered personal computer, which is small and lightweight enough to fit into a briefcase. Modern notebooks have a computing power that is almost equal to that of laptop computers.
A laptop (also called laptop computer) is a portable computer too. As it is portable and can be used for transportation, it is distinguished from other devices and desktops. Laptops initially are created to emulate the functionality of desktops. Later on, the demand for laptops for entertainment purposes has contributed to the development of more compact devices like netbooks and tablets.
Tip:
To learn the difference between netbook and tablet, click
netbook vs tablet
to get the detailed information.
The laptop is used as an alternative to the desktop computer, which has the identical power as desktop computers. Laptops consist of small parts of hardware like motherboard, RAM, hard disks, and so on. Unlike notebooks, laptops have DVD-drive and other peripheral options.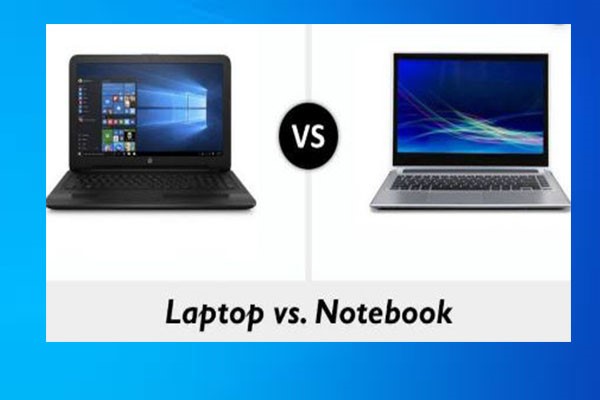 Also read: What Is All In One Gaming PC and How to Pick the Best
Notebook vs Laptop: Screen Size
The screen size of laptops ranges greatly from 10 inches to 18 inches. Besides, laptops can be either slim or bulky depending on the manufacturers' brands. Notebook computers generally are manufactured to be sleeker and smaller with a screen size of 15 inches or less that is similar to the size of real notebooks.
Notebook vs Laptop: Weight and Portability
A laptop is about 1.5-2 inches thick with a weight of five pounds. As for the notebook, it is generally three pounds or less in weight. Its thickness is about 0.5-1 inch. Simply put, laptops are larger in size and heavier in weight than notebooks. Hence, it can be concluded that notebooks have better portability.
Notebook computer vs laptop on weight and portability: notebooks win.
Tip: You need a large screen and high resolution (1920 x 1080 is recommended) if you are going to use your notebook or laptop to watch or edit HD videos, play games, or have multiple windows opened immediately.
Also read: How to Turn on HP/Dell/Lenovo/Gateway Laptop Without Power Button
Notebook vs Laptop: Keyboard
A lot of laptops are large enough to include a full keyboard. However, notebook computers are less likely to offer a full-sized keyboard. Smaller notebooks may have more cramped keyboards, which may be uncomfortable for some users.
If you plan to buy a notebook or tablet, you'd better consider a detachable or membrane keyboard if its primary use is word processing. On-screen keyboards occupy screen space and are awkward to use.
Notebook vs Laptop: Cooling System
As you know, various issues can be caused if a computer gets overheating. Therefore, it is vital to have a good cooling system on the computer. Laptops have an effective cooling system, including fans and other systems. However, notebooks don't have a cooling system.
Notebook vs Laptop: Performance
Performance is one of the most important factors that you should consider while making a purchase. The performance of a computer is completely decided by CPU, GPU, RAM, disk speed, graphics, and options like fingerprint and recognition system, etc.
Most modern computers (both lower-priced laptops and notebooks) are equipped with processing power and enough displays to offer quality performance. Even so, the higher the price of either the notebook or a laptop, the higher the quality of features you obtain.
Nowadays, laptops typically include 1TB SSD and 8GB TO 12GB RAM, while notebooks come with a 512GB HDD and 2GB to 4GB RAM. If you want high-powered computing to manage a business, you can choose a laptop. A simplistic notebook is an ideal option if you primarily use the device for document creation and web browsing.
Tip: Notebooks are designed for simpler usages like entertainment and light tasks, their RAM is correspondingly smaller (1-4GB). In addition, notebooks have slower processors than built-in laptops. Hence, their processing power is also much lower.
If you want to obtain the optinal performance on a notebook computer, try upgrading hard drive to SSD. To upgrade a hard drive without reinstalling OS, use the Migrate OS to SSD/HD feature of MiniTool before starting the upgrade operation.
MiniTool Partition Wizard DemoClick to Download100%Clean & Safe
Notebook vs Laptop: Usage
Laptops replicate the usage of larger-sized personal computers, so they are primarily used for executing mobile and heavy tasks. Notebooks are mainly used in situations like small presentations, Internet access, and web browsing.
The notebook is an ideal choice for people who want to use the web or social media and perform lighter tasks.
Notebook vs Laptop: Cost
As laptops come with more powerful processors, more RAM, and higher storage space, they cost you more money than notebooks. For instance, an average laptop charges you about $500. For laptops with much better configurations, the price ranges between $1,000 and $2,500.
Tip: Various elements affect the price of a laptop. Among them, screen size and processing power are the two primary factors.
Most notebook models are in the price range between $150 and $400. Nevertheless, the high-end notebook with first-rate configurations may cost you $800 or so. 
Notebook vs Laptop: Manufacturers
If you are confused by the two terms (notebook and laptop), you can narrow your search by checking its manufacturers.
Manufacturers for Notebooks
HP
Dell
Apple
Sony
Samsung
Toshiba
Manufacturers for Laptops
HP
MSI
Acer
Asus
Dell
Apple
Sony
Samsung
Lenovo
Alienware
Microsoft
Toshiba
Recommended reading: Lenovo vs HP vs Dell: Which Brand to Buy [Updated 2022]
According to the above description, it can be concluded that laptops and notebooks have the following pros and cons.
Pros and cons of notebooks
Pros
They are portable and easy to carry.
They can be charged conveniently.
They have a longer battery life than laptops.
Cons
Then have a small screen size.
The resolution is low.
Compared with laptops, notebook computers typically have fewer functionalities.
Pros and cons of laptops
Pros
They have a high resolution so that you can watch HD videos or play video games in great quality.
They have plenty of storage space.
Cons
They are difficult to upgrade because of their integrated design.
Laptops don't offer an option for personalization consistent with one's requirements.
Laptop components like screen hinges, latches, and power jacks are vulnerable to deterioration.
They are sold at a high price.
After learning laptop vs notebook pros and cons, you may have a further understanding of two devices.
Laptop vs notebook: which is better? The answer depends on your preference. If you want to get a computer with a large screen, high resolution, good cooling system, and high performance, you can choose the laptop. If you prefer a device with high portability and an affordable price, notebook would be an ideal choice.
What is the difference between a notebook and a laptop? If you are still seeking for answers, this post is what you need. It summarizes the main differences between laptops and notebooks. Click to Tweet
Bonus Tip: How to Move System from HDD to SSD
Learning from the above content, laptops come with an SSD while notebooks have an HDD. SSD vs HDD, it is obvious that SSD is a smart choice if you want to get a faster boot and higher reliability. In addition to that, the laptop itself has some advantages compared with notebooks.
Hence, it is suggested that you transfer operating system from notebook to laptop. Alternatively, you can also directly migrate OS from the HDD to SSD to obtain better performance. Here, we would illustrate how to migrate OS to SSD with the help of MiniTool Partition Wizard – SSD cloning software.
Both the Migrate OS to SSD/HD Wizard and Copy Disk features of MiniTool Partition Wizard can help you clone disks. You can pick one of them to move the system from HDD to SSD.
Step 1: Connect the SSD of your laptop to your notebook computer.
Step 2: Download and install MiniTool Partition Wizard on your notebook computer.
MiniTool Partition Wizard DemoClick to Download100%Clean & Safe
Step 3: Launch this SSD cloning software to enter its main interface and then click Migrate OS to SSD/HD Wizard in the left pane.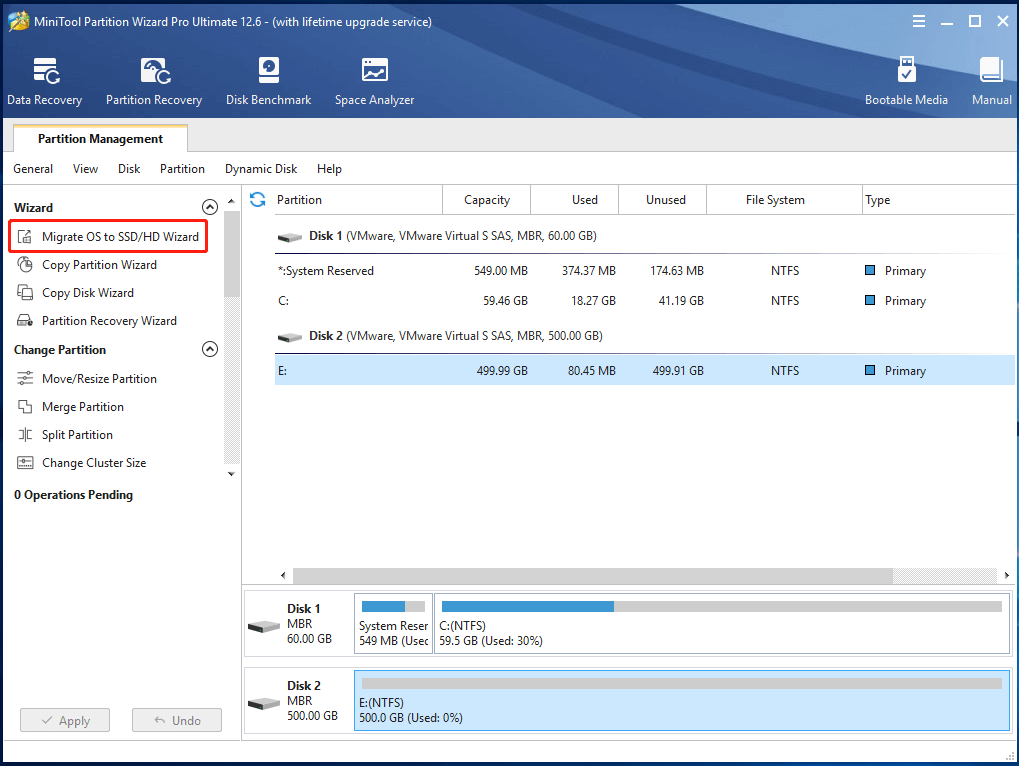 Step 4: In the prompted window, choose a migration method and click Next. As you want to replace the system disk with SSD here, you should select the first option.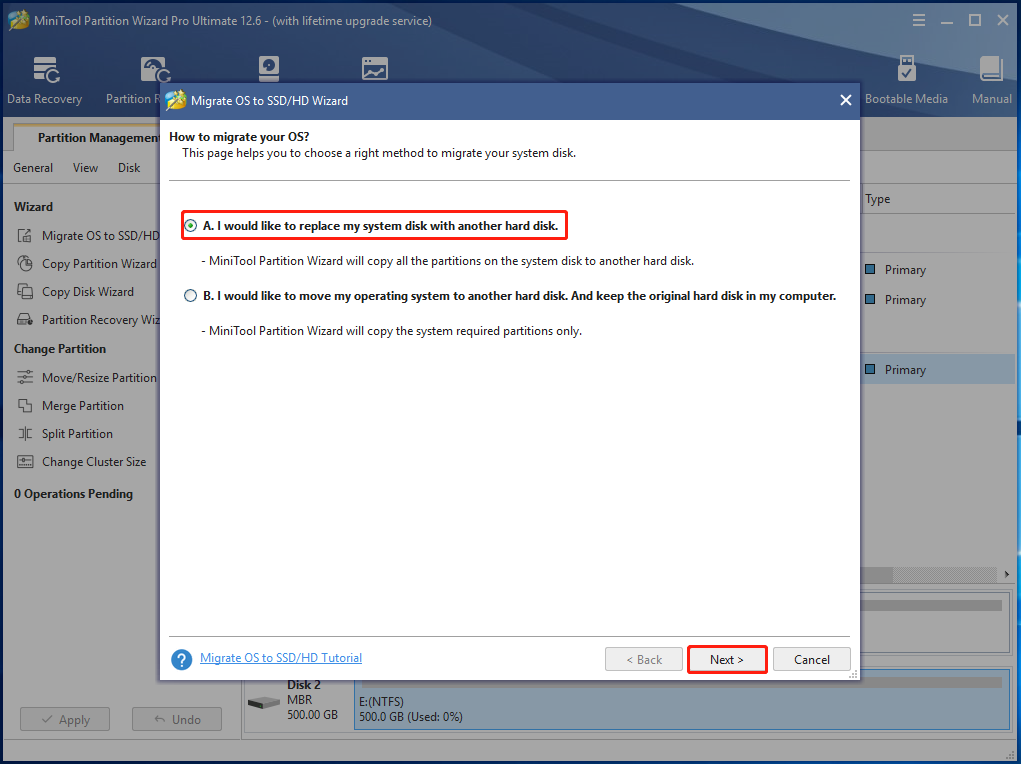 Step 5: Choose the connected SSD drive in the next window and click Next to move on. You should note that all the data on the SSD will be deleted in the process of migration. Hence, make sure that the drive doesn't have important data before choosing it.
Step 6: In the next window, choose copy options. Here, you need to check Align partitions to 1MB for your SSD. Change the size and location of the selected partition, and then click Next.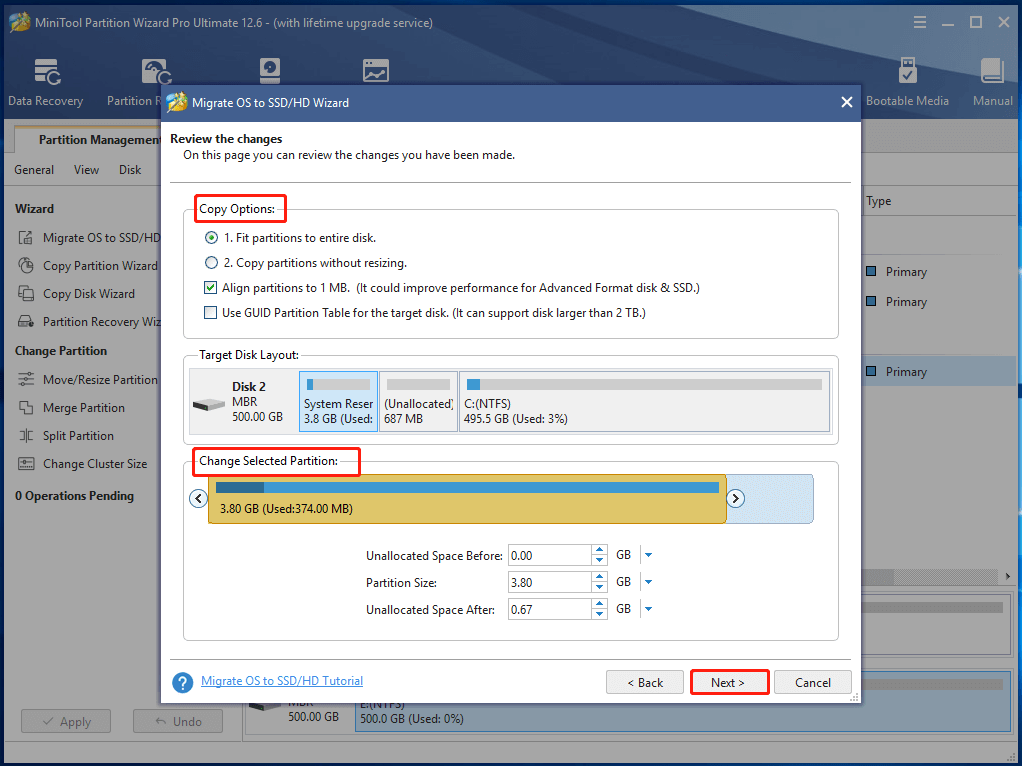 Step 7: Click Finish > Apply to execute the operation.
Note: To boot from the new disk (SSD), you should set it as the default boot disk before running it.
Bottom Line
Laptop vs notebook: which one to choose? You may have a clear answer after learning the difference between notebook and laptop summarized in this post. Simply choose one from them according to your situation (main use, budget, convenience, etc.).
Do you have other ideas on the topic "notebook computer vs laptop"? If you have any thoughts, you can share them with us in the following comment area. For any questions encountered while migrating OS with MiniTool Partition Wizard, please contact us by sending an email via [email protected].