Use This Photo Recovery Freeware to Retrieve Your Lost Photos
You Need a Piece of Third-Party Software to Recover Deleted Photos
Photo loss is a very common issue which is encountered by many people. But do you know how to get your lost/deleted photos back when you are facing this kind of problem? In most cases, you will choose to find a piece of photo recovery software online and use it to achieve this aim. Obviously, this is a feasible way to solve this problem. But you should notice that, to keep your data safe, you had better choose a safe and reliable program. Here, I recommend you to use this
photo recovery freeware
-
MiniTool Photo Recovery
.
This software, which is researched and developed by MiniTool Solution Ltd, can be used to free recover deleted photos, audios and videos from digital camera, memory card, storage devices and internal hard drive. As to lost picture recovery, this freeware can fully satisfy your requirement. In addition, it has both Windows version and Mac version for you to choose.
After downloading and installing this software to your computer, you can follow the next part to do lost picture recovery.
How to Undelete Photos with This Freeware
The following operations are based on Windows Operating System. If you are using the Mac version, the steps are the same.
Support that you want to recover lost photos from internal hard drive (E:).
Step 1: Double click this software icon to open this software, and then you will enter its main interface as follows. Click on the lower side button "
Start
" to continue.
Step 2: The software will display all the hard drives it can detect on the interface as below. Here, you should click on hard drive (E:) and press on "
Scan
" to continue.
Tip: If the target hard drive is not shown here, you can press on button "Refresh" to recognize it.
Step 3: When the scanning process is completed, you will see the scan results interface as follows. As to photos, you can preview them one by one, choose the files you want to recover and then click on "
Save
" to continue.
Tip: On this interface, you can double click on the picture to view its large image.
Step 4: Here, you need to press on "
Browse
" button on the first pop-out window, and then select a proper path on the second pop-out window to store those recovered photos.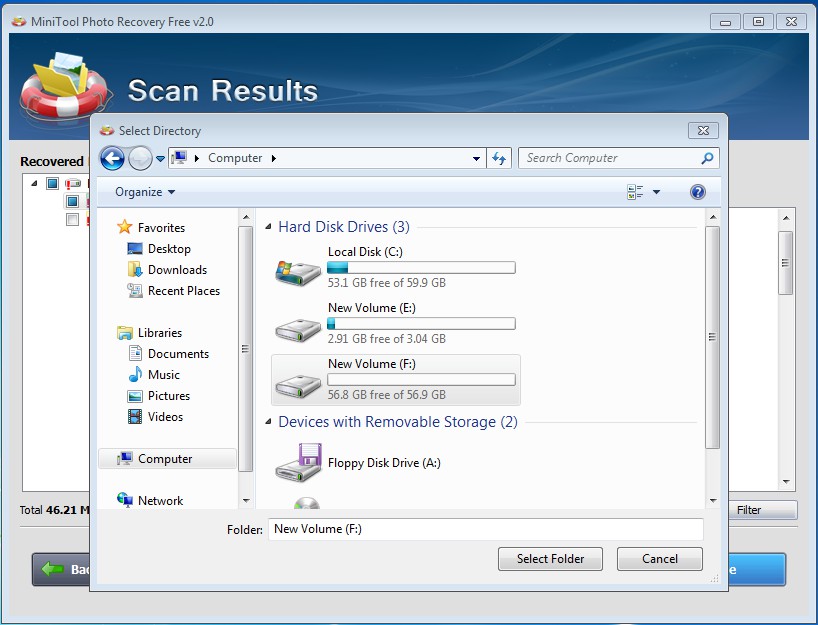 Tip: It is recommended to save the recovered photos on another hard drive rather than the target disk to avoid data from being overwritten.
After these four simple steps, your lost or deleted pictures are saved to the specified path, and you are able to view and use them directly.
Tweet Your New Skill
As it is mentioned above, you can also use this photo recovery freeware to retrieve photos from digital camera, memory card and storage devices. Different form internal hard drive, you have to connect these devices to your computer before you launch and use this free photo recovery software. At the same time, here are some useful posts for your reference:
1. If you want to restore photos from digital camera, you had better read this post:
Digital Camera Photo Recovery Is No Longer a Difficult Task
.
2. If you want to recover photos from memory card, you can view this post:
Do Free Photo Recovery from Memory Card with MiniTool Photo Recovery
.
This software can recover photos, audios, videos and other kinds of media files. If you want to retrieve more kinds of lost data, you can apply this software -
MiniTool Power Data Recovery
, which is developed by the same company, can recover all your lost files with its five recovery modules.
If you have any problem when you are using this software, you can send email to
[email protected]
. Any useful idea and suggestion are also appreciated here.
Related Articles