Great Discover virus is a type of malware program that is regarded as a Trojan Horse. It is dangerous in some cases and causes the same result as other malware programs, such as system lagging or resource waste. To remove this virus and figure it out, you can refer to this article on MiniTool Website.
What Is a Great Discover Virus?
First of all, what is a Great Discover virus? It is easy to classify the Great Discover virus as a malware program – Trojan Horse – but most people wonder about its specific uses.
When infected by a Great Discover virus, it can use your system resources to mine BitCoin, Monero, Dask, or other cryptocurrencies for its creators, slowing down your computer, and even causing a system crash or other severe results.
Apart from a crypto-mining threat, it also may be far worse than the typical adware. It can deliver unwanted advertisements to the victim system, diminishing the users' browsing experience. Besides, it can initiate its processes in the background and start to siphon off the system's hardware resources.
When the Great Discover virus starts working, the GPU, CPU, and RAM will be affected and all hijacked resources will be used to generate coins for a specific cryptocurrency, depending on the preferences of its operators.
The clever thing about the virus is that only on a system with a powerful enough GPU and CPU and enough memory, Great Discover activity may go unnoticed. To help it maintain its cover over a longer period of time, the threat can also be activated only when the computer is not heavily loaded.
However, on older devices, users may notice various applications running abnormally, lagging, becoming unstable, or even crashing, and the operating system itself may become slower and often freeze.
So how does the Great Discover virus infect the computer?
Just like other malware, the Great Discover malware program sneaks into your computer with camouflage through dubious software installers. Some users seek a cracked version of a legitimate software product for free to avoid any payments, which provides a channel to those malware programs installed.
Installers obtained from these untrustworthy sources offer not the desired product, but various adware, browser hijackers, PUP (potentially unwanted programs), or, in this case, crypto mining threats.
To avoid such a thing happening, the first thing you need to do is to download it via official websites. Besides, you also need to read the small text carefully and check the advanced settings of the installer you are running on your computer.
Once an unwanted program is installed on the computer, it drops several malicious files on the Windows system and the Great Discover virus can try to disable the Windows firewall so that it can succeed in manipulating your computer and exploiting your resources.
Great Discover can conceal its presence but there are some identification marks you can notice.
Since the Great Discover Trojan will waste many resources, you can open the Performance tab of Task Manager and if there are most of your computer's RAM and CPU being used up even without any resource-consuming programs currently running in the system, then your computer may have been infected with the Great Discover virus.
Sometimes, the Great Discover virus will be inserted into your computer as a rogue program. It is easy to identify with its name and you can directly remove it through some steps we will introduce in the next part.
However, if you can't certain which one is the Great Discover process, it is preferable to use a reputable anti-malware solution to do a thorough scan and then remove the detected items.
How to Remove a Great Discover Virus?
Part 1: Uninstall the Program
If you can locate the Great Discover named program, you can choose to uninstall this software. Here is the way.
Step 1: Open Settings by pressing the Win + I key and click Apps to locate Great Discover in Apps & features.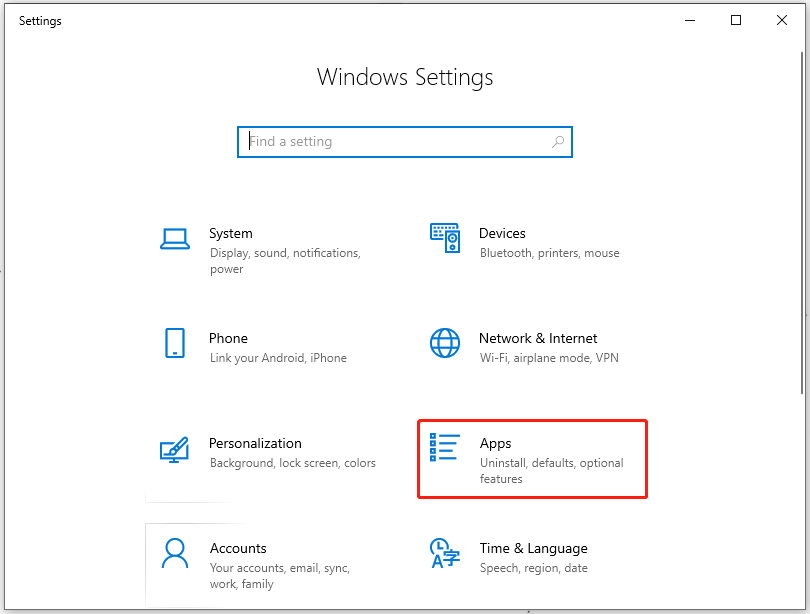 Step 2: Click on Great Discover and choose Uninstall and then Uninstall again.
Or you can go to Programs and features to uninstall Great Discover from the list of programs. As for this option, you can find it under Related settings in Apps & features.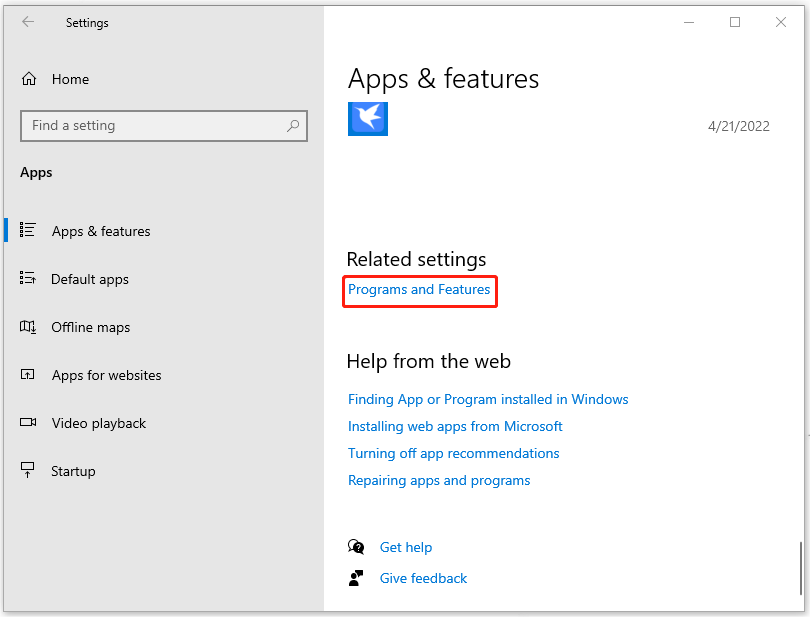 Just make sure you have uninstalled all Great Discover-related programs. If the Great Discover virus is disguised as other programs, just notice those recent installs that seem rogue or unreliable.
If you see anything that may not be welcome on your computer or that is unfamiliar to you, you should uninstall it. Those malicious programs won't necessarily have the same name, so search carefully and pay attention to apps with unknown developers or you don't remember ever installed.
Part 2: End the Great Discover Processes
Normally, after uninstalling the program from your computer, the Great Discover process will stop, but this kind of virus can live in your system with the help of any resort. Therefore, you'd better check if any related processes still work.
Step 1: Open Task Manager by pressing the Ctrl + Shift + Esc key.
Step 2: In the Processes tab, check if there are any rogue processes named Great Discover and right-click on it.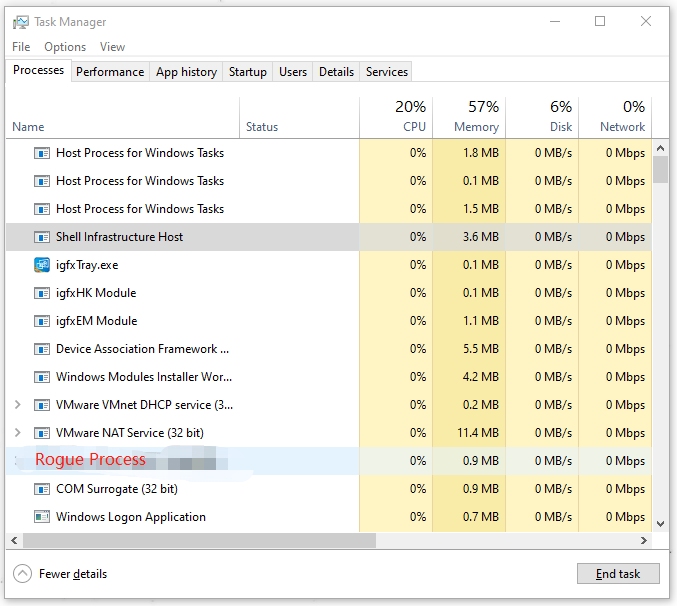 Step 3: Choose the Open file location option and in the pop-up window, delete the file you located.
Step 4: Go back to your Task Manager, click on the rogue process and click End task.
If you can't find any Great Discover named process, please look for other suspicious entries, especially ones with high CPU and memory usage, that have unusual names or names you don't recognize.
In case of any mistaken uninstallation, you'd better open its file location and use your Windows Security to execute a custom scan. For specific steps, you can refer to this one: How to Run Windows Defender Full/Quick/Custom/Offline Scan.
Part 3: Enter Safe Mode
Safe mode starts Windows in a basic state, using a limited set of files and drivers. In this way, you can prevent the Great Discover Trojan from starting from other programs.
In some cases, the Great Discover virus can combine malicious startup items in the Startup section of the computer to launch its harmful processes as soon as the computer boots up. Hence, you need to check for such items and remove them.
In this way, before you start the next parts, please enter Safe Mode. To enter a Safe mode, you can refer to these two articles:
Note: When you finish all these steps, just remember to exit the Safe Mode.
Part 4: Delete Leftover Files
Even though you have uninstalled all related programs, several files may be left on your computer. In this way, don't leave any vacuum for virus living.
First of all, change some settings to show all your hidden files.
Step 1: Input Folder Options in the Search box and open File Explorer Options.
Step 2: Go to the View tab and enable the Show hidden files, folders, and drives option. Click Apply and OK to save your changes.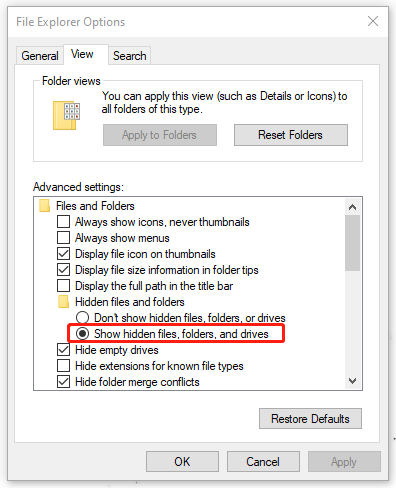 Step 3: Open your File Explorer and check for these locations to see if there are any Great Discover-related files and delete them.
Note: The following locations are for reference, if you have chosen to install Great Discover in a different folder, then the Great Discover folder will be located there.
C:\Program Files\Devine Software Oy\Great Discover
C:\Program Files\UserNamee Software Oy\Great Discover
C:\Users\UserName\AppData\Local\Microsoft\CLR_v2.0\UsageLogs\Great Discover App.exe.log
Tip: If you find any suspicious files in your system, just don't casually delete that. It is recommended to scan viruses through these files with Windows Security or other reliable third-party antiviruses first.
Part 5: Clean the Registry
Many Trojans can make changes in the Registry of the infected computer and add malicious entries that affect the system's stability. Therefore, the last thing to do is to clean the Registry of your computer from Great Discover items.
Step 1: Open your Run dialog box by pressing the Win + R key and input regedit to enter.
Step 2: Click the Edit option in the menu bar and choose Find….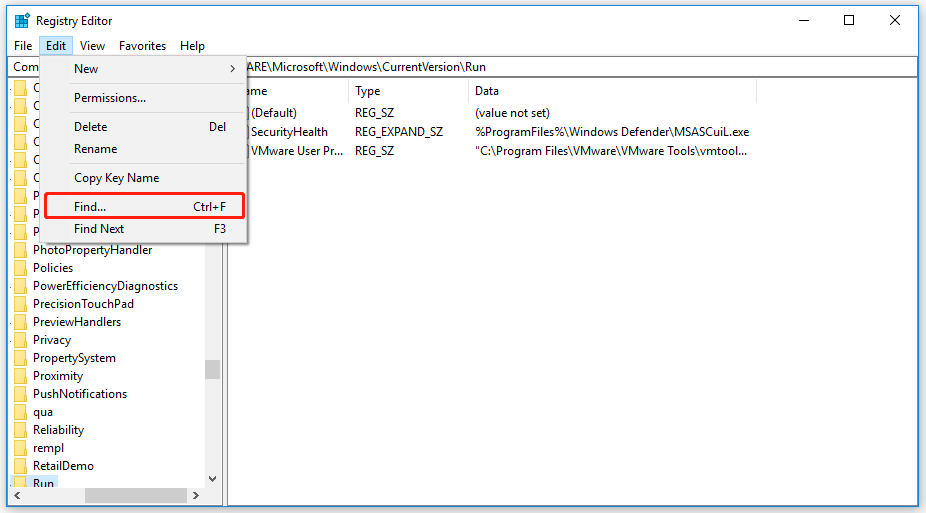 Step 3: You can search for Great Discover and click Find Next. Then delete any items that may get found.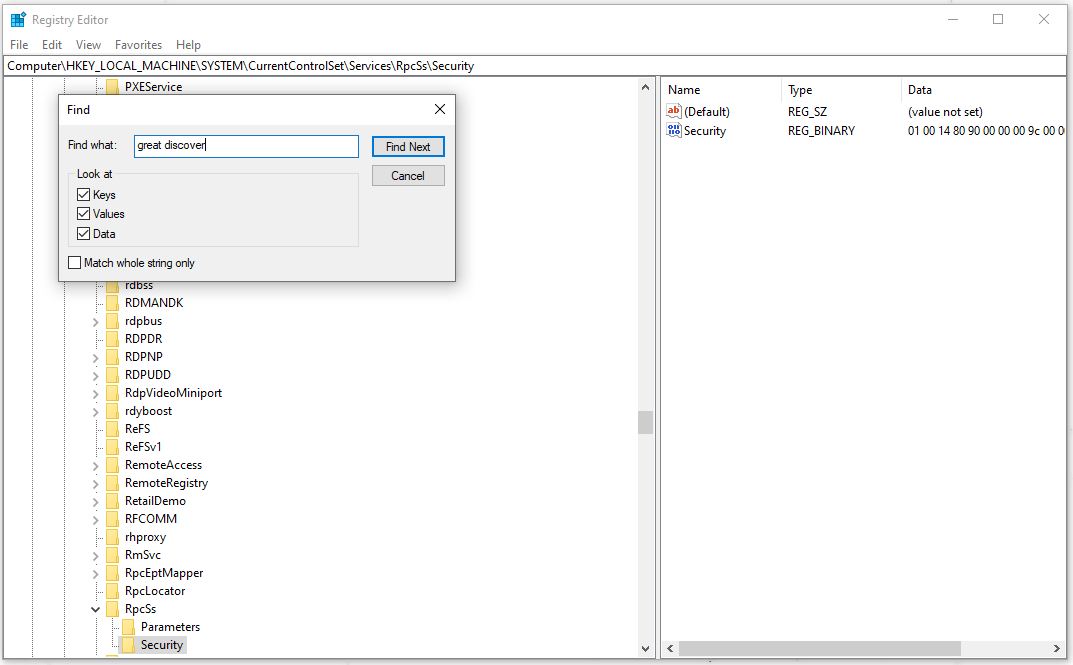 Note: You'd better search for Great Discover again to make sure there aren't more remaining items.
Step 4: Then you can use the sidebar to manually go to each of the folders listed below and delete them.
HKEY_CURRENT_USER> Software> Random Directory
HKEY_CURRENT_USER> Software> Microsoft> Windows> CurrentVersion> Run> Random
HKEY_CURRENT_USER> Software> Microsoft> Internet Explorer> Main> Random
Note: Registry Editor is a much important Windows tool. Any mistakes in it can lead to severe results. Therefore, it is recommended to back up your registry first.
Great Advice – Back up Data
Even though the Great Discover virus is mainly used for cryptocurrency mining, this threat still can speed up the wear and tear of the entire PC. The resources it has wasted are beyond your imagination and mining can take place all the time.
If you turn a blind eye, over time, after all, there will be more serious results. It is irreversible! There may be some important secret files stored here that you don't want to lose, but while the discovery virus is doing its job, it can also set the stage for other viruses to sneak in.
What's more, the waste of a large number of resources will drag down the whole system, and even lead to system crashes and data loss. In this case, to minimize your loss, it is recommended to back up your data, or system in advance.
MiniTool ShadowMaker is a wonderful program used to safeguard your data. In this process, it won't take up too much time. Just manage some simple settings – Schedule, and your data will be backed up regularly. Other advanced functions are also available for you – sync, disk clone, and remote backup.
Go to download and install MiniTool ShadowMaker and you will get a free trial version for 30 days.
Step 1: After opening the program, click on Keep Trial in the right bottom corner to get into the interface.
Step 2: Go to the Backup page and choose the SOURCE section to choose what you want to back up. Here, it is recommended to back up your system; in this way, you don't need to change your backup source and your system has been selected by default.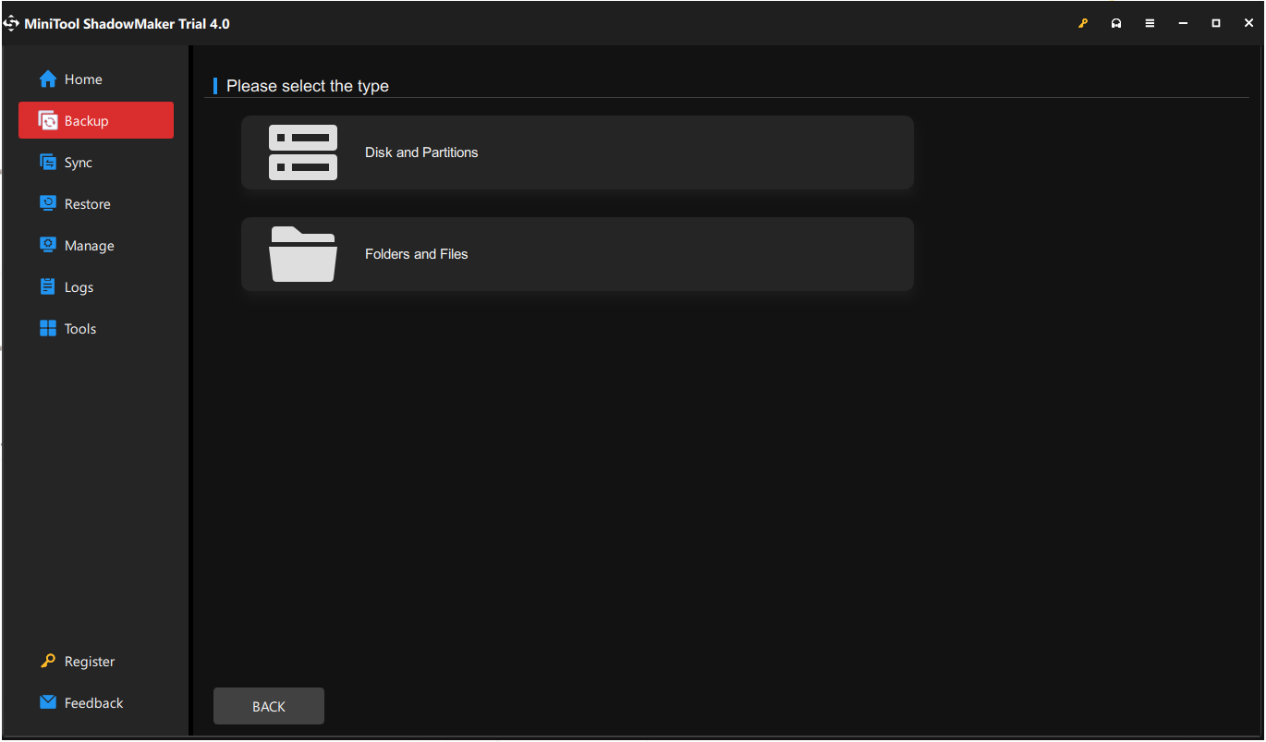 MiniTool ShadowMaker allows you to back up system, disks, partitions, folders, and files. You can also choose to back up important data to avoid data loss.
Step 3: Go to the DESTINATION section to choose where to store the data and there are four locations you can back up to, including User, Computer, Libraries, and Shared. You can do a NAS backup by choosing Shared to add your network path.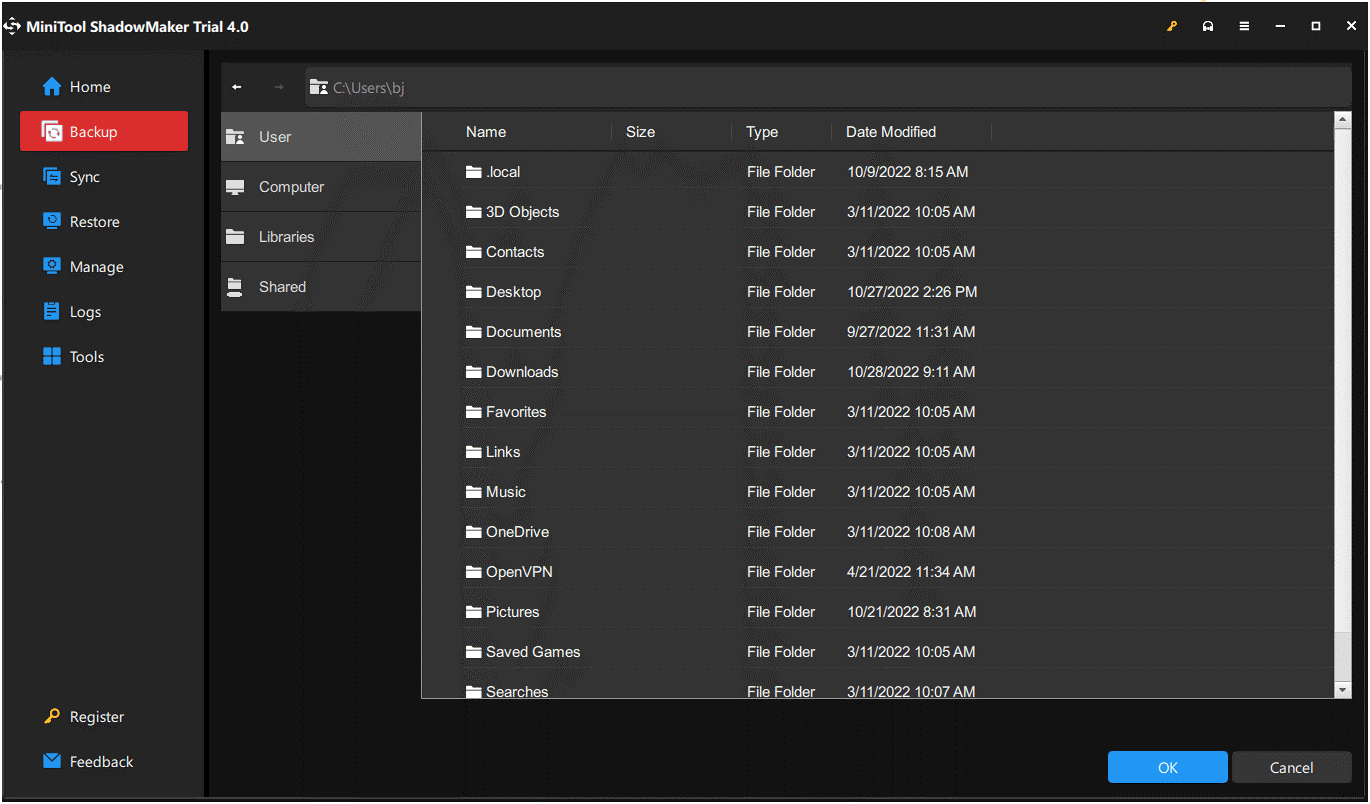 Note: It is recommended to back up your data with an external drive. Especially, if you are preparing for a bootable media, please plug your external drive before opening the program so that MiniTool can identify it.
Step 4: You can choose Back Up Now to start the process immediately or Back Up Later to delay the backup. The delayed backup task is on the Manage page.
This article has given you some advice to get rid of the Great Discover virus. If you think it is useful, you can share it on Twitter.Click to Tweet
Bottom Line:
Some people may first hear of this name – Great Discover. This Trojan Horse can exploit your computer resources and make your computer slow down, even crash. It is hard to prevent such a virus but you can minimize the harm. Go to back up your data in advance with MiniTool ShadowMaker. It's a safe bet.
If you have encountered any issues when using MiniTool ShadowMaker, you can leave a message in the following comment zone and we will reply as soon as possible. If you need any help when using MiniTool software, you may contact us via [email protected].