You can restore your system with the system backup image you created when your system crashes. However, like any other process in dealing with the computer, the system backup process may also fail sometimes. In this guide on MiniTool Website, we will discuss 2 solutions for backup error 0x80780038.
Backup Error Code 0x80780038?
A system image backup refers to a snapshot of an entire hard drive. When your system is crashed, you can use the system backup image to restore your system to where the image was captured.
However, you may encounter some problems when trying to create a system image. Backup error 0x80780038 is one of the issues that most of you meet frequently. Usually, you will receive the following message:
The backup failed. The specified backup storage location has the showdown copy storage on another volume. (0x80780038)
This error indicates that there are some problems with the target backup location and thus Windows cannot create a system image successfully. Luckily, you can remove this error with the following solutions.
How to Fix Backup Error Code 0x80780038?
Fix 1: Run SFC Scan
First, you can check if there are some corrupted system files on your computer via SFC.
Step 1. Press Win + S to evoke the search bar.
Step 2. Type cmd to locate Command Prompt and right-click on it to choose Run as administrator.
Step 3. In the command window, type sfc /scannow and hit Enter.
Fix 2: Configure Restore Settings
Deleting unnecessary restore points and enabling security clearance on your computer has proven fruitful for many users. Follow these steps:
Step 1. Press Win + R altogether to launch the Run dialog.
Step 2. Type sysdm.cpl and hit Enter to open System Properties.
Step 3. Under the System Protection tab, select the drive where you are creating the backup image and hit Configure to configure the restore point settings & manage disk space.
Step 4. Under Restore Settings, tick Turn on system protection.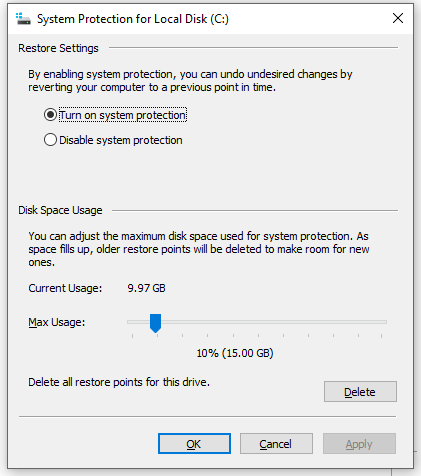 Step 5. Under Disk Space Usage, set the Max Usage slider to a value lower than what it is already set at.
Step 6. Click on Delete to remove all the restore points for this drive and hit Continue to confirm the deletion.
Step 7. Press Apply & OK to save the changes.   
Step 8. Quit System Properties and create a system backup image again to see if backup error 0x80780038 is still there.
Better Choice for Creating System Image – MiniTool ShadowMaker
As stated earlier, it is of vital importance to create a system backup image because you can use it to restore your system to an earlier state when your computer suffers from some radical changes such as a system crash or hard drive failure. Since backing up the system with Windows inbuilt tools might be a little complex for you and it is common to make mistakes or receive errors, we recommend you a more user-friendly backup tool – MiniTool ShadowMaker.
With this free backup software, you can back up your system easily even if you don't excel in computers. If you need to create a system backup image on Windows 11/10/8/7, follow these guidelines:
Step 1. Launch this program and go to the Backup page.
Step 2. As you can see, the system is selected in SOURCE by default, so you just need to choose a destination path for the backup image in DESTINATION.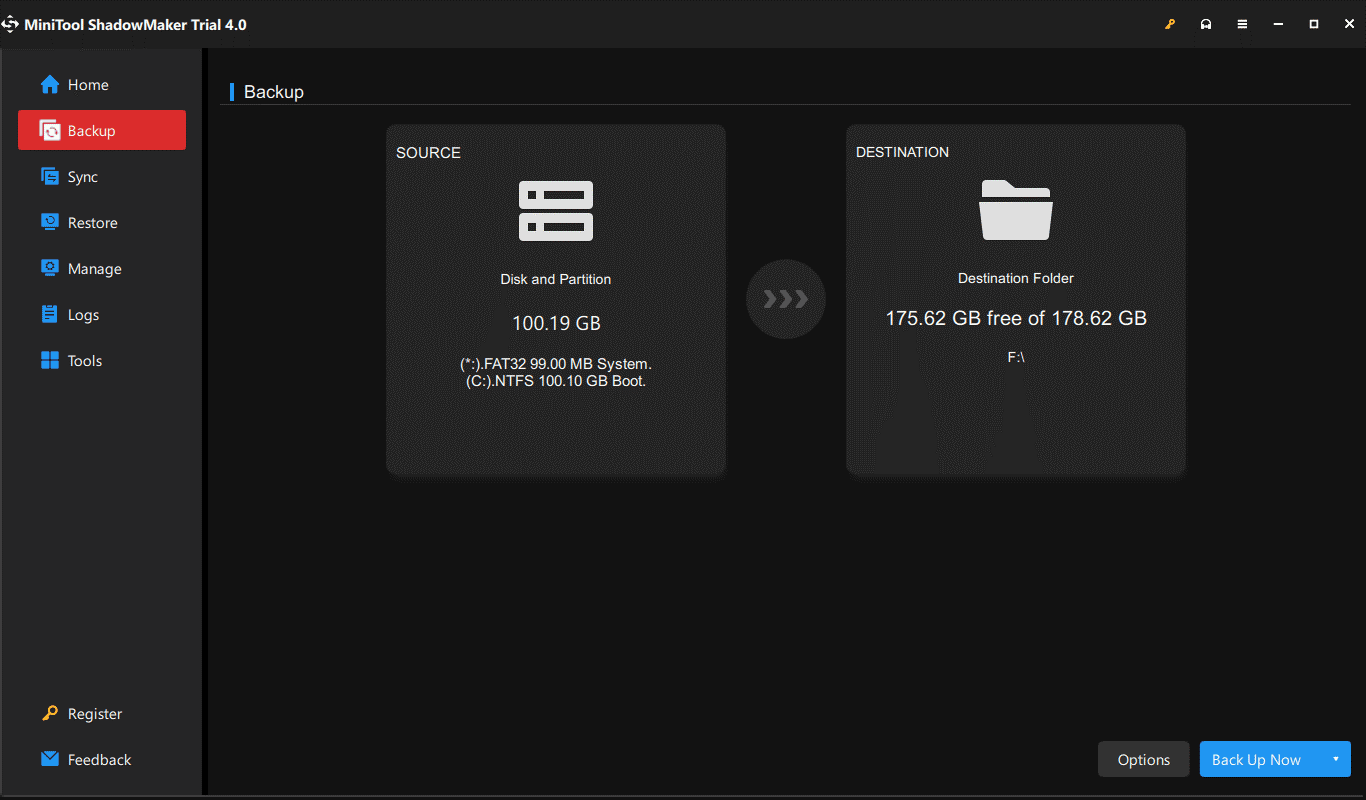 Step 3. After making your choice, either hit Back Up Now to start the process immediately or press Back Up Later to delay the backup. You can find the delayed backup task in the Manage page.