This post shows you how to fix the issue of WWE 2K22 crashing on a PC, PS5/4, or Xbox Series X/S. If you are running into a crashing issue, don't worry and try the solutions below given by MiniTool to get rid of the trouble now. Let's go to the point.
WWE 2K22 Crashing Xbox Series X/S, PS5/4, or PC
As a professional wrestling sports simulation video game, WWE 2K22 has caught many players' attention since its launch. It is available on multiple platforms including Windows, PlayStation 4, PlayStation 5, Xbox One, and Xbox Series X/S. This game now can be got on Steam. To know more information about this game, refer to our previous post - WWE 2K22 Release Date PC/PS4/PS5/Xbox Series X/S & New Features.
Like other games, WW2 2K22 is not free from crashing and other performance issues. According to players, this game can crash suddenly on a PC, Xbox, or PS5/4. If you are also encountering the plight, you come to the right place. Now, let's move to the next part to find the corresponding solutions.
WWE 2K22 Crashing PC
If WWE 2K22 crashes on your PC, how to fix it? 6 Ways are helpful.
Check System Requirements
This is the first thing you should do since incompatible PC hardware can lead to a crashing issue. The minimum system requirements of WWE 2K22s are listed:
System: Windows 10 64-bit
Processor: Intel Core i5-3550/AMD FX 8150
Memory: 8GB of RAM
GPU: GeForce GTX 1060/Radeon RX 480
Storage: 60GB of available space
DirectX: Version 12
Sound Card: DirectX 9.0c
Verify Game Files
Corrupt game files may be the reason for WWE 2K22 crashing, so you can verify the integrity of game files.
Step 1: Access Steam Library.
Step 2: Right-click on WWE 2K22 and click Properties.
Step 3: Click Local Files > Verify integrity of game files.
After that, run the game to see if it can run properly. If WWE 2K22 crashes, try other fixes.
Disable Steam Overlay
Sometimes if in-game overlays run in the background while playing a game, system resources are taken up, leading to some issues. To fix WWE 2k22 crashing on PC, disable overlays. Here, you need to disable Steam Overlay by following the steps below.
Step 1: In Steam Library, right-click on your game and choose Properties.
Step 2: Click General and uncheck the box of Enable the Steam Overlay while in-game.
Install the Latest DirectX File
If DirectX goes wrong on your PC or you don't the version 12, perhaps WWE 2K22 keeps crashing on startup. You can try to install the latest DirectX file on the computer to see if your issue is fixed.
Step 1: Go to the page of DirectX End-User Runtime Web Installer.
Step 2: After selecting a language, click the Download button to get the file.

Step 3: Double-click on the setup file to finish the installation.
Install the Latest Game Patch
Game manufacturers can release patches regularly to improve the features and fix some known issues. If WWE 2K22 crashes on your computer, you can choose to install the latest game patch to see if this is helpful. If there is an available patch, Steam can detect it automatically and download & install it when you launch the game.
Update Graphics Card Driver
WWE 2K22 crashing on PC may be triggered by the outdated graphics card driver. Hence, make sure you install the latest version of the driver. Go to download the up-to-date GPU driver from the manufacturer's website and install it on the machine. In addition, some other ways can be used and you can visit this article to find details - How to Update Graphics Card Drivers (NVIDIA/AMD/Intel).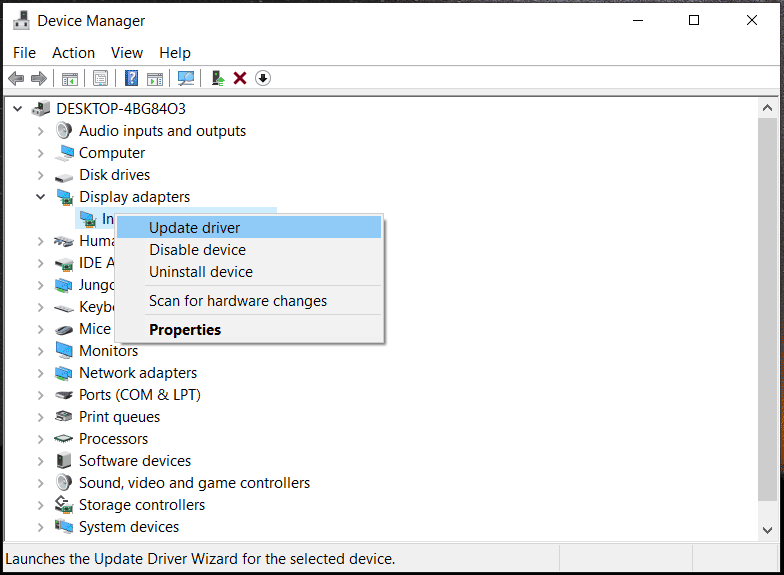 Stop Overlocking
To boost games, you may choose to overlock your CPU or GPU. But this often causes games to crash. So, if WWE 2K22 keeps crashing, you should stop overlocking. If you are using software like AMD Overdrive, MSI Afterburner, GIGABYTE Easy Tune, etc., disable them.
Fixes for WWE 2K22 Crashing PS5/PS4/Xbox One/Xbox Series X/S
If you run WWE 2K22 on a game console but it also keeps crashing, what should you do? Try these fixes now.
Update the System
On PlayStation
Go to the Settings menu on your PlayStation console.
Choose System Software Update and check for available updates.
On Xbox
Press the Home or Xbox button on the console and choose Settings to access the menu.
Click System > Select Updates and update the system.
Reset the Console
To fix the issue of WWE 2K22 crashing, you can choose to reset your PlayStation or Xbox console and you can refer to these two posts to find what you should do:
Other Solutions
Reinstall WWE 2K22 in PS5/4/Xbox
Delete saved game data
Clear Cache on console
To find the steps of each fix, you can go to search for them online based on your game console. Hope you can easily fix your issue after trying these methods.