AMD Ryzen is a very popular computer processor. However, some people encounter the "AMDRyzenMasterDriver.sys" error when using this software. This post from MiniTool provides you with multiple solutions to fix the error.
AMD Ryzen is a popular computer processor used in many gaming laptops. However, we have come across many user complaints that they are facing AMDRyzenMasterDriver.sys error message. What does the issue appear? The following are some possible reasons:
Corrupted system files
AMDRyzenMasterDriver.sys file is corrupt
Your PC is not updated
AMD Ryzen Master causing problems
Drivers are not up to date
If you have an AMD-based system and you are currently experiencing the  "AmdRyzenMasterDriver.sys crashes on your computer" issue. This article will show you a few different ways.
Method 1: Check for Updates
Check to see if any new versions of Windows are available, then update your Windows and restart your PC. After that, check if the "AMDRyzenMasterDriver.sys" issue has gone.
Step 1: Press the Windows + I keys together to open Settings.
Step 2: Go to Updates & Security.
Step 3: Click the Windows Update section, and click the Check for updates button to check if there are any new updates. Then Windows will search for available updates. Just follow the on-screen instructions to finish the process.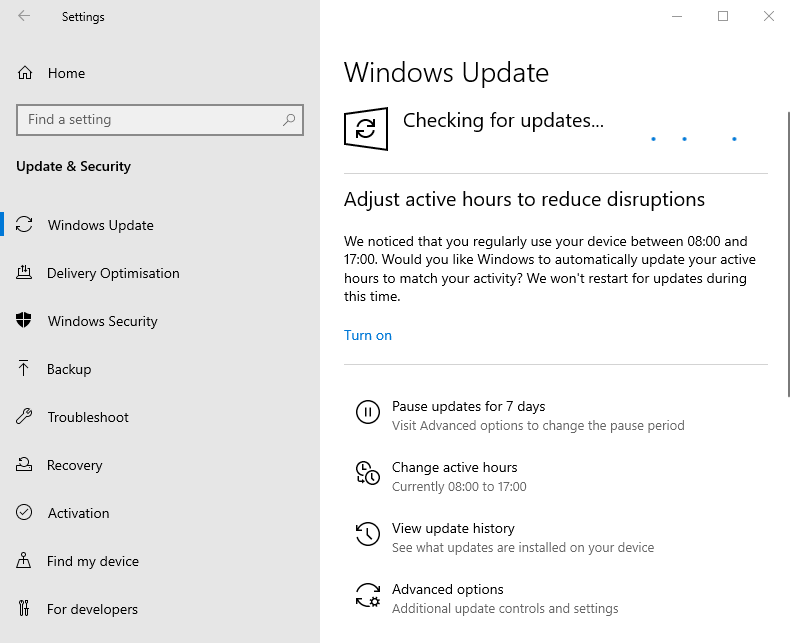 Method 2: Run System File Checker
If the problem persists, continue to the next method: use System File Checker. Sometimes, AMDRyzenMasterDriver.sys is caused by corrupted Windows system files. Here are the steps to fix it:
Step 1: Input command prompt in the Search box. Then right-click Command Prompt and select Run as administrator to open the command window.
Step 2: Type the command sfc /scannow and then press Enter.
Wait patiently until the verification process 100% completes. Then reboot the computer to see whether the AMDRyzenMasterDriver.sys error still exists.
Tip: Please make sure there is a space between "sfc" and "/scannow".
If the sfc /scannow command is unable to fix AMDRyzenMasterDriver.sys on Windows 10, you can run DISM to fix the Windows system image. So, type the correct command.
Dism /Online /Cleanup-Image /CheckHealth
Dism /Online /Cleanup-Image /ScanHealth
Dism /Online /Cleanup-Image /RestoreHealth
After that, you can check whether you still encounter the issue.
Method 3: Run AMD Driver AutoDetect
The AMD Ryzen Master Service Driver may be present on your system, but an outdated version of the driver. In this case, you can download the driver set from the AMD website, or run the AMD Driver AutoDetect tool directly.
Method 4: Reinstall AMD Ryzen Master
If the above solutions are not working, you can try to reinstall AMD Ryzen Master. Follow the guide to do that:
Step 1: Type Control Panel in the Search box to open it.
Step 2: Go to Programs and Features. Find AMD Ryzen Master and right-click it to choose Uninstall.
Step 3: Then, follow the on-screen instructions to uninstall AMD Ryzen Master. Then, restart your PC.
Step 4: Then, go to its official website to download it.
Method 5: Perform a System Restore
If you have created a system restore point or system image backup with Windows snap-in tools, you can try using the restore point or image file to restore your computer to fix the AMDRyzenMasterDriver.sys BSOD error. Here are the steps for system restoration:
Step 1: In the search menu, input control panel and search for it, then open it.
Step 2: Click Recovery to continue.
Step 3: In the pop-up interface, please choose Open System Restore to continue.
Step 4: In the Restore system files and settings interface, you can click Next to continue.
Step 5: Choose the time to restore your computer to the state it was in the selected event and click Next to continue.
Step 6: You need to confirm the restore point and click Finish. After the system restore is finished, try to shut down your computer again.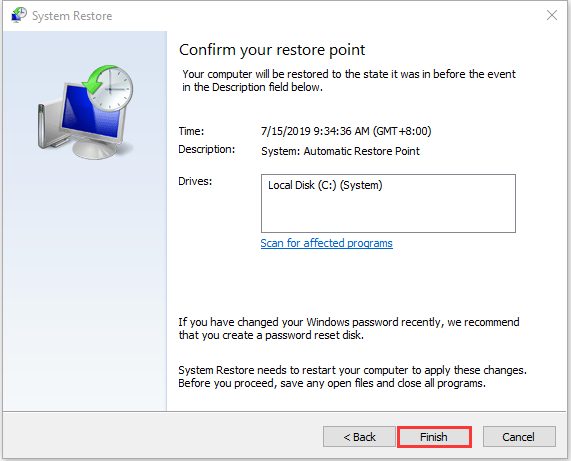 When the system restore process is finished, you can reverse your computer to a previous state. Then you can check if the error has gone.
Useful Suggestion: Back up Your System
After you fix the AMDRyzenMasterDriver.sys error, I have a suggestion for you. In case of something wrong with your system, it is recommended to back up your system in advance. Now, I will introduce a piece of free backup software for you – MiniTool ShadowMaker.
MiniTool ShadowMaker provides a one-click system backup solution. It supports backing up your system drive completely, including system partition, system reserved partition and EFI system partition. And you can image all of your data including computer settings, applications, drivers, system files, and boot files.
Now, you can download it to try the system backup.
MiniTool ShadowMaker TrialClick to Download100%Clean & Safe
Step 1: Launch MiniTool ShadowMaker Trial Edition in Windows.
Step 2: Go to the Backup interface, and you can see system partitions are selected as the backup source.
Step 3: You only need to click DESTINATION to choose a path to save the system image file.
Step 4: Click Back Up Now to execute the backup task at once.
After that, you are advised to click Tools > Media Builder to create a bootable medium with a USB hard drive, USB flash drive, or CD/DVD disc.
Bottom Line
To sum up, this post tells you how to fix the AMDRyzenMasterDriver.sys error. If your PC is affected by the error, this post will help you diagnose and fix the issue by yourself.
In addition, it is recommended to create a system image with MiniTool ShadowMaker to better safeguard your computer. Thus, if you have any problem with MiniTool ShadowMaker, please feel free to contact us via the email [email protected] and we will reply to you as soon as possible.