Windows Firewall is the one commonly used in our life and some people may add antivirus programs as their right hand to avoid accidents. This article about antivirus vs firewall on MiniTool Website will teach you their differences and show you a better way to avoid data loss.
Whether antivirus or firewall, they both play as computer guards to battle against any potential risks that may cause severe computer issues. But if you want to figure out the difference between antivirus and firewall, you can learn them separately first.
First of all, let us resolve these two fundamental questions – what is antivirus and what is firewall?
What Is Antivirus?
The antivirus is set as the software used to prevent malicious virus codes or programs coming from the Internet. And antivirus software mainly operates in three moves to finish its tasks – detection, identification, and removal.
There are some features the antivirus has:
Heuristic-based detection
Behavioral-based detection
Sandbox detection
Signature-based detection
Data mining techniques
What Is Firewall?
Firewalls can be set into two types – software and hardware firewall. A firewall filters all your Internet traffic before it even enters your network or computer and then decides which Internet traffic is safe enough to enter your network.
There are some features the firewall has:
Packet filter
Application gateway
Circuit-level gateway
Antivirus vs Firewall
The next part will compare antivirus to firewall in different aspects.
Implementation Types
Antivirus
Antivirus is implemented only as software. Most of these built-in antivirus software work intuitively with other system software to provide extensive protection, such as Windows Security.
Firewall
Firewalls can be divided into two major types – a software firewall and a hardware firewall. Although they share the same function, the difference exists. If you want to know more about their difference, you can refer to this article: Hardware vs Software Firewall – Which One Is Better.
For most firewall software, operating systems come with pre-installed firewall software. A software firewall only protects the system it's installed in, while a hardware firewall provides network-wide coverage.
Target Threats
Antivirus
Antivirus can deal with both external threats and internal threats but saves the system only from viruses. Files and programs are the major targets where virus codes or programs will automatically copy themselves and keep infecting other files and programs.
Antivirus runs in the background so it can detect an infected file or malicious code immediately it enters your computer and gets rid of it.
Firewall
A firewall deals with external threats only but saves the system from all kinds of threats to the system. A firewall only monitors what is coming into your computer network instead of what's already in or what's going out.
In other words, if those viruses or malicious codes have been stuck in your computer, the firewall is not going to work. In this way, you need to resort to the function of antivirus.
Working Principle
Antivirus
Antivirus works on the scanning of infected files and software and checks the threat from malicious software. The work target is limited. If you receive or download files that hold viruses, the antivirus software won't react to it until the file has been saved on your computer.
Besides, antivirus can't identify all malicious virus codes such as a type of malware that's not in its database, but once antivirus software locates and targets the virus, it will be isolated and never come again.
Firewall
The firewall works on monitoring and filtering and checking the threat from incoming packets. It works at a network protocol level that monitors traffic and then filters the traffic to decide which one goes into the network.
If the data and IP address doesn't meet the protocols, the firewall will respond to stop this kind of access.
Configuration
Antivirus
Antivirus often work with a database that contains the types of viruses and malware they can identify and the manufacturer is mainly responsible for its configuration.
Since an antivirus can't stop a virus that doesn't exist in the database, it's important to update the database and that is the responsibility of manufacturers.
You are allowed to configure some settings, such as CPU usage, schedule scans, quarantine or data backup folders, and scan exclusions.
Firewall
You have more configurations to do with a firewall than with an antivirus. Although you can enjoy better flexibility, there are some defects. If the configuration you have set is not proper, you may leave a bug for those attackers.
The firewall comes with default configurations to keep bad traffic away and its programming is more complex than the antivirus.
Counterattack
Antivirus
In antivirus, no counterattacks are possible after removing the malware. Once the antivirus detects the trace of viruses or any malicious files, they will be gone and no chance is left for counterattacks.
Some hackers will try everything to create undetectable viruses but there is some antivirus software developed to detect encrypted and compromised files in case of any leaks of viruses or malware.
Firewall
In firewall, counterattacks are possible such as IP Spoofing and routing attacks. Especially DoS attacks are on the rise and this kind of attack can be created by hackers using the IP Spoofing technique.
As we mentioned, firewall users will enjoy a more flexible configuration, which can be a defect leading to the involuntary editing of your data packets by hackers. To avoid such a possibility, you need a very advanced firewall configuration.
Pros and Cons
Antivirus
Pros:
Offer real-time protection.
Conduct constant scanning.
Automatically update with the database that can cover newly-borne viruses.
Provide web protection.
Detect hidden cyber-attack.
Cons:
Some safe codes may be mistaken as dangerous.
Drastically slow down the overall speed of the computer for the use of memory and hard disk resources.
Can't ensure full protection.
The virus detection methods are limited.
Can't detect viruses on cloud and hardware.
Won't generate reports for analysis.
Firewall
Pros:
Can filter entire data packets.
Incoming data will be isolated from your devices.
Protect against hacking by blocking data output.
Protect against phishing.
Cons:
Regular updates are required for the latest database.
Your proxy service will occupy some resources.
The price of installation and maintenance can be high.
A software firewall can consume some resources on your computer, leading to a decreased performance.
They are defenseless against other types of malware.
Can't remove malicious code.
An Overview of Their Major Differences
Antivirus can only be implemented as software while firewall can be divided into software and hardware.
Antivirus can deal with both external threats and internal threats; firewall copes with external threats.
Antivirus works at a file level by scanning; firewall works at a network protocol level by monitoring and filtering traffic.
An antivirus is an afterward security approach while the firewall is an in-advance security approach.
Antivirus won't get counterattacked but firewall may be under counterattacks like IP address spoofing and routing attacks.
Some Recommendations for Antivirus and Firewall
Bitdefender
Bitdefender's plans end up with $29.99 for one year with features including anti-spam, ransomware protection, PC cleanup, and file shredder.
Pros:
Visual endpoint detection and response.
Inexpensive personal plans.
Cons:
High-cost business plans.
A little more demanding than other antivirus services.
Avast
Avast's price is required from $34.99 per year to $59.99 per year with features including anti-spam, ransomware protection, file shredder, secure sandbox, and software updater.
Pros:
More platforms are available.
A free version is readily available for download.
Cons:
Some packages are required a little higher cost.
The protection of privacy needs improvement.
ZoneAlarm
This firewall has two versions – Pro and Free versions. It has an easy-to-use interface and great antivirus engine but some better features are only accessible to Pro users.
Features:
Early boot protection.
A two-way firewall.
Anti-phishing scanning.
Identify potentially unsafe traffic.
Hide open ports.
GlassWire
GlassWire is also a popular firewall with a stylish interface and easy-to-use process but compared to other rivals, GlassWire has some limited features and the amount of info can overwhelm.
Features:
Detailed network usage statistic is provided according to IP/ host, application, and network traffic type.
The "Ask to Connect" mode is used to allow or deny new app connections.
Windows Defender
Windows Defender is well-known among people. It is part of a suite of security tools included by default with Windows installations. It runs to facilitate your protective strategy but additional features are limited.
How to Improve Your Data Security?
Now, you have an overall picture of the antivirus and firewall. To some extent, these two tools can make up for the disadvantages of each other. For different purposes, they are designed to create a protective shield for malicious software and unauthorized access.
But don't think that is a full-fledged strategy to battle against all risks. Some hackers will try everything to break out of the shield, which can lead to data loss, system crashes, etc.
After all, antivirus software does not detect all viruses and malware and a firewall is not always impenetrable.
Therefore, the last resort to protect your data is backup. Fortunately, born for providing a better backup experience, MiniTool ShadowMaker has been developed for many years with a sustained upgrade. Besides, MiniTool ShadowMaker can also provide you with sync and disk cloning functions.
First of all, you need to download and install the program and you will get a 30-day trial version for free.
MiniTool ShadowMaker TrialClick to Download100%Clean & Safe
Step 1: Open MiniTool ShadowMaker and click Keep Trial on the top right corner. And then switch to the Backup tab.
Step 2: Click the Source section and in the pop-up window you can choose backup content including system, disk, partition, folder, and file. By default, the system has been set as the backup source already.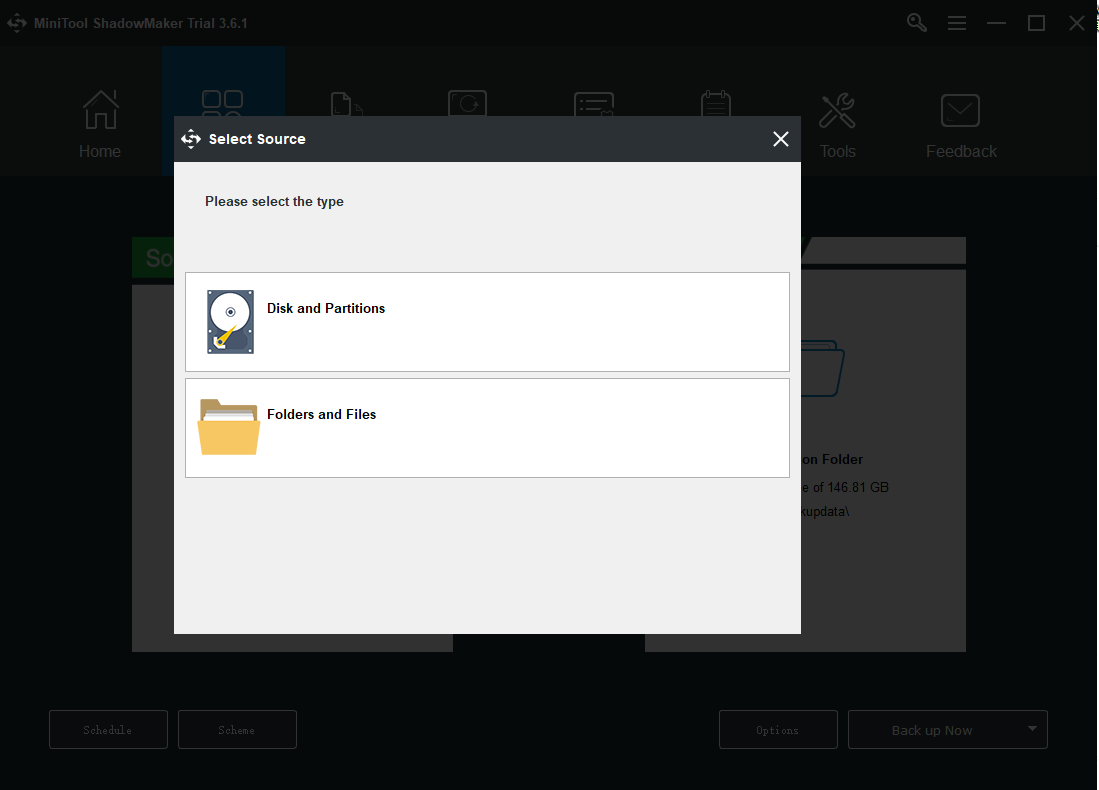 Step 3: Go to the Destination part where you can see four options containing the Administrator account folder, Libraries, Computer, and Shared. Then choose your destination path. And then click OK to save your changes.
Tips:
Tip: It is recommended to back up data to your external hard disk in case of computer boot failure.
Step 4: Click the Back up Now option to start the process immediately or the Back up Later option to delay the backup. The delayed backup task is on the Manage page.
This article shows you an overall picture of antivirus vs firewall. If you like this article and think this article resolves your question, you can share it on Twitter.Click to Tweet
Bottom Line:
This article about antivirus vs firewall has introduced their differences in different aspects. If you have both antivirus and firewall on your computer and think that would be perfect, then you are wrong. You still need a backup plan for your important data. It's a much more important step to safeguard your data.
If you have encountered any issues when using MiniTool ShadowMaker, you can leave a message in the following comment zone and we will reply as soon as possible. If you need any help when using MiniTool software, you may contact us via [email protected].
Antivirus vs Firewall FAQ
Are firewalls still needed today?
The traditional firewall is dead or at the very least dying. Cloud computing and hybrid environments, mobile access, and online applications have made firewalls all but obsolete, and data center operators should consider replacing their firewalls with more fine-grained security technologies, experts say.
Do I need an antivirus if I have Windows Defender?
Windows Defender scans a user's email, Internet browser, cloud, and apps for the above cyber threats. However, Windows Defender lacks endpoint protection and response, as well as automated investigation and remediation, so more antivirus software is necessary.
Can the firewall be hacked?
A firewall may be secure, but if it's protecting an application or operating system with vulnerabilities, a hacker can easily bypass it. There are countless examples of software vulnerabilities that hackers can exploit to bypass the firewall.
Is firewall more important than antivirus?
While antivirus software helps to protect the file system against unwanted programs, a firewall helps to keep attackers or external threats from getting access to your system in the first place. Other threats travel from computer to computer without the knowledge of the user.