Both WD Balck SN850 and WD Black SN850X are SSD. Some users want to know the differences between them and want to know which one to choose. This post from MiniTool tells you details about SN850 vs SN850X.
SN850 vs SN850X
The following is a quick guide about SN850 vs SN850X.
| | | |
| --- | --- | --- |
| Features | SN850X | SN850 |
| Capacity | 1 TB to 4 TB | Up to 2TB |
| Interface | Pcl Express 4.0 | Pcl Express 4.0 |
| Form Factor | M.2 | M.2 |
| Sequential Read Speed | 7,300 MB/s | 7,000 MB/s |
| Sequential Write Speed | 6,300 MB/s | 5,300 MB/s |
| Endurance Rating | 600 TBW, 1200 TBW, 2400 TBW | 600 TBW, 1200 TBW, 2400 TBW |
| Color | Black | Black |
| Hard Disk Size | 4 TB | 2 TB |
| MTBF | 1.75 Million Hours | 1.75 Million Hours |
To get more details about SN850 and SN850X, continue to read the below content.
SN850 vs SN850X: Capacity
The Western Digital Black SN850X is available in 1TB, 2TB and 4TB capacities. This differs from the earlier SN850, which didn't have a 4TB model, but a 500GB one. Additionally, the SN850X offers cooler options with RGB for the 1TB and 2TB models, but not for the 4TB drives. In contrast, each capacity of the SN850 has a non-RGB cooler option.
SN850 vs SN850X: Performance
The new SN850X achieved 7,377MB/s read and 6,673MB/s write, while the old SN850 only offered 6,974M/s read and 5,194MB/s write. These numbers translate to a 5% boost in reads and a 28% boost in writes.
SN850 vs SN850X: Games
The SN850's Game Mode works by disabling low-power states, ensuring a more responsive drive. Game Mode 2.0 works differently, taking a three-pronged approach: predictive loading, adaptive thermal management, and overhead balancing. Speculative loading is an algorithm designed to detect upcoming low queue depth, and sequential workloads -- especially read workloads that are prevalent in many games.
The Black SN850X works with WD's Dashboard management software, which is included with its SSD. This application quickly displays information about the drive, including health status, while also providing tools and settings.
Of particular note is the new Game Mode 2.0 feature added to the SN850X. The original Game Mode can be turned on or off in the dashboard, but Game Mode 2.0 has an additional automatic setting to detect when a game is launched. You can also manually enter the game folder location so the software knows where to watch.
SN850 vs SN850X: Pros and Cons
SN850
Pros      
SN850X provides the fastest gaming performance.          
To get the full benefits of Pcle 4.0, may require a motherboard.
Both read and write speed is fast with large files.              
Cons
It has only 1200 written TB.
WD Black SN850 is faster than PS5.
The storage capacity is limited.
SN850X
Pros      
It has Pcle 4.0 interface which transfers the data faster. 
SN850X has good heat management.     
WD Black offers a 5-year warranty.         
It offers both fast reading and writing speed.     
Cons
It has no hardware encryption support.
It is not suitable for all use cases like gaming.
It is really expensive compared with other SSDs.
Game mode of sn850x has too gimmicky.
How to Replace Original Hard Drive with SN850X
According to SN850 vs SN850X above, it is obvious that SN850X outweighs sn850 in many perspectives. Especially for those whose work has high demands for the performance of computers or laptops, they prefer to sn850X.
Compared with other similar products, it is recommended to adopt a piece of professional backup software - MiniTool ShadowMaker. Among its various functions, one feature plays a prominent role in MiniTool ShadowMaker. That is Clone Disk. This feature helps you clone your original disk to the target disk in a short time without data loss.
Apart from cloning disk, this software also allows you to back up everything you want, perform disaster data recovery and do file sync, etc.
Come and get MiniTool ShadowMaker Trial for a free 30-day try. Detailed operating steps are listed as follows.
Step 1: Please launch MiniTool ShadowMaker Trial and clcik Keep Trial.
Step 2: Please go to the Tools page and click Clone Disk.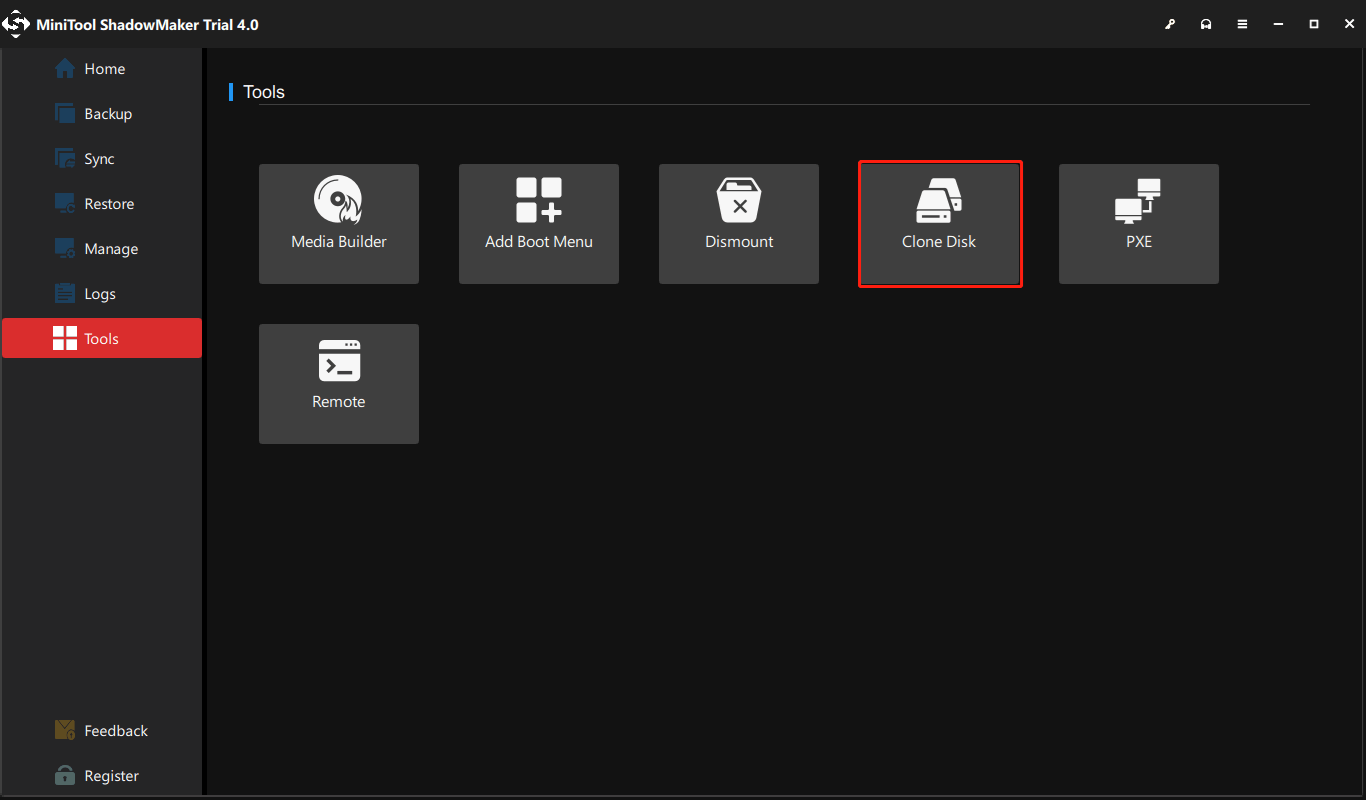 Step 3: Please select the source disk to copy and click Next to continue.
Step 4: After selecting the source disk, please select the target disk to save the copy. Then click Start to continue.
Tip: The space of the target disk must be larger than the space of the source disk.
Step 5: The pop-up window will inform you that data on the target drive will be destroyed. Please remember to back up the files and data you need in advance. Then click OK to continue.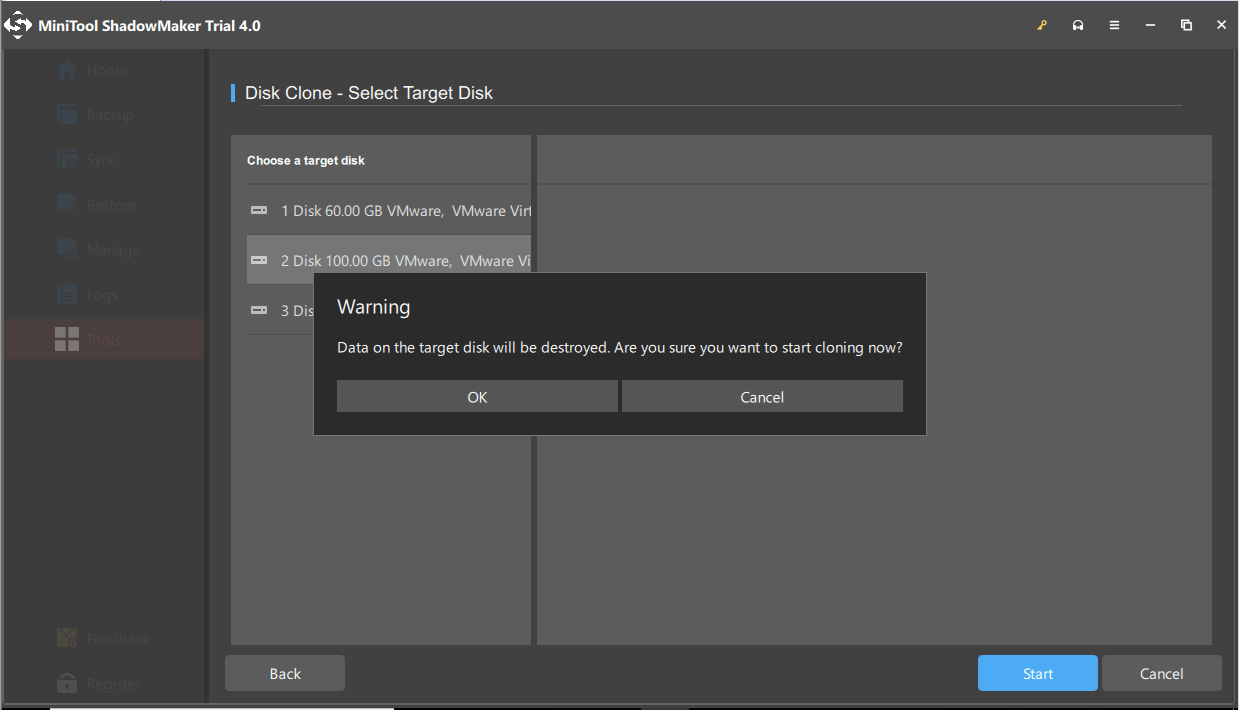 Step 6: MiniTool ShadowMaker is performing disk cloning. Please wait patiently and click Finish when the process is over.
Tip: You can check Shut down the computer when the operation is completed. MiniTool ShadowMaker will shut down your computer when finishing the cloning task.
Step 7: Please read the following information carefully and click OK to complete this disk cloning task.
Warning: After cloning the disk, please make sure either the source drive or the target drive is connected to the computer when you first boot the computer. If both the two disks are connected to the computer, one will be marked as offline.
Bottom Line
As for SN850 vs SN850X, this post has shown their differences in several aspects. If you do not know which one is better, you can refer to the above part. If you have any different ideas for SN850 vs SN850X, you can leave a message in the comment zone.
In addition, if you have any problems with MiniTool ShadowMaker, please feel free to contact us via email [email protected] and we will reply to you as soon as possible.