WD has issued various series of hard drives, namely Gold, Red, Black, Blue, Green, and Purple. If you want to choose one of them but don't know which one is better, you can refer to this post. This post from MiniTool provides information about WD Gold vs Red.
Western Digital is a world-renowned and reliable manufacturer of Hard Disk Drives and Solid State Drives. WD Red and WD Gold are two of their most popular hard drive lines. The two series have different features and functions that make them suitable for dedicated use.
Today's topic is WD Gold vs Red. Continue to read to get details.
WD Red vs WD Gold – Similarities
This part is about WD Red vs Gold in similarities.
WD Red and WD Gold are designed for laptops or desktops with Windows, Windows Server, and Linux operating systems. They can store large multimedia files of photos, apps, and videos. Both devices can be conveniently used in NAS and RAID environments.
Both WD Red and WD Gold support SATA connections. WD Red and WD Gold are equipped with Enhanced Vibration Protection Technology for better performance in vibration environments. It also helps to correct linear and rotational vibrations in real-time.
WD Red vs WD Gold – Differences
This part is about WD Gold vs Red in differences.
WD Gold vs Red: Form Factor
WD Red hard drives are available in 2.5-inch and 3.5-inch form factors. This means you can use WD Red HDD on your laptop device. WD Gold HDDs are only available in a 3.5-inch form factor. This means that WD Gold is more suitable for a desktop computer or server configurations.
WD Gold vs Red: Features
WD Red:
It's built with exclusive NASware 3.0 technology that optimizes your drives and boosts system performance with increased compatibility and integration.
Red has a unique algorithm that helps deliver great performance in NAS and RAID environments.
It is purpose-built for optimal NAS (Network Attached Storage) compatibility, enabling multiple users and heterogeneous client devices to retrieve data from centralized disk capacity.
Its error recovery controls improve RAID performance by marking disks that are slowed down by errors.
It supports up to 8 bays.
It offers a workload rate of 180TB/year, which is the amount of user data transferred to or from the hard drive.
WD Gold:
It is built with Opti NAND technology, which clears up space on spinning media and reduces the number of read/write operations to further improve performance.
Its innovative Armor Cache feature protects these drives from the risk of data loss caused by EPO.
It is built with Vibration Protection Technology, which reduces and dampens unwanted vibrations for improved drive performance.
It delivers outstanding performance when used with enterprise-class storage systems and data centers.
It offers up to 512MB cache size and up to 269MB/s transfer speed.
WD Gold vs Red: Capacity
WD Red: It comes in capacities of 1 TB, 2 TB, 4 TB, 6 TB, 8 TB, 10 TB, 12 TB, 14 TB, 16TB, and 18 TB.
WD Gold: It features a 2.5-inch WD Red Plus hard drive with 1 TB of storage capacity. The WD Red comes with a 3.5-inch drive in 2 TB, 3 TB, 4 TB, and 6 TB capacities. It comes with a 3.5-inch WD Red Plus drive in capacities of 1 TB, 2 TB, 3 TB, 4 TB, 6 TB, 8 TB, 10 TB, 12 TB, and 14 TB. It is also equipped with a 3.5-inch WD Red Pro hard drive with a capacity of 2 TB, 4 TB, 6 TB, 8 TB, 10 TB, 12 TB, 14 TB, 16 TB, 18 TB, etc.
WD Gold vs Red: Transfer Speed
A higher transfer rate has many benefits, such as it can increase the data provisioning of the application. It brings high functionality and convenient streaming, while lower transfer rates may cause some applications to stop working.
WD Red has transfer speeds of up to 180MB/s, while Gold has transfer speeds of up to 269MB/s. With higher transfer speeds, WD Gold wins this contest over its competitors.
WD Gold vs Red: MTBF
HDDs will be considered more reliable with higher MTBF values. WD Red has an MTBF of up to 1 million hours, while WD Gold has an MTBF of up to 2.5 million hours. Therefore, WD Gold HDD is better than WD Red in this aspect.
WD Gold vs Red: Warranty
The warranty of WD Red is 3 years, while for WD Gold, the warranty is 5 years.
Also see: WD Blue vs Black – Which HDD You Should Buy
How to Migrate Windows OS to WD Gold vs Red
Whether you choose WD Gold or Red, you may plan to use it as the primary disk for gaming or work. But how to migrate the Windows OS from the original hard drive to WD Green or WD Blue without data loss?
There is a piece of Windows backup tool for you to back up/sync important files, Windows systems, partitions, or disks on your computer. It's called MiniTool ShaodwMaker. It also offers you a powerful feature called Clone Disk, enabling you to transfer the entire system disk or data disk to HDD or SSD.
Now, you can download it to have a try!
Step 1: Connect the WD Gold or Red to your computer. Launch MiniTool ShadowMaker, and click Keep Trial to continue to use the Trial edition.
Step 2: After entering the main interface, navigate to the Tools tab. And then choose the Clone Disk feature to continue.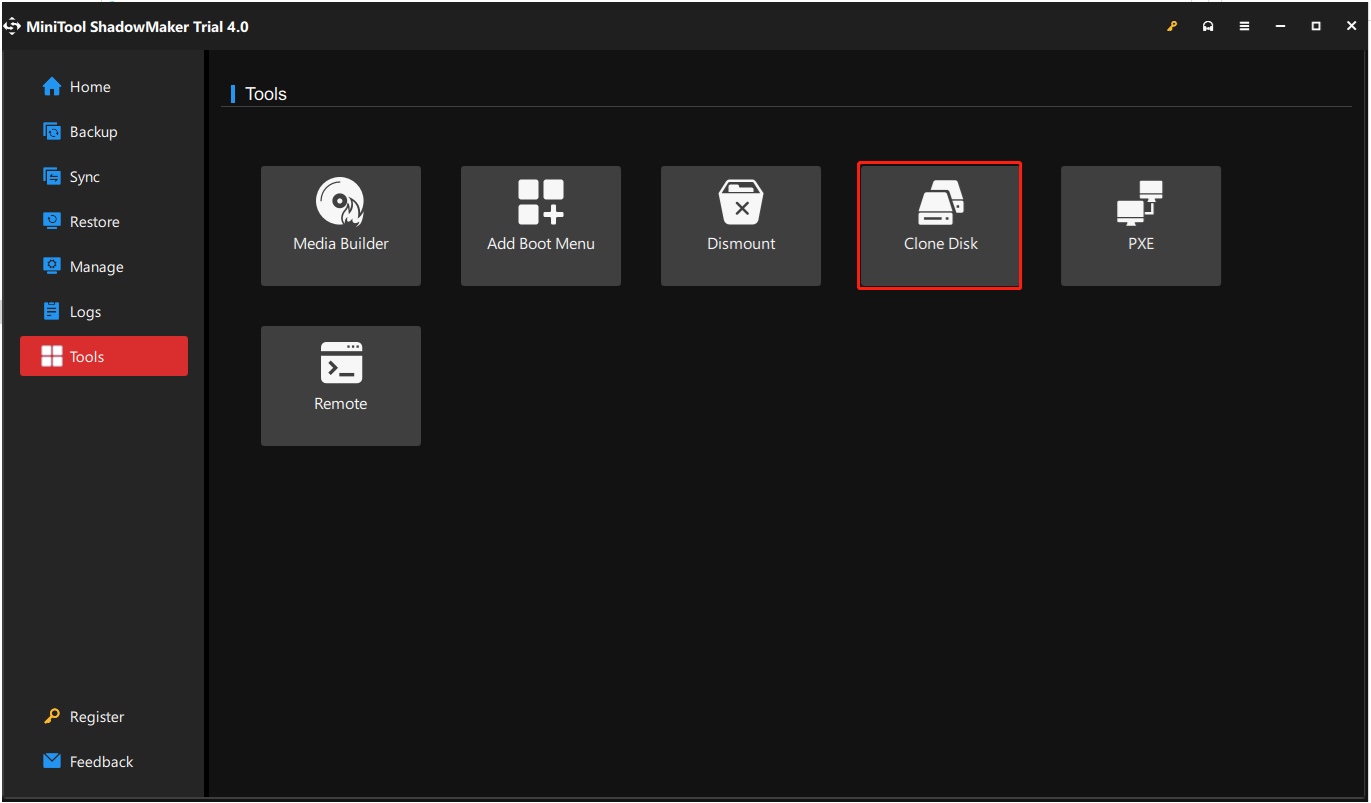 Step 3: Next, you are required to choose the source disk and the target disk for cloning.
Step 4: After you have successfully selected the disk clone source and destination, click OK to continue.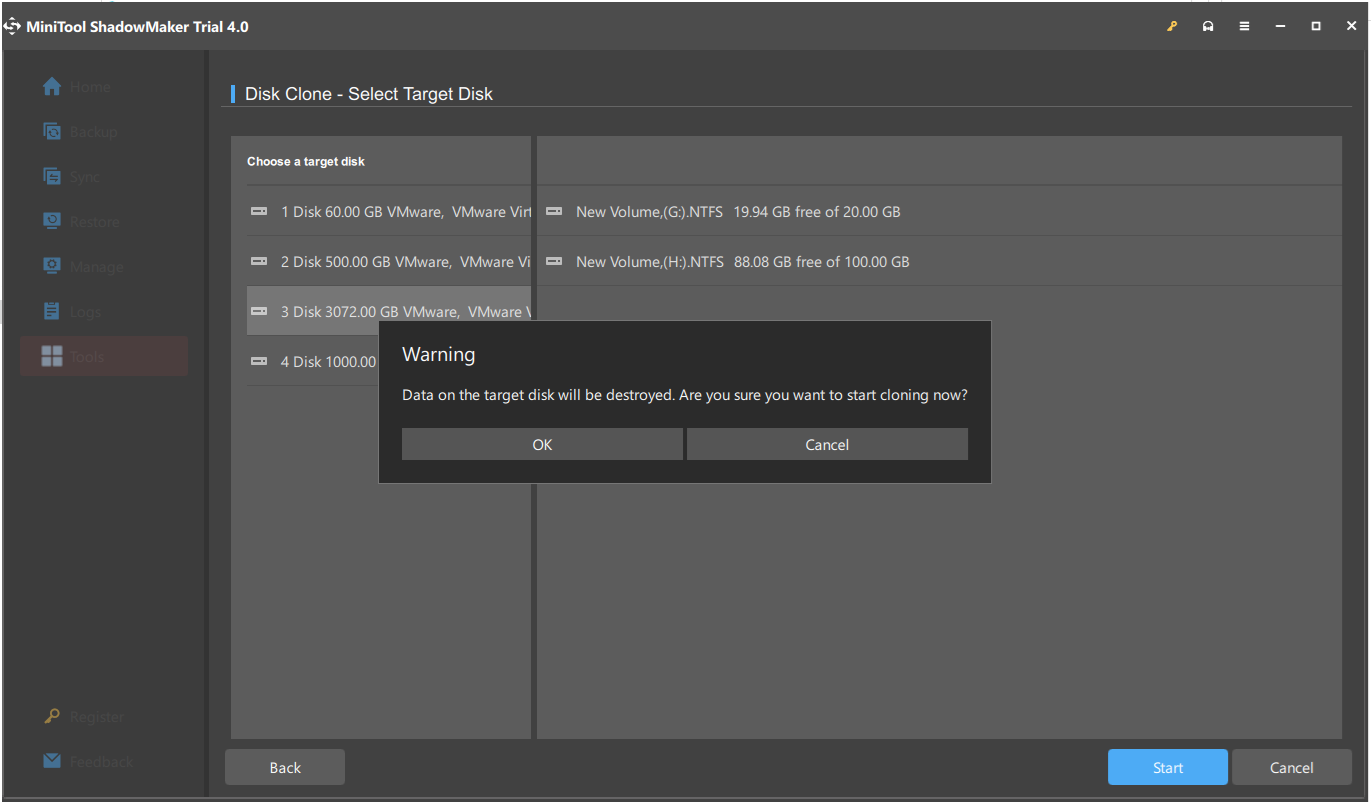 Step 5: Then you will receive a warning message that tells you all data on the target disk will be destroyed during the disk cloning process. Then click OK to continue.
Step 6: Then it will begin to clone and you need to wait several minutes until the process is finished.
Bottom Line
This post comes to an end. Hope the content related to WD Gold vs Red can help you choose a proper hard drive for your device. If you have doubts or issues about WD Gold vs Red, please leave them in the following comment zone or contact us via  [email protected].