This post gives some analysis about the difference between data and information. Simply put, data are figures and facts whereas information is processed data. Check the details below. If you need a free data recovery program to recover deleted or lost data from storage devices, you can try MiniTool Power Data Recovery.
You may use data and information interchangeably, but they do have slight difference. Data vs information, what's the difference between them? This post talks about the differences between data and information, and offers a free data recovery solution if you lost some important data.
Tip: MiniTool Power Data Recovery – A clean and free data recovery program for Windows. You can utilize this software to recover any deleted or lost data like files, photos, videos, music, etc. from Windows computer, memory card, SD card, USB flash drive, external hard drive, SSD and more in a few clicks.
MiniTool Power Data Recovery FreeClick to Download100%Clean & Safe
Data vs Information – Definition
What Is Data
Data refers to facts and figures. It is raw, unprocessed and unorganized. Generally data can be plain facts, statistics, characters, symbols, images, numbers or other collected things that can be used for analysis. Data individually is not informative and has not much meaning, but it offers some basis to gain a useful meaning.
Information Definition
Based on data, through analyzing, processing, interpreting, organizing, etc. to make data have a useful meaning, then it defines information that lets us understand something.
The connection between data and information is: When the data is processed and it becomes meaningful, then it becomes information. Information depends on data.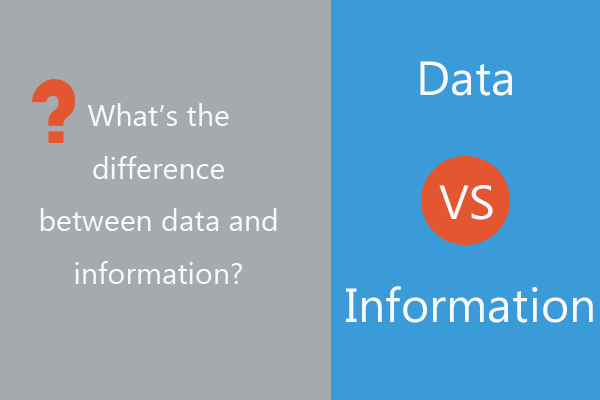 Differences between Data and Information
Summary:
1. Data is a stack of collected facts and it needs to be reprocessed, otherwise, it doesn't have much meaning. On the contrary, information is consisted of the processed data and provides meaning and context for data. After analyzing the RAW data, the processed data becomes useful information.
2. Data is unorganized while information is well-organized for a specific purpose.
3. Organizing the data in different ways or giving data different interpretations can carry different information.
4. Data alone has no meaning while information itself has a significance.
5. Information derives from data. Data doesn't depend on information.
6. As for the form of data and information, data could be in the form of numbers, letters, characters, etc. while information is in the form of meaningful units like ideas, conclusions, inferences, etc. based on the processed data.
7. As for the origin of these two words, data originally means "something given", while information refers to "the act of informing".
8. In regard to grammar and usage, data is a plural noun and should use a plural verb, while information is an uncountable noun and should use a singular verb.
9. The scattered data is not helpful in decision making while information generally plays a role in decision making.
10. Based on knowledge level, data is considered as low level while information is medium level.
Analysis:
We often calculate a pack of related data, and analyze these RAW data to get the information we want. The information is useful to us for future action.
However, only the right interpretation of the data can lead us to the right way, the incorrect interpretation of data can mislead us to the wrong conclusion and take the wrong action. Still, if the collected data are not sufficient or is wrong, it won't help us make right conclusion, either.
Therefore, if you are going to use some RAW data to organize, process or summarize something, so as to get the meaningful information that is useful for business or public, you should find enough correct data and form a right interpretation.
Information vs Data – Examples
Example 1: The number of page views of one post is data. But, if you compare the number of page views of one post in different months like October and November, and find out that November's traffic is more than October's, this is information.
Example 2: The sales value of 2019 or 2020 is data. By comparing the sales value of year 2020 and 2019, you know that 2020's sale is better than 2019. That's the information you derive from data.
Example 3: You tested the height of three people of a band. It's data. But if you get the average height of the three people, then it's information.
Example 4: You get a string of numbers. It's data. If you know it's a person's phone number, then it is information.
Data vs Information in Computers
In computer technology, data is the input while information is the output. Data is what you tell your computer to do while information is what your computer displays after interpretating your request.
A Free Data Recovery Tool for Windows
What if you mistakenly deleted some needed files or lost some important data due to problems? Here you can get a free data recovery tool to recover deleted/lost data by yourself.
MiniTool Power Data Recovery is a professional data recovery program for Windows. It is a 100% clean tool. You can download and install it on your Windows computer, and use it to recover any deleted or lost files from your computer and external storage devices like memory card, USB flash drive, external hard drive, etc.
MiniTool Power Data Recovery FreeClick to Download100%Clean & Safe
Step 1. If you try to recover data from an external drive, you should connect it to your computer first. Launch MiniTool Power Data Recovery.
Step 2. Select the category in the left panel: This PC, Removable Disk Drive, Hard Disk Drive, or CD/DVD Drive. For memory card/SD card, select Removable Disk Drive; for external hard drive, select Hard Disk Drive.
Then click the target drive in the right window. Click Scan button.
Step 3. Wait for the scan to complete. Check the scan result to find wanted files, check them and click Save button. Continue to choose a destination path to store the recovered files.
Easy Free Data Backup Software
For data security, it's also advised you regularly make a backup of important data to avoid data loss.
MiniTool ShadowMaker is a free PC backup tool. It lets you choose files, folders, partitions or disk to back up to external hard drive, USB, network drive, etc. This software also supports schedule automatic backup and file sync. Easy and fast.
Download and install MiniTool ShadowMaker to start to back up your important data.
MiniTool ShadowMaker TrialClick to Download100%Clean & Safe
Step 1. Launch MiniTool ShadowMaker. Click SET UP BACKUP button. Click Backup module at the top toolbar.
Step 2. By default, this free backup software has selected your system partitions to back up, and choose a destination folder to store the backup. But you can freely change them.
You can click Source section to continue to select the source data you want to back up. Click Destination section to select a preferred destination path.
If you want to set a schedule backup, you can click Schedule button at the bottom-left to adjust the schedule settings.
Step 3. After choosing the source and destination, you can click Back up Now button at the bottom-right to start backing up the selected data.
Conclusion
Data vs information, this tutorial introduces the difference between data and information. Still, it offers free data recovery solution and free data backup method for you to keep data safe. If you have any problems in using MiniTool Software products, you can contact [email protected].
Data vs Information FAQ
How is data different from information?
Data is RAW, unorganized and unprocessed material, while information has a logical meaning after processing a piece or group of data.
What is difference between data and information and knowledge?
Data is collected RAW material. Data transforms to information after analyzing and has a useful meaning. When the information is processed and is available for making decisions or solving problems, it becomes knowledge. Knowledge influences people's thinking and actions.
What are the examples of data and information?
Data are facts like numbers, scores, prices, names, images, sounds, etc. Information delivers a more useful meaning based on data analyzing. This post offers some examples.
What is data and information in computer?
Computer data is bunch of ones and zeros, namely, binary data. Computer data may be processed by computer's CPU and is stored in files and folders on computer hard drive. The information may be in the form of document, image, audio track, software program, etc. in computer.