Files associated with the Windows NTBackup utility are called BKF. What is it? How to open it? How to extract data for it? If you want to learn information about the BKF file, you can continue to read this post.
What Is BKF File?
What is BKF file? A BKF file is a Windows NTbackup archive file created by Windows Backup. The BKF file format is used to store copies of files stored on Windows NT version systems. These BKF files store backups of information with a .bkf extension. BKF file extension is basically related to Windows Backup Utility or Microsoft Backup Utility which is part of Windows NT to Windows XP versions.
The main reason for making this file is to store system data backup in any device. It can help you recover files from Windows image backup in case of sudden information loss, unexpected system shutdown, virus attack, etc.
Tips:
Tip: To get more information about the Windows backup, you can go to the MiniTool official website.
How to Get the BKF file?
You can get BKF files from an old Windows system. These files can be copied from the C:\Windows\System32 location path. Microsoft also provides plug-ins with these executables and support files. The cab can also be downloaded from the Internet.
How to Open the BKF File on Windows 11/10
How to open the BKF file on Windows 11/10? Unfortunately, Microsoft has removed NTBackup.exe from Windows 11/10, so there is no way to recover BKF files on Windows 11/10. However, this can still be achieved by manually downloading and running the NTBackup utility to open the BKF file.
Here are the steps for restoring data with NTBackup.
Step 1: Launch the NTBackup.exe. Choose Restore files and settings and click Next.
Step 2: Double-click the backup identification label to find your BKF file and check the box. Then, click Next. If you can't find the BKF file, you can click the Browse… button to search for it.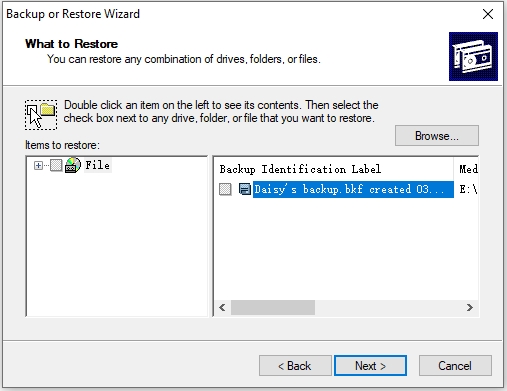 Step 3: Click the Advanced… button. Then, click the drop-down menu to choose a location to restore files. You can choose Original location, Alternate location, or Single folder.
If you choose the Alternate location, you can click the Browse… button to choose the location by yourself.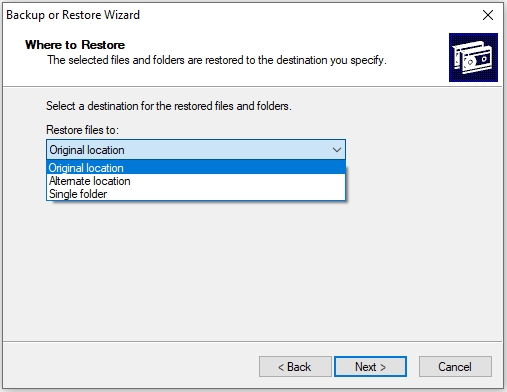 Step 4: You can choose how you want to restore files that are already on your computer. There are 3 options – Leave existing files (Recommended), Replace existing files if they are older than the backup files, and Replace existing files.
Step 5: Then, you can choose to restore security or special system files. Here, select the options you want to use:
Restore security settings
Restore junction points, but not the folders and file data they reference
Preserve existing volume mount points
Step 6: Then, click the Finish button to start the restore process.
Note:
Note:
This method will not work if the backup is saved on tape. Backups must be stored on the system itself.
Novice users may find this method difficult as the entire process is tedious and time-consuming.
This method will not work at all if the BKF file has any corruption.
Back up the Data
From the above content, you can know that the BKF file is not supported by mainstream systems. Thus, you had better back up these data on your Windows 11/10 to provide better protection for your data after extracting them from the BKF file.
There is a piece of great backup software for you – MiniTool ShadowMaker. It supports different operating systems including Windows 11,10, 8,7, and Windows Server and you can restore them in case of sudden information loss, unexpected system shutdown, virus attack, etc. Now, download it to have a trial.