When you use your computer, you may notice that a function called Intel Security Assist running in the background. You may wonder what it is and should you disable it. Now, read this post carefully since there is some full introduction to Intel Security Assist.
What Is Intel Security Assist?
What is Intel Security Assist? Intel Security Assist is a component of Intel's Active Management Technology. There are rumors that the component will collect some information from your computer and pass it to the manufacturer for unknown purposes. But it is just a rumor and there haven't been any reports confirming it.
Tip:
If you want to learn some information about Intel, you should go to the
MiniTool
official website.
The most commonly used version of Intel Security Assist is 1.0.0.532, which is currently used by more than 98% of installations. During the installation process, it defines a registry key that will run this program for all user connections every time Windows starts.
A background controller service is added that is configured to run automatically. The service manager can be used to delay the start of the service. The software installer contains 7 files, typically 1.11 MB (1,167,360 bytes). 61% of Intel Security Assist users come from the United States, but they are also popular in Italy and the United Kingdom.
Most post-2006 versions of Intel include a hardware component that can be used remotely to control certain functions of the computer. This hardware component can provide such extensive control over their networks for IT managers. It allows IT managers to access the video, keyboard, and mouse functions of computers on their networks.
It is unlikely that hardware components will be enabled on your personal computer since active management technology is mainly used only by businesses and offices with large computer networks.
Should You Disable It?
Now, you have known what Intel Security Assistant is? Then you may wonder should you disable it. In fact, it is quite safe to uninstall the component from your computer and it has no side effects on the computer.
If you do not feel comfortable uninstalling it, it can still be blocked by the firewall, which prevents most of its functionality, and it can be unlocked at any time. The Intel Security Assistant is a tool for advanced and secure remote management. If you are not in a business environment, it is very unlikely that you will need it.
Here are some common errors about Intel Security Assistant:
1. Intel Security Assist has stopped working. Windows is checking for a solution to the problem… (Windows 10, 8, 7)
2. Intel Security Assist has stopped working. A problem caused the program to stop working correctly. Windows will close the program and notify you if a solution is available. (Windows 10, 8, 7)
3. Isa.exe has encountered a problem and needs to close. (Windows )
4. Access violation at address FFFFFFFF in module isa.exe. Read of address 00000000.
How to Uninstall Intel Security Assist?
Since it is completely safe to uninstall Intel Security Assist from your computer, in this step, we will be completely removing it. For that:
Step 1: Press the Windows + R keys at the same time to open the Run box. Then type Control Panel and press Enter.
Step 2: Navigate to the Programs and Features part and click it.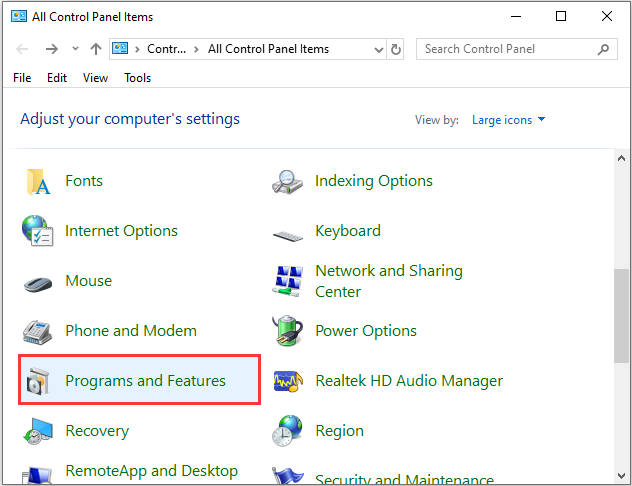 Step 3: Find Intel Security Assist and right-click it to choose Uninstall.
Step 4: Follow the on-screen instructions to completely remove the program from your computer.
Further Reading
How to tell if Intel Security Assist was uninstalled cleanly? After uninstalling, restart your computer. Then start Windows Explorer and see if there is still a folder with the name of the software under C:\Program Files. Be sure to check the registry as well for remnants of Intel Security Assist.
To do this, start Windows Registry, then look under HKEY_LOCAL_MACHINE > Software for Intel Security Assist or the name of the producer. Always keep in mind that only a computer professional should ever directly delete entries in the Windows Registry.
Final Words
To sum up, here is all the information on Intel Security Assist. If you want to learn about it, I hope this post can be helpful to you.