What is the VMDK file? How to open it in VMware ESXi and Workstation? What are the differences between it and a virtual disk image? If you are looking for the answers to the above questions, you can refer to this post.
What Is the VMDK File?
What is VMDK? VMDK is the abbreviation of Virtual Machine Disk format, which is one of the formats used for virtual disk drives. VMware Virtual Machine Disk is a format specification for virtual machine (VM) disk image files. A file with the .vmdk file extension is essentially a complete and self-contained virtual machine.
VMDK allows the cloning of physical drives for virtualization and off-site backup of virtual machines. The format was originally developed by VMware for use with VMware Virtual Appliances (VA), such as VMware Workstation, VMware Player, and VMware Fusion. But it is now an open-source file format that can be used by different non-VMware virtualization platforms.
VMDK files can be dynamic or fixed. Fixed VMDKs are allocated a fixed large size from the start to accommodate size changes as VM usage increases. In contrast, a dynamic disk scales with the size of the files in the guest operating system.
Tips:
Tip: VMDK files are easily damaged, resulting in the loss of virtual machine data. Therefore, you need to provide security insurance for your virtual machines. You can back up the VMDK files or even all the VMware data. To back up your VMDK files, you can try the professional backup program – MiniTool ShadowMkaer. With it, you can easily back up and restore your files with simple steps. Download it to have a try!
MiniTool ShadowMaker TrialClick to Download100%Clean & Safe
Virtual Machine Disk Format vs Virtual Disk Image
VMDK competes with e VDI and VHD. VMDK is not directly compatible with VHD, but third-party tools such as VMDK to VHD converters can help with the conversion process. VDI is compatible with VHD and VMDK, which means that Oracle VirtualBox can run images with both extensions. It uses Oracle Virtual Media Manager to create and replicate VDI, VHD/VHDX, and VMDK virtual hard disks. There are many free file-to-image conversion tools available.
VMDK allows incremental backups of data changes since the last backup. VDI and VHD do not provide this functionality. Since only changes and new data are backed up, the backup process for VMDK files is faster than the same process for VDI and VHD files.
VMDK is a much faster virtual disk format than VDI and VHD (and VHDX). Additionally, it includes live migration functionality to make it easier to move a VM to another server. It also provides snapshots, continuously protects data, and uses high-performance SAN block storage. Finally, users can recreate and reboot the VM using the backed-up VMDK file.
How to Open the VMDK File
Method 1: Via VMWare Workstation
Step 1: Open VMWare Workstation. Click File > Map Virtual Disks….
Step 2: Click Map… and click the Browse… button. It is recommended that you check the Open file in read-only mode (recommended) box to prevent any possible damage to virtual disks that belong to the snapshot chain after writing data.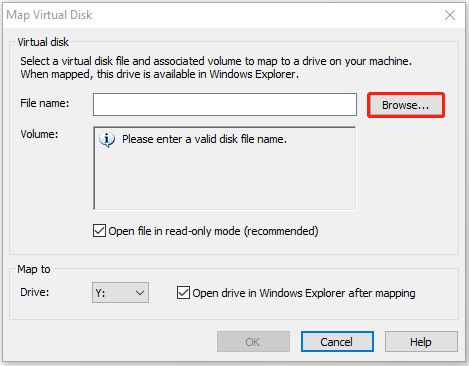 Step 3: Then, you can only check the delta virtual disk related to the first snapshot. After you have finished working with it, click Disconnect Virtual Disk.
Method 2: Via Mount VMDK to the ESXi/Workstation VM
This way requires the VMDK connection to an existing virtual machine with running OS. VMDK files can be added as an additional virtual disk to the VM.
Mount a VMDK file to an ESXi VM
Step 1: In the vSphere Client, navigate to Storage >Datastore Browser> select the VMDK file> click Copy to.
Step 2: Specify the location datastore, then go back.
Step 3: In the Hosts and Clusters section, right-click the VM and choose Edit Settings.
Step 4: Click ADD NEW DEVICE and choose Existing Hard Disk.
Step 5: Choose the copied VMDK files and click OK.
Step 6: In Windows Explorer, open the mounted drive and copy VMDK contents.
Mount a VMDK file to a Workstation VM
Step 1: In the vSphere Client, navigate to Storage >Datastore > File> Download.
Step 2: In VMware Workstation, select the VM and click Edit the virtual machine settings.
Step 3: Click Add  > Hard Disk > SCSI > Use an existing virtual disk. Then, locate the downloaded VMDK and click Finish.
Step 4: Boot the Windows Disk Management, alter the virtual disk state to online, then give a drive letter to a partition and browse the files.
Note:
Note: In order to prevent the virtual machine from being unable to start or disk file damage due to accidents such as system upgrades or virus attacks, it is recommended that you regularly back up the virtual machine.