What is write protection? Read this post to know it.
Read-only file is also called write-protection file. That is to say the content can be changed but the change cannot be saved. Write protection is different from read only, because read-only file can be deleted while write protection file cannot. On one hand, write protection can protect the original file from being operated mistakenly; on the other, it can avoid virus attack to data in the file.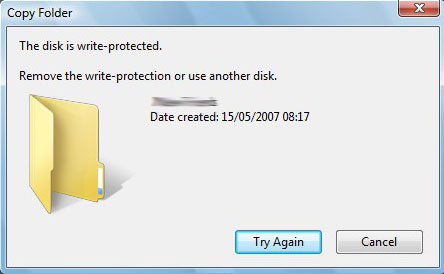 "Write" protection means data cannot be written to the disk, but can be read only. When write protection is started, the data in disk will not be modified. Thus, it can protect the disk data and prevent virus from invading the disk.
Name: Write protection
Domain: computer operating system
File: read-only file
Catalogue
1. Write protection classifications
Hardware method
Software method
2. Remove memory card write protection
Write Protection Classifications
There are two kinds of write protection. One is hardware write protection. It means write protection switch, namely hard disk recovery card. The other one is software write protection, which protects file through management tool. The advantages of simple software style lies in convenience, flexibility and low cost. Currently, software which can achieve hard disk write protection contains Nuclear Shield Data Guard.
Before removing write protection, people should confirm whether the file is write-protected. People just need right-click on the file, then click "Properties" to check if the checkmark "√" is ticked on "read-only". If "read-only" is ticked, the file is write-protected. This is because these three options don't need to be ticked in general.
Hardware method
First, you should check if lock (with a LOCK word) on the card reader holder is closed or not. You can remove the write protection just by pulling to the other end of the card reader. Generally, if it is floppy, there will be a black slidable block in the lower left corner. Pull it over to realize write protection. If it is a U disk, there will be a button which can be pulled and it is marked with a lock pattern.
Second, there exists a chance that your memory card is not connected to the holder very well. Thus you can place a layer of paper between them.
Third, it is more reliable to connect to the computer with data cable if you have one.
Software methods
Method one: Download an USB Mon. First, select the partition which you want to remove write protection from under <open disk partition safely> in the lower right corner. And then, you can click <remove write protection> in the bottom of lower left corner to achieve the goal.
Method two: In DOS, enter hidden file category to check the name of this hidden file under DOS by DIR/A. And then, remove the file's related attributes with the attrib command. The usage of attrib is to display or change the file attributes.
ATTRIB [+R | -R] [+A | -A] [+S | -S] [+H | -H] [[drive:] [path] filename] [/S [/D]]. "+" stands for setting attributes. "–" stands for removing attributes. "R" stands for read-only files attributes. "A" stands for archive attributes. "S" represents system files attributes. "H" means attributes of hidden files. "/S" means handling the matched file of current folder and its sub-folder. "/D" means dealing with folder.
Then, after entering the safe mode to give full authority to the folder, you can delete it as long as the computer is restarted.
Remove Memory Card Write Protection
1st. Click "Start" and type "CMD" in the "Run". Then click "Enter".
2nd. Type "DISKPART"and press Enter.
3rd. Then type "FORMAT J:" and press Enter. (Note that J should be replaced with the drive letter of the partition to get rid of write protection.)
Want to learn more solutions about disk write-protection? Turn to this post Get "The Disk Is Write Protected" Error during File Copy, then you can find many specific methods to fix this issue. Try them one by one.