Want to use 7-Zip to zip or unzip your files on Windows 10/11? This post on the MiniTool website shows you 7-Zip free download for PC and Mac. Besides, you can find another version here – 7-Zip Portable. Let's go to the point.
What Is 7-Zip?
7-Zip is a free open-source file archiver and powerful file manager. With this free software, you can easily compress or unzip files. Like WinZip, you can use it to create an archive that holds the files to be protected and this archive can be encrypted for protection with a password. To extract a file, it is easy to operate and only a right-click is required.
See the highlighted features of 7-Zip
Supported formats: 7z, BZIP2, GZIP, XZ, TAR, ZIP, WIM, RAR, and more
Self-extracting capability for 7z format
Integrated with Windows Shell
Supports 87 languages
Brings a high compression ratio
Offers strong AES-256 encryption in 7z and ZIP formats
Has a powerful command line version
Completely free to use for personal and commercial
If you want to use 7-Zip to compress or extract your files, get this free program. Well then, how to download 7-Zip for your PC or Mac? Move to the next part to find instructions.
7-Zip Download for Windows 10/11
You may ask: where can I download 7-Zip? In terms of 7-Zip download for Windows 11/10, it is easy. You can get this file archiver from its official website.
Step 1: Visit the Download page of 7-Zip: https://www.7-zip.org/download.html.
Step 2: You can see many download links with different types for this app. To download 7-Zip for your Windows PC, you can choose to download the .exe file, .msi, .7z, or .tar.xz file. Just click the link based on your actual needs. Here, we take the .exe as an example:
7-Zip Download 64-Bit Windows arm64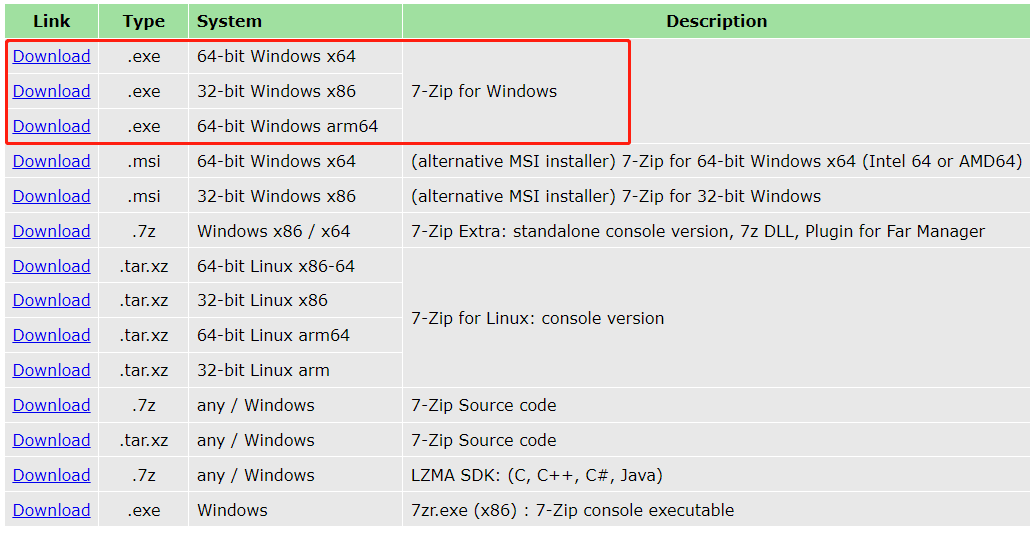 Tips:
On the Download page, you can get some old versions of 7-Zip.
Related article: 2 Ways to Convert a 7z File to ISO Format Easily
After getting the downloaded file, you can double-click on the .exe file and click the Install button to install 7-Zip on your Windows 10/11 PC. The default installation path is C:\Program Files\7-Zip. The process is fast to finish.
7-Zip Download Mac
If you are using a Mac, you can also get this file archiver. On the Download page of 7-Zip, click the download link for macOS to get the .tar.xz file. Then, uncompress this file and install the app on your Mac for use.
7-Zip Portable Download
7-Zip Portable is a portable version of 7-Zip and it can be kept on a USB flash drive so that you can use it anywhere and anytime to easily & simply create archives and unzip files. How to download 7-Zip Portable for Windows 10? Visit the page of Download 7-Zip Portable for PC on the Softonic website to get the package.
How to Use 7-Zip in Windows 11/10?
After downloading and installing 7-Zip on your Windows 10/11 PC, you can use it to create archive files or unzip files.
Step 1: To create an archive, right-click on the file or folder, and click 7-Zip > Add to archive.
Step 2: Customize the settings for the archive and click OK.
Tips:
To unzip a file, you can right-click on the file and choose 7-Zip > Extract files or any other similar options.