Windows keyboard shortcuts or hotkeys allows users to easily and quickly open applications or conduct operations. Windows 10 allows you to easily create keyboard shortcut keys for any program. This post provides 2 ways to help you create keyboard shortcuts Windows 10. Check the step-by-step guide below. Still, a list of best Windows 10 shortcut keys or hotkeys are also offered for your reference.
Way 1. How to Create Keyboard Shortcuts Windows 10 with Command Prompt
You can create a keyboard shortcut for a program in Windows by using Command Prompt. Check the steps below.
Step 1. You can press Windows + R keys on the keyboard to open Windows Run. Type cmd, and press Ctrl + Shift + Enter to run Command Prompt as administrator.
You can also type cmd or Command Prompt in the Search box. Right-click on Command Prompt desktop app and select "Run as administrator".
Step 2. Next you can type the following command explorer shell:AppsFolder in the command prompt, and hit Enter. It will pop up a window with a list of all your applications.

Step 3. You can right-click the target application which you want to create a keyboard shortcut for, and choose Create shortcut. Click Yes to create a shortcut on desktop.
Step 4. Then you can right-click the newly created shortcut icon and choose Properties. And set a keyboard shortcut key for the program in Shortcut key field. The shortcut key combination should be Ctrl + Alt + letter/number, e.g. Ctrl + Alt + N. Click OK to create keyboard shortcuts Windows 10 for the application.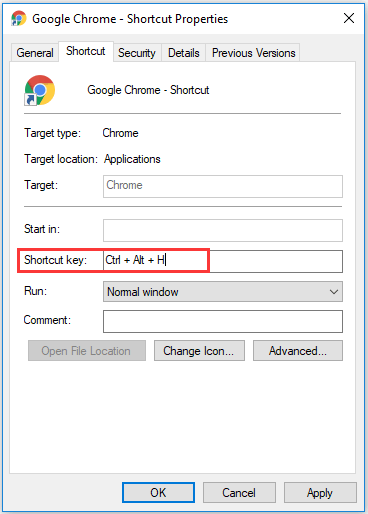 Way 2. How to Create Windows 10 Keyboard Shortcuts from Start
You can also create a keyboard shortcut in Windows 10 for a desktop app from Start menu.
Step 1. Click Start to find the application from the app list, you can scroll through the alphabetical list to find it.
Step 2. Right-click the target application and click Open file location. You will see a pop-up window with a shortcut icon. If you don't see the Open file location option, then you should use Way 1 to create the keyboard shortcut for it.
Step 3. Right-click the app shortcut icon and click Properties. Then input a keyboard shortcut key in Shortcut key box, and click OK. Still, the keyboard shortcut key should be like Ctrl + Alt + letter/number, e.g. Ctrl + Alt + D.
Best Windows 10 Keyboard Shortcut Keys List
Windows keyboard shortcuts, also known as Windows hotkeys, allows users to press a combination of keys to activate certain operating system commands or open some applications. Here is a list of some popular Windows 10 keyboard shortcuts/system hotkeys which worth remembering, and it will make our computer work more convenient and efficient.
Windows: Open Start menu.
Windows + R: Open the Run dialog box.
Windows + E: Open File Explorer.
Windows + I: Open Settings window.
Windows + L: Lock your Windows 10 computer to return to Sign-in screen.
Windows + D: Hide all open apps and take you to Windows 10 desktop. Pressing Windows + D the second time will display all open apps again.
Windows + U: Open Ease of Access Center.
Windows + X: Open Quick Access menu.
Windows + S: Open Cortana.
Ctrl + Shift + Esc: Open Task Manager to check all apps that are currently running and how much CPU they are using.
Ctrl + Shift + N: Create a new folder in File Explorer.
For the full complete list of Windows 10 keyboard shortcuts, please visit Microsoft official page: Windows Keyboard Shortcuts.