Windows 10/11 operating system gives you a colorful lock screen before you log in to your account. But the lock screen doesn't serve much of a purpose, so you want to turn off it. How to disable lock screen on Windows 10? Now read this post of MiniTool and then you will know two simple methods.
Necessity: Disable Lock Screen Windows 10/11
In Windows 10/11, you always see the lock screen every time the operating system starts, restarts, locks, wakes up from sleep or signs out a user account. The lock screen gives you a stunning vista but it doesn't serve any security purpose. Perhaps you have stopped appreciating the scene long time ago.
In some ways, it is annoying to have the lock screen since you first need to click the mouse to leave the lock screen so as to sign in to your account. Then, you wonder if you can remove it from Windows 10. For this question, you come to the right place and here we will give you two simple ways to get rid of lock screen.
How to Remove Lock Screen Windows 10/11
The methods are different based on different Windows 10 editions (Home and Pro) and they are using Windows Registry Editor and Group Policy Editor (for Pro).
Method 1: Edit Registry Keys to Disable Lock Screen Windows 10/11
If you are using Windows 10/11 Home Edition, the best way to remove Windows 10/11 lock screen is to modify your registry keys. There are a few steps involved, so you should follow the guide carefully.
Warning:
There is a chance that your operating system fails if you don't follow the exact steps as follow when your edit Windows Registry as always. To avoid system breakdown,
backing up Windows 10/11 registry keys
or making a full backup for your PC with MiniTool ShadowMaker, professional
backup software
should be done.
Step 1: Input regedit in the Run window (opened by pressing Win + R keys) and click OK to open Registry Editor.
Step 2: In the left pane, go to HKEY_LOCAL_MACHINE > SOFTWARE > Policies > Microsoft.
Step 3: Right-click Windows, click New and Key.
Step 4: Input Personalization and click Enter.
Step 5: Right-click the new key you have created, go to New > DWORD (32-bit) Value and rename it NoLockScreen.
Step 6: Double-click the NoLockScreen key and change its value data from 0 to 1 in the pop-up window.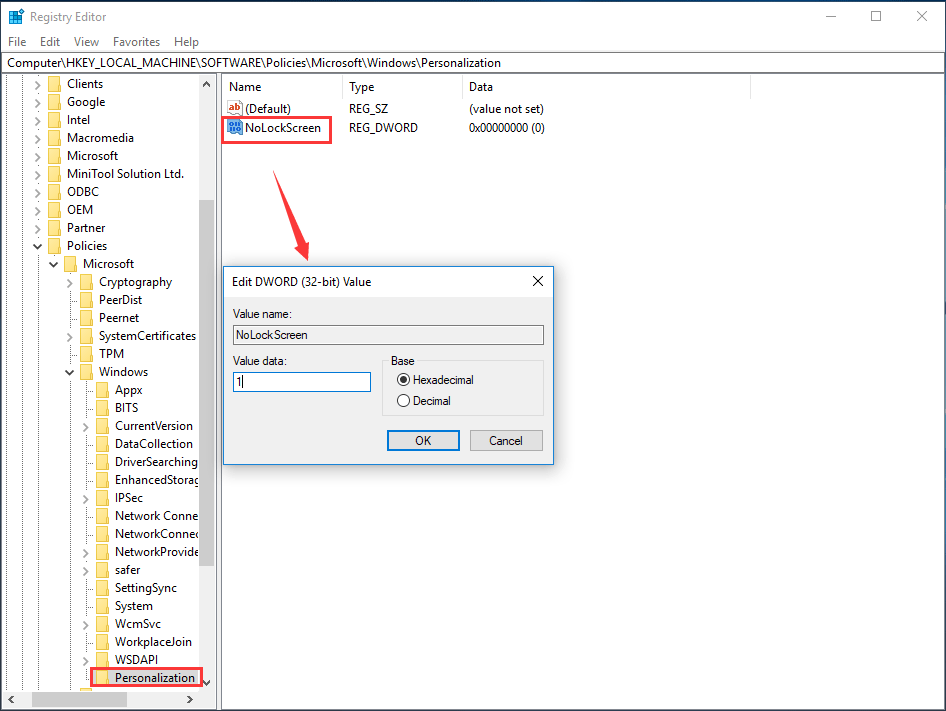 Step 7: Finally, exit Registry Editor and restart your PC. In this way, you can easily disable Windows 10 lock screen.
Method 2: Disable Lock Screen Windows 10/11 via Group Policy
For Windows 10/11 Pro, in addition to changing registry keys, you have an alternative method to turn off lock screen. That is to use Group Policy Editor.
Note: This method also works for both Windows 10/11 Enterprise and Education Edition but it cannot be used if you are a Home user.
Step 1: Search for gpedit in the search bar and click Edit group policy.
Step 2: In the new window, go to Computer Configuration > Administrative Templates > Control Panel > Personalization.
Step 3: Double-click Do not display the lock screen from the right panel.
Step 4: Click Enabled, Apply and OK.
Final Words
How to disable lock screen on Windows 10/11? Now, we have told you two simple methods to remove the lock screen. If you have a need, just try one of them based on your system edition.