This post drafted by MiniTool Software Limited mainly introduces you with a new way to lock your desktop, laptop, notebook, tablet, or mobile phone screen – dynamic lock screen. Just read the below content to learn the definition and methods to turn on or turn off this utility.
What Is Dynamic Lock Screen?
To make it easy to understand, a dynamic lock screen in Windows refers to a automatic screen locker when necessary. For example, when you leave your computer, the monitor will lock itself to avoid unauthorized access.
Whereas in Android or iOS, the dynamic lock screen means a kind of wallpaper that is live and animated.
Dynamic Lock Screen on Windows
Microsoft Windows can make use of devices that are paired with your computer to help detect when you are away and lock your PC shortly after your paired device is out of Bluetooth range. In that way, others can't easily get access to your device when you are away and forget to lock your monitor.
Below is the instruction on how to set up a dynamic lock screen on Windows 11. For preparation, you should turn on Bluetooth on both your computer and your phone and pair them up.
Go to Windows 11 Start > Settings > Accounts and select the Sign-in options.
On the Sign-in options page, expand the Dynamic lock option and check the "Allow Windows to automatically lock your device when you are away" option.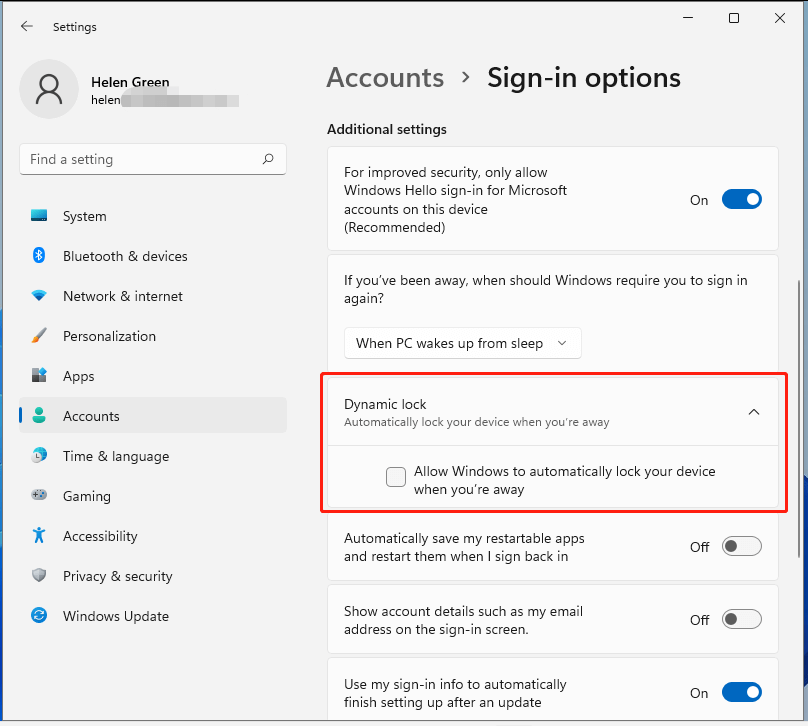 You can also turn on the following three options:
Automatically save my restartable apps and restart them when I sign back in.
Show account details such as my email address on the sign-in screen.
Use my sign-in info to automatically finish setting up after an update.
As for how to turn off dynamic lock screen function, just uncheck the above option.
Dynamic Lock Screen on Android
Besides, computer devices, you are able to create dynamic lock screens for your mobile phones. For how to enable the dynamic lock screen on Android phones, we will take Samsung mobiles for example.
Enable Samsung Galaxy Dynamic Lock Screen
To use the dynamic lock feature on Samsung smartphones, you need to download a Fresh pack, which is a group of wallpapers that will update automatically every 2 weeks.
Navigate to Samsung Galaxy Settings, search and choose Dynamic Lock screen under the Lock screen section.
Tap on the Dynamic Lock screen option and select Apply.
Choose the Fresh pack you'd like to install and tap Download. If desired, check or uncheck Use Wi-Fi only option.
Then, your new dynamic lock screen will be applied as your wallpaper automatically. Finally, you are all done. Check your new lock screen to see the automatic background changes every time you wake your phone up.
How to disable dynamic lock screen? Just choose another way of the lock screen to replace the dynamic one.
Set up Samsung Galaxy Dynamic Lock Screen
You can further specify the settings of your phone's dynamic lock screen. Just tap on the gear icon next to the Dynamic Lock screen option and the below settings are available:
Select category: Choose another dynamic lock photo category.
Download using mobile data: Use data instead of WiFi when downloading the fresh packs. If you prefer to use wifi, just switch this option off.
Auto update: Update the pictures in your Fresh packs automatically.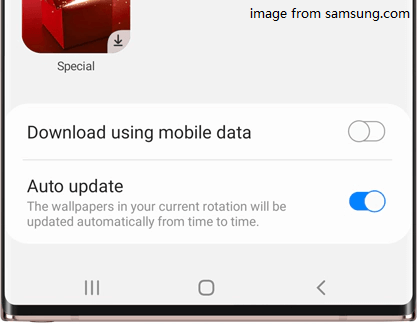 Dynamic Lock Screen on iOS
Next, we will show you how to set a dynamic wallpaper on iPhone or iPad.
1. Move to the Settings on your cellphone or tablet.
2. In the iOS Settings list, find and tap on Wallpaper.
3. Then, tap on Choose a New Wallpaper option.
4. Select the Dynamic group of backgrounds.
5. You can customize how the dynamic lock screen work on your phone or tablet by tapping on the screen and selecting Set. Then, choose Set Lock Screen, Set Home Screen, or Set Both.
If you change your mind and want to select another wallpaper or just don't want to create a dynamic lock screen, just click Cancel. How to get rid of dynamic lock screen? Just select another type of lock screen method instead of the Dynamic group.
Tip:
Dynamic wallpaper and perspective zoom are disabled when Low Power Mode is on.
When in Android or iOS, you can use your own photos as a dynamic lock screen.
Windows 11 Assistant Software Recommended
The new and powerful Windows 11 will bring you many benefits. At the same time, it will also bring you some unexpected damages such as data loss. Thus, it is strongly recommended that you back up your crucial files before or after upgrading to Win11 with a robust and reliable program like MiniTool ShadowMaker, which will assist you to protect your increasing data automatically on schedules!