It is pretty annoying to meet the HTTP Error 503 when you use your website. So why does this appear? This is because the website's server is too busy or other reasons. If you want to find some methods to get rid of it, then this post from MiniTool is what you need.
When your website's server is too busy or there is maintenance being performed on it, then you may receive an error message saying that: "503 Service Unavailable." The 503 error message you see may be different because it can be customized by the website it appears on or the server software that generates it.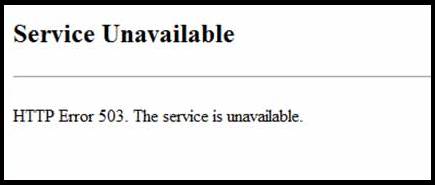 The 503 Service Unavailable error is an HTTP status code that can occur in any browser in any operating system. When the error occurs, it means that there is something wrong with the website's server. So how to fix the HTTP Error 503? The answer is shown below.
Method 1: Retry the URL
Sometimes, the appearance of the HTTP Error 503 is temporarily, therefore, you just need to click the reload/refresh button or press F5 or Ctrl + R to retry the URL from the address bar again. Normally, after you retry the URL, then you can visit the website normally.
Note: If you get the 503 Service Unavailable error message when making a purchase online, please be aware that multiple attempts to check out may eventually result in creating multiple orders – and incurring multiple charges!
Method 2: Restart Your Router and Modem
Although the error 503 often appears because of the fault of the website you are visiting, there is little possibility that there is a problem with your DNS server configurations on your router and computer. So when you get the HTTP Error 503, then you can try to restart your router and modem at first, and then restart your computer to fix it.
Method 3: Contact the Website for Help
If you meet the HTTP Error 503 when you visit a website, then you can contact the website directly for help. Maybe the administrators of the website already know about the HTTP Error 503, but it is not a bad idea to let them know the situation.
Most websites have supported-based social network accounts, phone numbers or email addresses, therefore, you can try these ways to contact them.
Method 4: Come Back Later
It is very common to meet the HTTP Error 503 on very popular websites. This is because when there is a huge increase in traffic by visitors, then the servers will be overwhelmed. Thus, you just need to wait for a moment to come back, then the HTTP error 503 will disappear.
More Ways You Might See a 503 Error
You may see a 503 error with the HTTP_STATUS_SERVICE_UNAVAIL error in Windows applications that natively access the Internet. And sometimes "The service is temporarily overloaded" message may follow with the HTTP Error 503.
Windows Update can also report the HTTP 503 error, but it will show as error code 0x80244022 or with a WU_E_PT_HTTP_STATUS_SERVICE_UNAVAIL message.
Bottom Line
The HTTP 503 Service Unavailable error is a server-side error, and if you want to find some methods to fix it, then you can try the methods mentioned above.