If you are receiving Fallout 76 stuttering, lag, and low FPS issues, you are not alone. Other players also have the same troubles. Luckily, we try our best to find 6 solutions on MiniTool Website for you and you can fix them easily and quickly.
Low FPS Fallout 76 
Fallout 76 is pretty popular among players all over the world. However, some evident glitches and bugs such as Fallout 76 low FPS, lag and stuttering issues also crop up. In this post, we will find some potential fixes to help you out.
How to Fix Fallout 76 Low FPS?
Solution 1: Disable Unnecessary Apps
When you are playing games, there are lots of unnecessary applications running in the background and they can eat up your system resources. Therefore, there is not enough RAM for your system resources. To avoid Fallout 76 low FPS on high end PC and improve the game performance, you need free up more system resources by disabling these apps running in the backend.
Step 1. Right-click on your taskbar and select Task Manager in the context menu.
Step 2. In Processes, do a right-click on the CPU and RAM heavy program and choose End task. Launch Fallout 76 again to see if Fallout 76 low FPS still persists.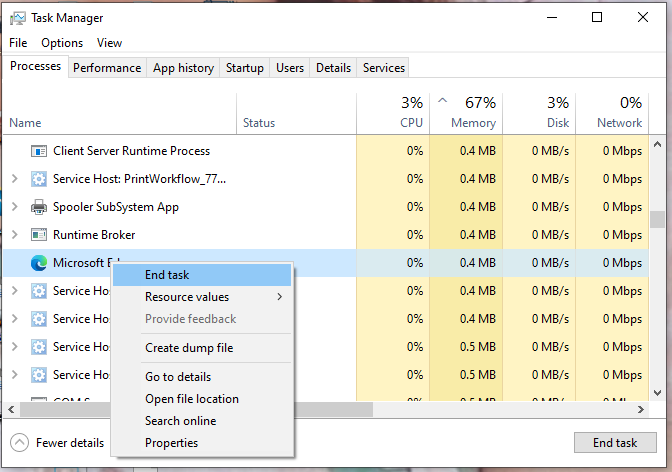 Solution 2: Change the in-Game Graphics Settings
You can also boost the FPS of Fallout by lowering its in-game settings.
Step 1. Launch the game and go to SETTINGS.
Step 2. In DISPLAY, set the Window mode to Fullscreen.
Step 3. Lower Texture Quality, Water Quality, Lighting Quality, and Shadow Quality.
Step 4. Lower the Fade settings on Actor/Item/Object/Grass.
Solution 3: Update Graphics Driver
If you are using an outdated or corrupted graphics driver, it is normal that the FPS will drops when you are gaming. In this condition, you had better update your graphics driver to the latest version.
Step 1. Press Win + X together to select Device Manager in the drop-down menu.
Step 2. Expand Display adapters to show the graphics card you are using.
Step 3. Right-click on it to choose Update driver > Search automatically for drivers and follow the on-screen instructions to update your graphics driver automatically.
Solution 4: Turn off V-Sync
Quite a few players find that turning off V-Sync helps them to boost the Fallout 76 FPS. This is a graphics technology that synchronizes the frame rate of a game with a gaming monitor's refresh rate. To disable it, you need:
Step 1. Press Win + E to open File Explorer and then locate the following path:
Documents\My Games\Fallout 76
Step 2. Open the Fallout76Prefs.ini file.
Step 3. Press Ctrl + F > type iPresentInterval > hit Enter.
Step 4. Change iPresentInterval=1 to 0.
Step 5. Save the changes and close the file.
Solution 5: Change the Power Plan
The power plan can you selected can influence your computer performance, so it is advisable to change your power plan to high performance.
Step 1. Press Win + R to open the Run box > type powercfg.cpl > hit Enter.
Step 2. Tick High performance and then relaunch the game to see if there is any improvement.
Solution 6: Optimize NVIDIA Settings
Optimizing the graphics settings via NVIDIA Control Panel is also a good option. Here's how to do it:
If you are AMD users, you can go to AMD Radeon software settings to configure the similar options.
Step 1. Right-click any empty space on your desktop and select NVIDIA Control Panel.
Step 2. Go to 3D Settings > Manage 3D settings.
Step 3. In Program Settings, choose Fallout 76.exe from the drop down menu.
Step 4. Changes the settings as follows:
Maximum pre-rendered frames: 1
Preferred refresh rate: Highest available
Power Management Mode: Prefer maximum performance
Threaded optimization: ON
Vertical sync: OFF
Step 5. Relaunch Fallout 76 to see if Fallout 76 low FPS is gone.