Summary :
The Folder Redirection Failed error can prevent you from redirecting User folders to a new network share or reset default location. If you are also bothered by this issue, you come to the right place. In this post, MiniTool shows you more than one solution to fix Folder Redirection Failed quickly.
Folder Redirection Failed is an error message you may receive when you configure a new GPO that redirects User folders to a new network share or reset default location under Windows File Explorer or Folder Options. This error always comes with another error message: Failed to build the list of regular subfolders under… Access is Denied.
In this post, we will show you how to get rid of this error in different ways.
Fix Folder Redirection Failed
Take Ownership of the Folder
If you don't have the permission to access the folder, you will, of course, encounter the Folder Redirection Failed error. Here we will show you a guide on how to take the ownership of folder in Windows. Before doing this job, you need to make sure that you are using the admin account.
1. Right-click on the folder.
2. Select Properties from the popup menu.
3. Switch to the Security section.
4. Click Edit. If you receive a UAC elevation request, click OK to confirm.
5. Select the group or user name on the Permission for work Of you can press Add to add another user or group. Adding an Everyone group is the best choice.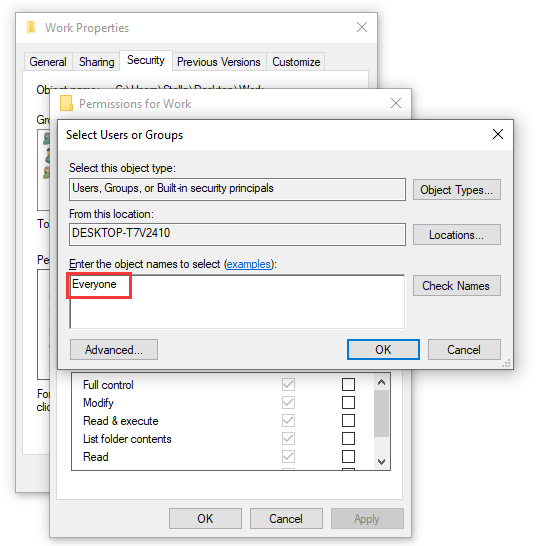 6. Under Permission for Everyone, you need to check Full Control under the Allow column to allow all control permissions.
7. You can also edit other permissions if necessary.
8. Press OK to save the changes.
9. Exit Properties.
Add Authenticated Users or Domain Computers
When you use Folder Redirection, you need to make sure that the Folder Redirection group policy removal option is set as Redirect the folder back to the user profile location when the policy is removed. Then, you need to add Authenticated Users with the Read permission on the GPOs (Group Policy Objects).
Fix Failed to Build the List of Regular Subfolders
Clear Disk Space
If your hard disk is running out of space, it will fail to create a list suddenly. Thus, you can release some space on the disk to see whether this method is helpful.
Try the Find Target route
If you keep receiving the error message: Failed to build the list of regular subdirectories when you try to relocate the folder to the original location, you need to restore it to solve the issue. Here is a guide: Accidentally merged User folders; How to unmerge Downloads folder.
Change Ownership/Reset Defaults for all user folders
When you receive a similar error message like Failed to build the list of regular subfolder under "X:\System Volume Information", Access is denied when moving a large number of files from one location to another one, you need to take the ownership of the folder.
This solution has been mentioned in the above content. We will not repeat it here.
Added Information
If you want to restore your files when dealing with different kinds of issues on your computer like access is denied, hard drive is accessible, and more, you can use a dedicated file recovery tool to get them back. You can use MiniTool Power Data Recovery to have a try.