What is GameLoop? How can you get the GameLoop download for PC and install it to play mobile games on your Windows computer? After reading this post on the MiniTool website, you know much information about this Android emulator. Let's look through it now.
Overview of GameLoop
GameLoop is an official free Android emulator that is designed by Tencent to help players play mobile games on Windows PCs. If you are a game player, you can directly install and play games from its server. GameLoop offers a massive gaming library and many popular games like PUBG Mobile, Call of Duty Mobile, Free Fire Max, League of Legends, Minecraft, etc. are included.
GameLoop enables you to use a mouse and keyboard to control the gameplay. This Android emulator runs games based on the Android system. You can log in to the app with your Google account and transfer the saved files to GameLoop. Besides, this app supports many apps, for example, WhatsApp, Instagram, YouTube, Twitter, TikTok, and more.
To use GameLoop on your PC for playing mobile games, the machine should meet the minimum system requirements:
System: Windows 7, Windows 8.1, Windows 10 (64-bit for all these systems)
CPU: Intel Core i3 560 @ 3.3 GHz or AMD Phenom II X4 945 @ 3.0 GHz
Memory: 3GB RAM
Storage: 1GB of free storage
Graphics: NVIDIA GeForce GTX 460 or AMD Radeon HD 5870 (DirectX-11 compliant with 1GB of VRAM)
DirectX: Version 9.0c
Next, you need to download the GameLoop emulator and install it on your PC for use.
GameLoop Download for PC & Install
Is Gameloop download free? Is Gameloop a virus? GameLoop is free download for PC. It is 100% safe and doesn't contain any type of malware, spyware, and viruses. It offers a safe environment for gaming and helps protect you against attacks by fraudsters and hackers.
See steps on the GameLoop emulator download:
Scroll down and click the Download button to get its installation file. This is the latest version of GameLoop. Currently, it is version 7.1.
In addition, you can get this Android emulator from a third-party website. When searching for "GameLoop download" in Google Chrome, you can find a related search "GameLoop download uptodown". Just click it for searching and visit the page of uptodown and click the Latest version or Older versions button. Then, follow the on-screen instructions to get the exe file for installation.
Then, you can double-click the exe file to open the setup interface. Click the Install button. Or you can click Installation Options to specify another installation path and click Install to start installing. After that, launch GameLoop and you can download & install the game you want to play by clicking the Install button, for example, PUBG Mobile, Free Fire, Call of Duty: Mobile, etc.
GameLoop Download Failed/Error
Sometimes you fail to install GameLoop on your PC with the error message "Download Failed, Please Retry" or "HTTP download error. Please check your network connection. Error code: 21".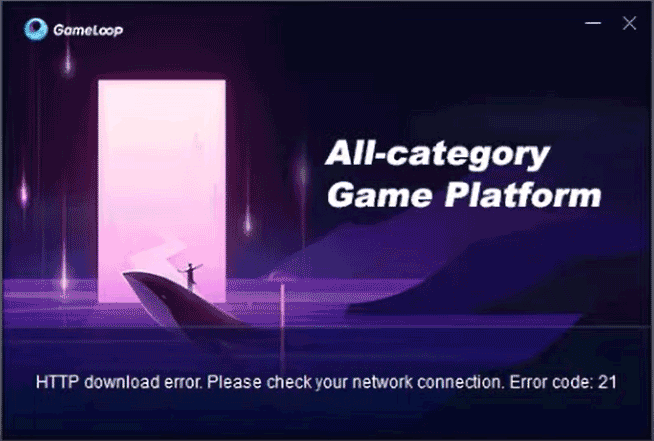 What should you do when running into GameLoop download error/failed? Some methods are recommended for a trial.
Delete All the Temp Files
Press Win + R to open the Run dialog.
Type temp and click OK.
Delete all the temp folders.
Type %temp% to the Run and click OK.
Then, delete all the files in the Temp folder.
Type prefetch to the Run window and then go to delete all the files in that folder.
Reset Winsock
Launch Command Prompt as administrator.
Type in netsh winsock reset and press Enter.
Use Another DNS Server
Go to Control Panel > Network and Sharing Center and click your connection.
Click Properties and double-click Internet Protocol Version 4 (TCP/IPV4).
Use the following DNS server addresses: 8.4.4 for Preferred DNS server and 8.8.8.8 for Alternate DNS server.
Use a VPN
If you still get the issue of GameLoop download failed, you can try to use a VPN to install this emulator on your PC for use. Just get one like NordVPN, ExpressVPN, Surfshark, etc. See this related post – 2022 11 Best Free VPN Service for Windows 10/11 PC and Laptop.