What will you do when HTTPS is not working and you cannot open any HTTPS sites in Google Chrome? If you are struggling with it now, follow the fixes in this post on MiniTool Website to help you out.
HTTPS Not Working in Chrome
HTTPS, also called Hypertext Transfer Protocol Secure, is an extension to HTTP. It offers you a safer way of communicating on the web. HTTPS protocol establishes an encrypted link between the two systems ensuring a secure data transfer.
Sometimes, you may meet HTTPS not working due to all kinds of reasons such as outdated/corrupted browser, incorrect date & time, interference with VPN & antivirus software and so on.  
How to Fix HTTPS Not Working? 
Fix 1: Change Date & Time
The easiest way to fix HTTPS not working is to change the date & time because of the security protocols.
Step 1. Click the gear icon to open Windows Settings.
Step 2. Go to Time & Language > Date & time.
Step 3. Turn off Set time automatically & Set time zone automatically and hit Change under Set the date and time manually.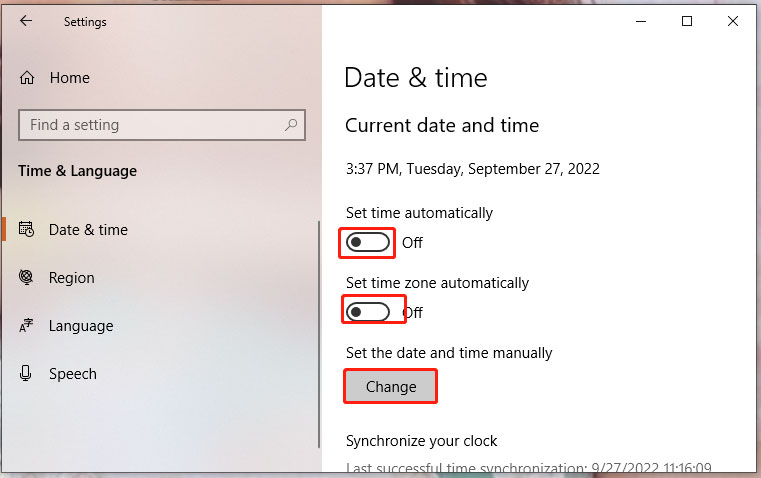 Step 4. Type the correct Time & Date and then hit Change.
Fix 2: Clear SSL Cache
If HTTPS not working is still there after modifying the date & time, you can try to clear the SSL cache.
Step 1. Type Internet Options in the search bar and hit Enter.
Step 2. In the Content tab, hit Clear SSL state.
Step 3. After the process is done, reboot your PC.
Fix 3: Flush DNS Cache
Flushing the DNS cache is also an effective way to HTTPS not working.
Step 1. Press Win + R at the same time to open the Run dialog.
Step 2. Type cmd and press Ctrl + Shift + Enter to open Command Prompt with administrative rights.
Step 3. Type ipconfig /flushdns and hit Enter. After the process is finished, load the problematic website again. If HTTPS is still not working, you can try the next method.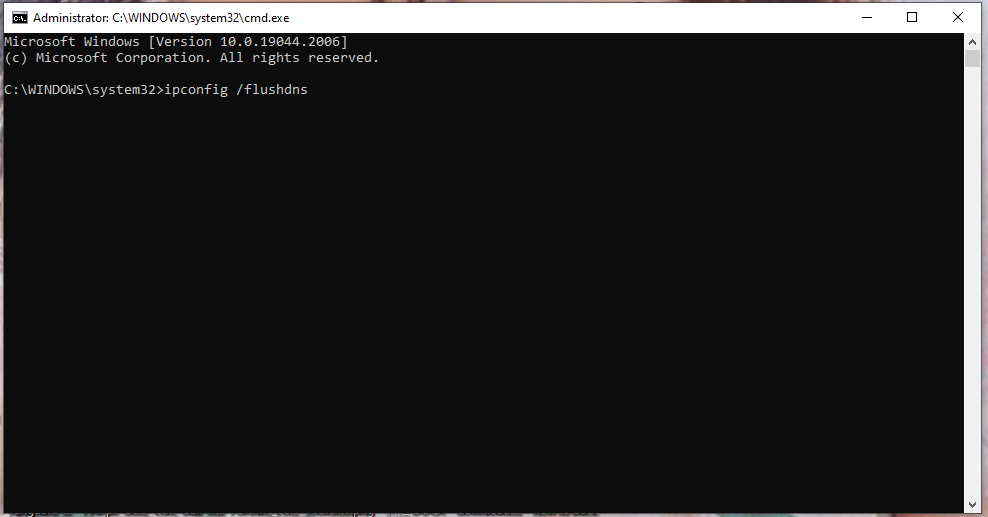 Fix 4: Disable VPN Service and Antivirus Software Temporarily
If you are connecting to a VPN service on your PC, chances are that the VPN or your antivirus software are preventing Chrome from loading some webpages due to security reasons. In this case, try to disable your VPN service and antivirus software for a while to see if it works.
To disable your antivirus, you need:
Step 1. Go to Windows Settings > Update & Security.
Step 2. In Windows Security, press Virus & threat protection > Manage settings.
Step 3. Turn off Real-time protection.
Fix 5: Update the Browser
Maybe your browser lacks some patches so that you cannot open some websites. In this case, you need to update it.
Step 1. Launch the browser and hit the three-dot icon at the upper right corner to select Settings.
Step 2. Go to About Chrome and it will automatically check for updates for you.
Fix 6: Reset Browser
The last resort is to reset the browser settings to their original defaults.
Step 1. Open Google Chrome and hit the three-dot icon to open Settings.
Step 2. In Reset and clean up, press Restore settings to their original defaults. Then, follow the instructions on the screen to reset the Chrome settings.