Keyboard not working in Windows 11/10 is not a rare issue. To solve this problem, MiniTool Software collects some useful and easy solutions and shows them in this post. No matter you are using a cabled keyboard or a wireless keyboard, or a laptop keyboard, you can try methods to help you out.
Keyboard Not Working in Windows 11/10
The keyboard is a very important component of the computer. You rely on it to type. If the keyboard won't type suddenly, your work will fall into chaos. Many users have installed Windows 11. They also encounter this issue in this new Windows version.
This is a very common issue and the laptop keyboard not working is a more common issue. We find many users are looking for solutions to laptop keyboard not working in Windows 11/10. Wireless keyboard not working is also a concern. Fortunately, this issue can be fixed. Here are some easy and effective solutions.
A Quick Fix: Restart Your Computer
Restarting your device is the easiest and most effective method to solve the keyboard not working Windows 10/11 issue. It can remove your computer's corrupted temporary files that may cause this issue.
Your mouse is still working. You can use it to go to Start, click the Power icon, and select Restart to close your computer.
The above image is to show you where to find Restart. If you need to restart your device, you need to close all your open programs and save all your work files in advance to keep them safe.
This question also reminds you that it's time to restart your computer. If you use the computer for a long time without restarting the computer, there will be a lot of junk files and temporary files on your computer. These files can easily cause issues. It is good to shut down your computer but not put it in sleep mode if you don't use your device.
Fix 2: Clean Your Keyboard
If you like to eat when using your computer, the food scraps likely fell into the keyboard, causing the laptop keyboard not working issue in Windows 11/10. You can use a special tool to blow away the food scraps. You'd better shut down your computer when doing this. After that, you can boot your device and check whether the keyboard can work normally again.
Fix 3: Dry the Keyboard
Your keyboard will stop working all of a sudden if you accidentally spill liquid on it. It's dangerous if so, especially when you are using a laptop. Stop using your computer as soon as possible. Then, use a thin and clean cloth to dry and clean your keyboard. You can also use cotton swabs to clean it. If the keyboard is severely water damaged, you may need to replace it with a new one. If you are using a laptop keyboard, you can send your device to a nearby retailer and ask for professional help.
Fix 4: Update/Reinstall the Keyboard Driver
If your keyboard driver is outdated or corrupt, the keyboard stops working can also happen. You can update or reinstall the keyboard driver to have a try.
Here, we update/reinstall the keyboard driver in Windows 11. If you are using Windows 10, the steps are the same.
Use Device Manager in Windows 11 (use Windows Search to search for it and click the first result to open it).
Expand Keyboards.
Right-click the keyboard and select Update driver or Uninstall device.
Follow the on-screen wizard to update or uninstall the keyboard driver.
Restart your computer to execute the change. If you choose Uninstall device, the system will automatically install the latest keyboard driver on your computer.
Fix 4: Troubleshoot Keyboard in Windows 11/10
Windows has a built-in troubleshoot tool to fix different kinds issues including the keyboard issue on your computer. The ways to open Windows troubleshooter in Windows 11 and Windows 10 are different. So, we show you two guides here.
In Windows 11
Go to Start > Settings > System > Troubleshoot > Other troubleshooter.
Scroll down to find Keyboard under Other and click Run to run the troubleshooter.
If this tool finds errors, you can follow the instruction to fix the issues.
In Windows 10
Go to Start > Settings > Update & Security > Troubleshoot.
Scroll down to find Keyboard and click it to expand it.
Click Run the troubleshooter. This tool begins to detect issues on your keyboard. You can troubleshoot the issue according to the relevant tips on the tool.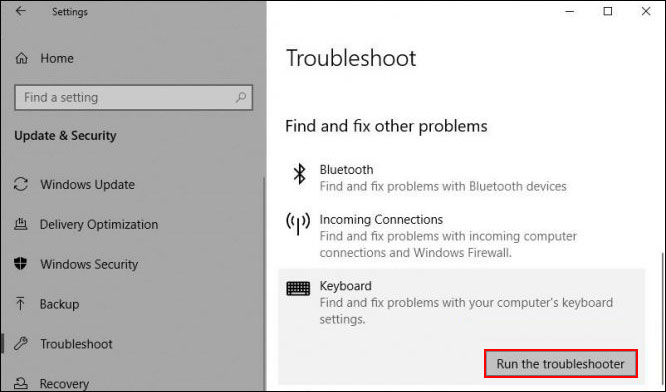 Fix 5: Run a Malware Scan
Your keyboard may be affected by malware. To rule out this possibility, you can scan your computer using an anti-virus program for viruses and malware. Here are many choices: Malwarebytes, Avast, Bitdefender Antivirus, etc.
Fix 6: Ask a Professional for Help
A motherboard issue can also cause keyboard stops working issue. However, the motherboard issue is complex. To protect your computer, you can send your device to a nearby retailer and ask a professional for help.
Fix 7: Use a USB Keyboard
If you are using a laptop keyboard or a wireless keyboard and the keyboard not working issue can't be solved immediately, you can use a USB keyboard instead. When you are free from work, you can take time to fix it.
Bottom Line
Now, you should know what you can do when your keyboard not working in Windows 11/10. These solutions can apply to cable keyboards, wireless keyboards, and laptop keyboards. We hope they can help you solve your keyboard problem.
If you have other issues, you can let us know in the comments.