When you are immersed in a game, some errors will pop out to disturb your attention. The LowLevelFatalError message is one of them. This error indicates your game crashed or something happened. To fix this error, this post on MiniTool Website will give you some advice.
LowLevelFatalError
When you encounter the LowLevelFatalError message, that means your game crashes and you need to take some measures to get rid of it. The culprits that trigger the Low-Level Fatal error are complicated so you need to try some methods one by one.
The specific efforts will be listed in the next part.
Fix LowLevelFatalError
Fix 1: Run the Game in Compatibility Mode
In some cases, you still need to run the game in compatibility mode so that the game can run well.
Step 1: Exit your game first and right-click on the game desktop shortcut.
Step 2: Choose Properties and then go to the Compatibility tab.
Step 3: Check the option of Run this program in compatibility mode for and choose a previous operating system.
Step 4: Click Apply and then OK.
Then you can launch the game again and see if the issue has been gone.
Fix 2: Update Graphics Driver
It is important to keep your graphics driver up to date. That's a basic condition for a good performance from your computer, your games, and any other graphics-intensive tasks.
Step 1: Press the Win + X keys and open Device Manager.
Step 2: Expand the Display adapters and right-click on your graphics driver to choose Update driver.
Then restart your computer and see if the Low-Level Fatal error has been fixed.
Fix 3: Adjust Graphics Settings
You can fix the Low-Level Fatal error by changing graphics settings.
Step 1: Open your Control Panel by searching it in your search box and set View by: as Small icons.
Step 2: Scroll down to choose Advanced system settings and choose Settings….
Step 3: Under the Visual Effects tab, choose Adjust for best performance and click Apply and OK to save the changes.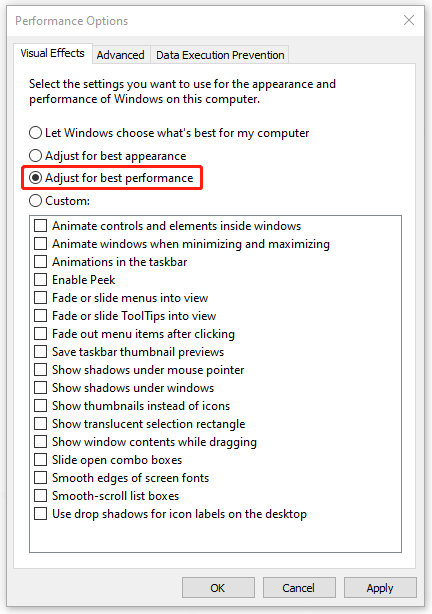 Step 4: Then go to Display in System > Settings and set desktop scaling (DPI) within windows to 100%.
Tip: If you're using an NVIDIA card, disable image sharpening by going to 3D Settings in NVIDIA Control Panel and turning it off.
Then you can try your game again.
Related article: Change the Windows 10 Display Settings to Improve Display Quality
Fix 4: Verify Game Files Integrity
If some of your game files are corrupted or missing, the Low-Level Fatal error can be fixed. Go to verify the game file integrity.
Step 1: Open your Steam and go to Library.
Step 2: Right-click on your game and choose Properties.
Step 3: In the LOCAL FILES tab, choose the VERIFY INTEGRITY OF GAME FILES option.
Then follow the screen instruction to repair your game files. If it is useless, you can reinstall the game.
Fix 5: Reinstall the Game
If all the above methods are useless, you can uninstall and then reinstall the game.
Just open your Apps & features by searching it in Start. Scroll down to click on the game and choose Uninstall and then Uninstall again to remove it.
When you finish it, go to the official downloading website to download and reinstall the game.
Bottom Line:
The above methods will be useful to get rid of the LowLevelFatalError message. Hope this article will be useful for you.