Summary
Microsoft blocks Windows 10 version 1903 on older Mac devices, and the new Mac devices that are using outdated Boot Camp software are also affected. Why this issue happens? Is there any way to fix it? Now, you can find the answers in this post.
Microsoft Blocks Windows 10 Version 1903 on Older Mac Devices
Earlier in July 2, 2019, Microsoft said that it has blocked the Windows 10 May 2019 update (Windows 10 version 1903) on older Mac devices or newer ones with outdated Apple Boot Camp software.
To be specific, if you have installed Windows 10 operating system on a Mac device that was introduced before 2012, or if you are using a new Mac device but running outdated Boot Camp software, you will be unable to get Windows 10 1903 because Microsoft has blocks on your device.
Microsoft Shows the Reason on Its Support Page
If your older Macs are unable to upgrade to Windows 10 version 1903, you must want to know why.
Indeed, a Microsoft support page has explained it. This page is not easily to be discovered on search engines because Microsoft has blocked web crawlers from indexing the tech document.
However, it is there. In the page, the company points out that if you are going to update your system to the May 2019 Feature Update of Windows 10 (Windows 10 version 1903 or Windows 10 19H1), you may experience an update compatibility issue and receive a message saying "Mac HAL Driver - machaldriver.sys: Your PC has a driver or service that isn't ready for this version of Windows 10."
Here is the window you will see in this situation: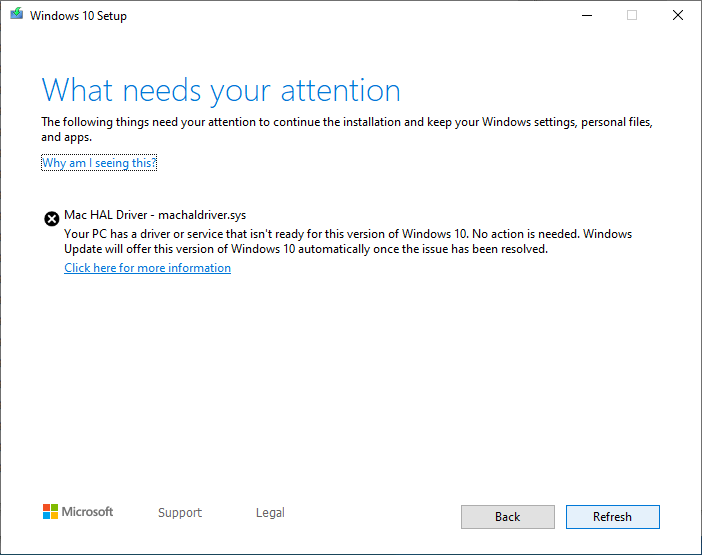 Cause of This Issue
As to the affected devices, Microsoft shows them in the title of the support page, including Apple Mac devices which were introduced before 2012 or newer Mac devices with outdated versions of Apple Boot Camp or Windows Support Software drivers installed.
These devices have a compatibilty hold in place and they cannot update to Windows 10, version 1903. "Specifically, devices with MacHALDriver.sys dated September 24, 2011 01:57:09 or older in Windows\system32\drivers are affected," Microsoft explained further.
What's new in Windows 10 latest version 1903? What are the new features of macOS Catalina? Windows 10 version 1903 vs. macOS Catalina, which one is better?
How to Fix This Issue
Indeed, Microsoft is working on solving this issue and it is likely that this block issue will be lifted by the end of July.
Before this issue is solved, you can upgrade your Apple Boot Camp Windows Support Software drivers. Then, you can go to check for updated Windows support software. Likewise, in Mac OS, you need to go to Apple menu > App Store. Then, you can install all available updates on your computer.
Conclusion
After reading this post, you must know these three points:
Old Macs from before 2012 may be unable to upgrade to Windows 10 19H1.
Newer Macs that are using outdated versions of Apple Boot Camp or Windows Support drivers can also encounter this issue.
Microsoft is trying to find a resolution and it is expected to be ship in late July.
Bothered by Microsoft blocks Windows 10 version 1903 on older Mac devices? You know the reason and you should not be so worried now.