This post disserted by MiniTool Software Limited mainly shows you what the old and new YouTube logos look like. It also displays the YouTube logo on iPhones. Just scroll down to find out all of them.
YouTube is an American online video sharing and social media platform owned by Google. It was first released on February 14, 2005, by Steve Chen, Chad Hurley, and Jawed Karim. As the second most visited website (right after Google), YouTube has more than one billion monthly users who collectively watch more than one billion hours of videos each day.
Old YouTube Logos
With the development of YouTube, its logo has also been changed several times until what it looks like now. Let's have a quick look at those YouTube logos in history.
YouTube logo during 2005 – 2011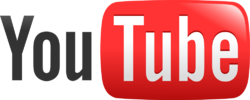 YouTube logo during 2011 – 2013
YouTube logo during 2013 – 2015
YouTube logo during 2015 – 2017
New YouTube logo during 2017 – now
Below is a table comparing YouTube old logos
Designer
Font/Typography
Released date
YouTube logo for 2005 – 2011
Unknown
Modified Alternate Gothic
Feb. 14, 2005
YouTube logo for 2011 – 2013
Unknown
Modified Alternate Gothic
Nov. 30, 2011
YouTube logo for 2013 – 2015
Unknown
Modified Alternate Gothic
Dec. 19, 2013
YouTube logo for 2015 – 2017
Unknown
Modified Alternate Gothic
Oct. 13, 2015
YouTube logo for 2017 – present
Saffron Brand Consultants
In-house team (Betting)
YouTube New (custom-designed)
YouTube Sans (custom-designed)
Aug. 29, 2017
Old YouTube Logos for iPhone
The following are the old logos of YouTube on iOS.
Old YouTube logo iPhone for 2007-2012
Old YouTube logo iPhone for 2012-2013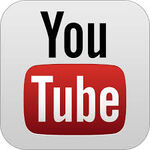 Old YouTube logo iPhone for 2013-2015
Old YouTube logo iPhone for 2015-2017
Old YouTube logo iPhone for 2017-present
Old vs New YouTube Logo
YouTube new logo changes a lot compared to its old versions. first of all, it abandons the design that separates "You" and "Tube" by putting "Tube" into a red TV-shaped rectangle. Instead, it put a play button (TV-shaped red rectangle with a white triangle inside) right before the black "YouTube".
Also, the typeface of the new YouTube logo is altered to a distinctive and recognizable Helvetica font, which was widely used in TV shows in the 1950s, giving it the feel of "Tube" part of "Youtube".
Also read: